MR. AND MRS. WILLIAM SLYWKA
by Pearl Slywka
I, formerly Pearl Melynk of Landonville, Alberta, daughter of Jessie and Onufer Melnyk, second of thirteen children, attended Northern Star School.
On April 19, 1938, I was employed at the Elk Point Municipal Hospital as a ward aide, for a salary of twenty dollars a month with room and board. After one year employment you got a raise of $2.50 a month. In those days you worked a ten-hour shift from 7:00 a.m. to 7:00 p.m. with two hours off from nine to eleven a.m. or one to three p.m. in the early afternoon. Night duty was a stretch of fourteen nights with a long week-end of four days. Being young I didn't mind as the experience of nursing helped with raising my own family.
William (Bill) was born in the King George district on April 12, 1920, son of Nick and Katherine Slywka, second of four children. He attended King George School. He played the violin and owned a 1927 Chev. sedan.
I met Bill at a dance at King George hall and on February 14, 1940, Valentine's Day, we got engaged. On September 1, 1940, we were married in the Roman Catholic Church in Elk Point, by Rev. Fr. Wynyk in the Ukrainian Greek Catholic service. Our bridesmaids were Stephana Melnyk, Irene Kozak, and our best men were Matt Stetsko and Anton Zarowny. The wedding reception was held in my father's farm yard, where a large platform was made for dancing. The wedding reception lasted for two days. We received a donation of $250.00 and small gifts. Wedding gifts from my parents were four cows with calves, two pigs, a gobbler and two turkey hens and a few chickens. With that start we felt very rich.
We lived with Father and Mother Slywka on the farm in the King George district until the spring of 1941. When they moved to the farm one mile south of Elk Point, we were left alone in the big house. They left some furniture such as a wood range, kitchen cupboards, table and chairs, a bed and a small dresser. That was a gift from Bill's parents and we certainly appreciated it. With the wedding donations we bought a three piece chesterfield set. Bill farmed with his father so machinery was no worry.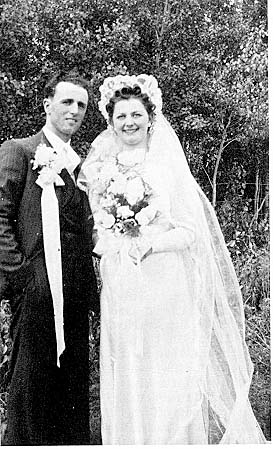 Wedding of Bill and Pearl Slywka, Sept. 1, 1940.
We enjoyed life, and would go to dances, school picnics, ball games, Christmas concerts and an occasional show in the theater in Elk Point. Our only problem was flat tires on the Chev., the apple box I would call it. That reminds me of an incident when Bill was taking me to the Stoney Lake stampede, before we were married. It was a hot day and we only had three flat tires, but with a tire pump and lots of strength we got to the stampede on time. In those days that was a big occasion. I was teased that I was the cause of the flat tire as I was quite chubby at that time.
In December 29, 1942, our first son was born, Lawrence Eugene. In 1944 we purchased Oran Caskey's farm, N.E. 28-56-7-W4 and the quarter section across the road. At the end of June we moved there. The house was large, three bedrooms wired and plumbing, very modern for those days, but a little run down though, as it was vacant for a year. At our own place, we burned wood for heating and cooking; for light we used coal oil lamps, which we replaced by a 32-volt power plant in the later years. A water pressure system was put in, with only cold water, mind you, then propane was installed and hot water was available, and hydro power came next.
Farming was hard work and a problem was that machinery was needed. Bill farmed with horse machinery, given to him by his father and used his father's tractor. Gradually with a few years of farming and some luck we expanded more into mixed farming and better and bigger machinery. Then another quarter section was added from the Hugh McLean farm, the binder was replaced by a swather, the threshing machine by a combine, and then came a big Cockshutt diesel tractor. Bill kept expanding until he had a full line of modern machinery.
Our second son was born January 2, 1946, Ronald William; on January 23, 1951, our daughter, Marilyn Eileen was added to the family. As the children were growing up and ready for school, they were taken by school bus to the town of Elk Point where they all attended and completed high school.
Lawrence apprenticed as a mortician in Olds, Alberta and now is employed in Calgary, Alberta. Ronald was employed at Imperial Lumber in Elk Point but then worked at Fort McMurray and now is employed with R. Angus Ltd. in Edmonton. Marilyn graduated from Reeves Business College in Lloydminster, Alberta, worked for Mr. Sovielle, soliciter, in Edmonton, later Calgary, and now is a housewife.
Lawrence of Calgary married Donna Twepah of Regina and they have one son, Michael. Ronald of Edmonton, married Stella Boratynec of St. Paul, and
they have two sons, Robert and Kevin. Marilyn married Brian Strilchuk of Ryley, Alberta and has one son Brent. They reside in Tofield, Alberta.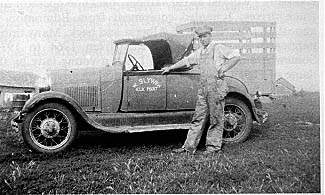 Bill Slywka 1925
Bill had a weakness for cars, from the 1927 Chev, to a model A Ford, then a 1936 Plymouth coupe', a 1946 Mercury, Black Beauty we called that one and kept progressing until we reached a 1960 Buick. Bill was very active. Besides farming he was a member of the Elks Lodge, Northern Valley Church and Armistice Hall, a director on the hospital board, a curler, and he enjoyed any social gathering, especially weddings. In 1965 we celebrated our twenty-fifth wedding anniversary in the King George Hall. This was quite different than our wedding; the gifts we received were really beautiful. There was a lot of silver and crystal. In 1966 we built our new two bedroom home with all the modern facilities. In 1968 I took employment at the Elk Point Hospital due to allergies on the farm. We were very proud and happy.
But that happiness was short lived as Bill passed away suddenly September 28, 1969 at the age of forty-nine. He predeceased his mother by seven months. The interment took place at the Northern Valley Church cemetery.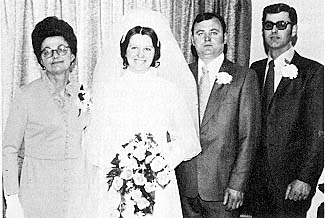 Marilyn's wedding, May 5, 1973
LEFT TO RIGHT: Pearl Slywka, Marilyn, Lawrence and Ronald 
After Bill's death I continued working in the hospital and tried to maintain the farm with help from my two sons, who could only help on weekends and holidays. It was more than I could handle; living on the farm alone proved to be very depressing and very lonely. So in May, 1973,1 left the farm and now reside in the town of Elk Point, am a member of the Royal Purple and enjoy my grandchildren.