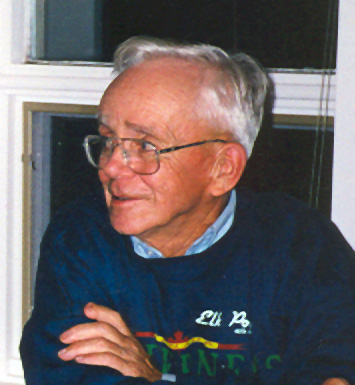 Obituary
Charles Patrick Johnson was born April 7, 1926 at the lovely Keitges' home east of Elk Point. His parents, Tom and Kathleen Johnson were enroute to the hospital in Elk Point, travelling by horse and buggy but time ran out and Mrs. Keitges acted as mid-wife and kindly helped them out. After spending most of his 85 years in the area, Pat passed away in the Elk Point hospital on Sept. 27, 2011.
Pat grew up on the family farm near Lindbergh, Alberta and walked to a one room school for grades one to eight, then completed High School at a two-room Elk Point High School, and took a welding and mechanics course in Calgary. Spare hours were spent helping out with the work of the farm, along with his two brothers and two sisters. The family all grieved the loss of little brother Tommy who died at 4 years of age. His parents, sisters Sue and Marion and brother Fred were left to carry on.
Pat never liked to be tied to a routine and his heart was not in livestock farming.  He was much more interested in machinery and was a real Mr. Fix-It and always got much satisfaction from making some old machine work again. After the farm was sold to George and Dianne Anderson, Pat worked in local machine shops, driving and repairing school buses.
Pat lived a private and very humble life, never seeking fame or fortune and never getting caught up in collecting material stuff or the hustle and bustle of keeping up with the world around him.  He loved learning about the history of the area and was very much a part of that story. His favourite recreation was canoeing and he had paddled many rivers and logged untold hours canoeing alone and with others, enjoying the solitude and the chance to witness nature undisturbed along the river banks, trying to capture some of it in his photographs. He sought out people who shared interest in the preservation of the history of the area and very much appreciated those friendships. He was active in scouting, school recreation programs and in the Friends of Fort George and Buckingham House. He was often at the St Paul swimming pool and at A&W. He became a primary source of local history for many people.
After moving into Heritage Lodge, he found friends who had stories to tell and listened to his memories.  His family is grateful for the care and comfort that the staff at the Lodge and the hospital provided. Pat was predeceased by his parents, his sister Sue, two brothers Tommy and Fred, and his brother-in-law, Allan Hanna.  He is survived by one sister Marion Hanna of Picture Butte Alberta. And by four nephews; Dave (Karen), Don (Sharon), Mark (Holly), Wade (Karen) and by one niece Laurel (Greg) Van Vaerenbergh  and all their families.
A celebration of Pat's Life will be held at the Fort George Buckingham House Interpretive Center on Saturday, October 15th at 1:30. Please join family and friends in this remembrance event.
MEMORIES OF PAT
Hello, my name is Mark Hanna, a nephew of Pat and son of his sister Marion. Mom has many fond memories of growing up with Pat, Sue and Fred on the family farm south of Lindbergh.  Here are a few of her memories of those times as well as some of our family's memories of Uncle Pat. Some of her early memories include how all the kids using sleds, a toboggan, or skis to speed down the big hill, or sharing one pair of skates and adding or taking off socks to make them fit, when it was your turn.
She remembers the big excitement of moving across the road into the big new house in 1939.  Everyone helped by carrying, or loading bigger items.  That new house is the same house where George and Diane live today and have made into a lovely home.  It is so nice to see the big red barn still looking so good to. Mom also remembers that the big house needed a lot of wood for burning in the furnace and cook stove when the weather turned cold.  All of us helped with sawing and splitting.  Pat was the oldest and only one allowed near the big whirling saw blade.  The rest of us lifted and supported the logs.
She remembers how happy Pat was to get a motorbike to ride to Elk Point so he could attend high school. He boarded with Mrs. Shortridge through the week and then rode home for the weekends.  The rough roads and the loose sand sometimes resulted in a spill.  In winter, Dad drove him part way with a team and sleigh box and he skied the rest of the way alone.  But Pat never complained.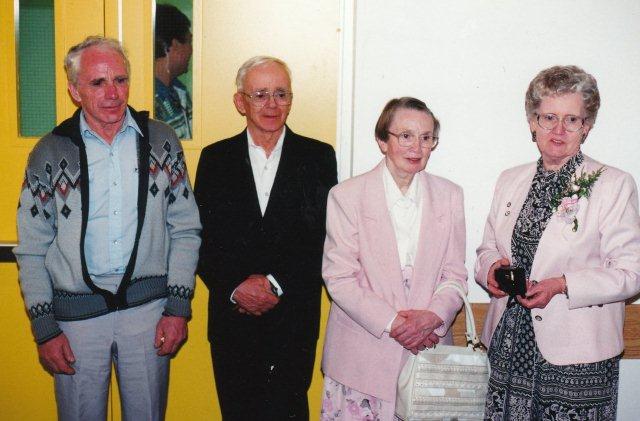 She recalls when the sad news arrived by telegram to some of the local families that a son was "missing in action" during the war years.  Pat and all of us were devastated when one of those dreaded telegrams came to the Tom Wolfe home.  John Wolfe was Pat's favourite cousin even though he was about 3 years older. Even as a kid Mom remembers how Pat always loved taking things apart and fixing things that were broken or didn't run anymore.  A far cry from today's world is all about throw away old and buy new.
After high school, Pat went to Technical School (now Sait) in Calgary to learn welding and mechanics.  That must have been pretty scary for a sheltered country kid!
After the war ended there was a lot of "war surplus" stuff being advertised.  He decided and was almost obsessed with buying one of the small airplanes.  He drove to Vulcan with the farm truck and arrived back a few days later very excited with a big ugly yellow fuselage.  Our Dad wasn't so excited though and suggested he hide it behind the shop!  He spent many hours drawing up plans and working to transform it into a kind of snowmobile that he had designed.
In the next few years, there were many changes.  Sister Sue left for nurses training and my Mom, Marion, left to become a teacher.  Their Mom and Dad retired to Duncan B.C. and brothers Pat and Fred were left to take over the farm.  This proved something of a struggle for the young and mismatched pair of bachelors and in a few years the farm was sold to George and Dianne.
After teaching in various places, Marion met and later married Allan Hanna.  Their home was near Lethbridge and they raised a family of 5; Dave, Don, myself, Laurel and Wade.  We were always pleased when Uncle Pat or Uncle Fred were able to visit us.  When we were small, one of the boys asked if Pat came from up near the North Pole. He was a bit of a mystery who just showed up at the door unexpectedly but was welcomed with open arms.  It was always interesting to see what kind of vehicle he had driven and it always had a canoe on the top. His stays were short but always included the maps, pictures, stories and movies of his most recent canoeing adventure. The movies could seem kind of long – lots of river banks, with only an occasional eagle or deer but we always enjoyed the visits!
My brother Wade who now lives in Whitehorse recalled one particular visit as follows:
Ø  Uncle Pat was kind of like a summer breeze, you rarely knew when he would arrive nor how long he would stay.
Ø  One year when I was eleven he pulled up in blue chevy van with the orange fibreglass canoe on top en-route from his latest summer canoe trip.
Ø  Uncle Pat offered to take me on a trip on the Oldman River. But like any careful guide, he first put me go through basic training and maneuvers. On Park Lake the night before our trip, he began with proper canoe etiquette, followed by J-stroke, pry, and draw. I must have passed because the following morning we set out down the Oldman River.
Ø  Being August, the river was low with many rocks and obstacles. As we approached our first riffle with a large rock dead ahead, I remember thinking ..."now am I supposed to pry or draw? I did neither and we slammed into the rock. His orange fiberglass covered canoe now had large welt in the bow. Since we were barely out of the boat launch, I am sure Pat must have been thinking "this is going to be a very long day".
Ø  Some distance farther, another rapid, another moment of indecision by the 11-year-old in the bow and faster than you can say gravel bar, we were lodged on one. Eager to correct my mistake, I jumped out of the boat and began dragging just as Pat had 1 foot in the boat and 1 foot out. Its amazing how fast a twisted ankle turns blue. At this point, we were 2 hours into our trip with only 8 more to go.
Ø  Though we struggled with low water for much of the day, the weather great, we saw some animals and had a great shore lunch packed by my mom.
Ø  We arrived at the Nolan Bridge at dusk, only to face one more highlight. Pat had lost his wallet somewhere along the river. He didn't swear or get angry but took it all in stride. Though my dad and I searched the river for several days afterwards, we, of course, never did find his wallet.
Ø  Between his damaged canoe, twisted ankle and lost wallet it was probably a day he'd rather have forgotten and one that 11 year-olds remember forever.
Another family memory when my sister Laurel was 7 or 8, Pat felt she should have the piano from the farm so she could start taking music lessons.  Fred helped him load it into the farm truck and he packed straw bales around it, and then made the long trip about 7 hours down to Lethbridge. Laurel got her music lessons and music is still a big part of her life.  The piano which had come with the Wolfe's from Ireland in 1913, was tuned and restored and has a prominent place in Laurel and Greg's home.
Pat always gave us the historical books that were published about the Elk Point area and Mom especially appreciated staying connected with this special place she once called "home" and the good people she knew as neighbours.
Pat Johnson Euology
by Marvin Bjornstad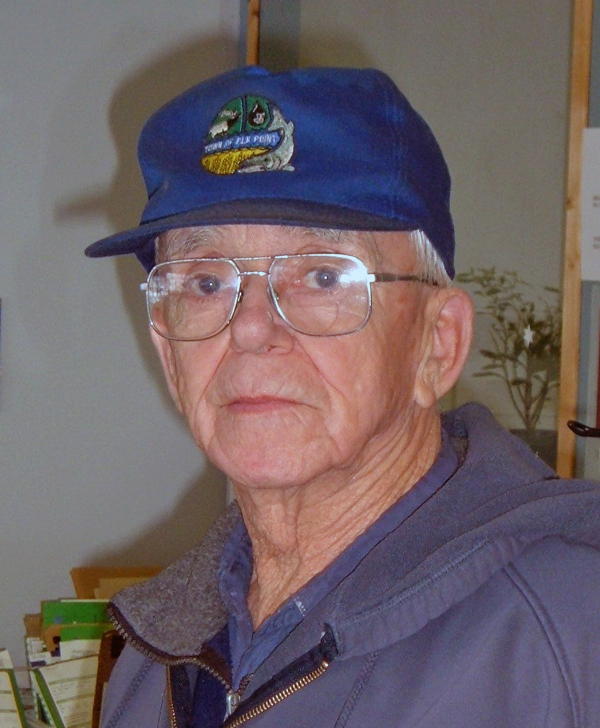 Charles Patrick Johnson was born before the train came into this area. There were no snowplows in that era and no antifreeze. Horses were the way of travel. People used teams and a sleigh or a democrat. Pat talked to us about 3 significant events he remembered as a young child.
He was 4 years old in 1930 when his Dad got their first car. His Dad ran the municipal office in the MD of Lincoln and was the weed inspector for the area.  Pat got acquainted all around the district because his Dad took him on many journeys throughout the area.  Pats Dad would open the gates and Pat would stand up on the seat of the car and use the low drive pedal to drive the car through the gates. Then his Dad would close the gate and they would carry on. This was a very thrilling experience for Pat as a young boy, and he spoke of it with keen excitement.
Another thrilling memory he spoke about was riding the train for the first time. He and his Dad took a trip from Lindbergh to Heinsberg and he would describe the engineer, the blazing fire, the sound and smell of the train and the excitement he felt being on it.
Pat also talked about the motorcycle he rode to Elk Point to attend high school. He described riding through muddy roads and slipping and sliding on and off the roads. He talked about scaring the horses on the road and falling in the mud .
He reminisced about life and the lifestyle of people in his growing up years. His comments included facts like:
we never saw bananas except on sports days which would be once or twice a year.
There was no fresh fruit in the winter
Mom made parsnip pie because it was sweet
we would get apples in wooden boxes after the train came in
he could hear mice running under the wallpaper in the house
he told us the old ways to rid your house of flies and fleas.
Pat had several careers in his life span. After high school he took a mechanics course.
He farmed for many years with his brother Fred. He worked as a mechanic in Henry and Florence's garage for about 8 years, and he drove school bus for 25 years working for the St. Paul County, Babe Sharkey and Denis Maas.
Pat was a very humble person. His needs were minimal. He had a very unique view of life compared to the normal fast paced life most of us live in today. He modelled that view of life in many ways.
When Pat first moved out to our place we invited him to hook up to our power pole. He said, " No thanks. I do not want to be a slave to the power companies." And he never was.
 In the 40+ years Pat was in our lives he lived in a 13 foot long holiday trailer. By choice he lived without electrical power, laundry facilities, bathroom facilities, a landline or cell phone, a TV or any other amenities we all take for granted and couldn't live without. Although he was a minimalist, he was a happy person. He got along just fine.
He never lived beyond his means and he did not like to take on any debt. He believed the best way to do things was to work with nature. He would constantly tell us stories to illustrate his beliefs. He told us that in the old days when people worked with horses, the horses needed rest and food, so people also got periods of rest through out their workday. He would comment on how people working today are not in sync with nature and their own natural work rhythms. Pat worked at his own gentle pace thinking things through as he went along. He had a favorite line he would use when working with animals. He would say you have to learn how to "talk dog" or talk ant or talk horse. If you can't "talk dog" the dog won't cooperate with you and you'll have nothing but trouble.
He also worked with nature in the physical world all the time. He would use fulcrums, his come-a long and pulley systems, as well as boy scout knots, logs, chains, ropes, crow bars, and anything else he could easily rig up to do the work he needed to do. He could lift his motors out of his vehicles, work on them as they swung from his wooden tripod , gently ease the motor back into his truck and be on the road again.  He let the tools  do the work.
 He didn't need to go to university, or college, it was like he had a PHD in natural physics. Pat had a natural wisdom born from experience and observation.
Pat was a great friend. We had a very supportive relationship that went 2 ways. He was there for us, and we were there for him. He was quick to lend a helping hand and worked until the job was done. His ideas on how to do things were always welcome.  When he needed help he would come to our door, and say in his humble way,  "Í've come begging again." We would be glad to help him in whatever way we could, knowing he would return the favor as soon as we needed assistance.
He would look after Angel, our little dog, if we had to go to the city.  One time we came back and Pat told us he had taken Angel canoeing with him. His comment was that she wasn't that impressed with her experience.
Pat had a great depth of feeling and understanding of peoples situations.  He could talk things through with us during hard times, coming across as a friend without judgement or parent type pressure. We noticed that he did not use a sarcastic tone with anyone. He was quick to point out how we all have beliefs, and social or physical handicaps that we struggle to overcome and that make us human. He would pause and say, you never know what that person is dealing with. He was very accepting of life and the challenges it offered him or others. Pat could laugh at himself if he realized he had something foolish.
Pat read the Edmonton Sun just about every day and had a keen interest in the news. He would pick out an article and bring it over for us to read and we would discuss the pros and cons of the situation at length. Often the article would be about the justice system and criminal activity.  He had a strong sense of justice and strong views on capital punishment or the lack of it.  We had long discussions in the evenings at our house as we solved the worlds problems. He also had pet peeves that he joked about like Trudeau and  the metric system.
Pat and I both shared a passion for reading about the history of Canada, including the Hudson Bay and Northwest Companies, the early explorers like Peter Fiddler and Dave Thompson, and the very early pioneers who settled the land. Pat knew the history of this area, and could tell you who homesteaded the quarter sections, funny stories about what happened during those years and who bought the place when the homesteaders sold out.
Pat and I had long discussions about history and he had a wealth of information has passed on with him.
Pat was an excellent storyteller. He had a way of speaking that piqued your interest and was funny all at the same time. He would say things like:
I was in Love and came back all in one day.
Sheep can find more ways to die than you could possibly imagine. That would be the lead into a whole evening of funny stories about his adventures farming.
Or I got stepping too high one day and a jet broke my leg. This story was about him using horses down at the river to pull the ferry back to the north side. A jet flew right over Pat, startling the horse on the capstan, which bolted, tripping Pat and breaking his leg.
One fall day Pat was moving Marvin up to Edmonton to go to university. Marvin
remarked that they had everything but the kitchen sink. Well, Pat started a story about moving 2 older ladies from this area up to the Peace River country. The horse in the back of the truck had ended up in the kitchen sink. Pat digressed many times throughout their trip finishing up the story as they reached Marvin's house in Edmonton three hours later.
He could really spin an entertaining tale and teach you about life all at the same time.
Canoeing
In 1972 at the age of 46, Pat bought his first canoe. In the next couple years Pat took  Level 1 and 2 lake canoeing courses at the Blue Lake training center near Jasper. He also took courses in winter camping and orienteering. After a bit of practice on local lakes Pat took the level 1 and 2 river canoeing courses. He also bought a set of videos that had extensive instructions in white water canoeing skills and techniques. These videos taught Pat how to read the rapids so he could pick the best route to canoe through the foaming white water. They showed the different strokes needed to turn the canoe, back it up etc. Pat had found his passion for canoeing.
As Pat practised his skills, he spoke with many people about canoeing, which lead to his  volunteer role as a canoe instructor. He taught canoeing at church camps, school outdoor
ed camps, to youth groups like the boy scouts and girl guides, first nation groups, families, and any person who wanted to learn.  He taught canoeing for over 30 years for the Elk Point Elementary schools outdoor education program at Whitney Lake. He would be busy canoeing and teaching canoeing from break-up to freeze up. Pat really enjoyed sharing his love of canoeing.
Pat canoed most of the local lakes and rivers in central Alberta from the wolf, sand, and beaver rivers to the N. Sask and red deer rivers. Pat had his own share of wet learning experiences as he canoed the white water on these  rivers.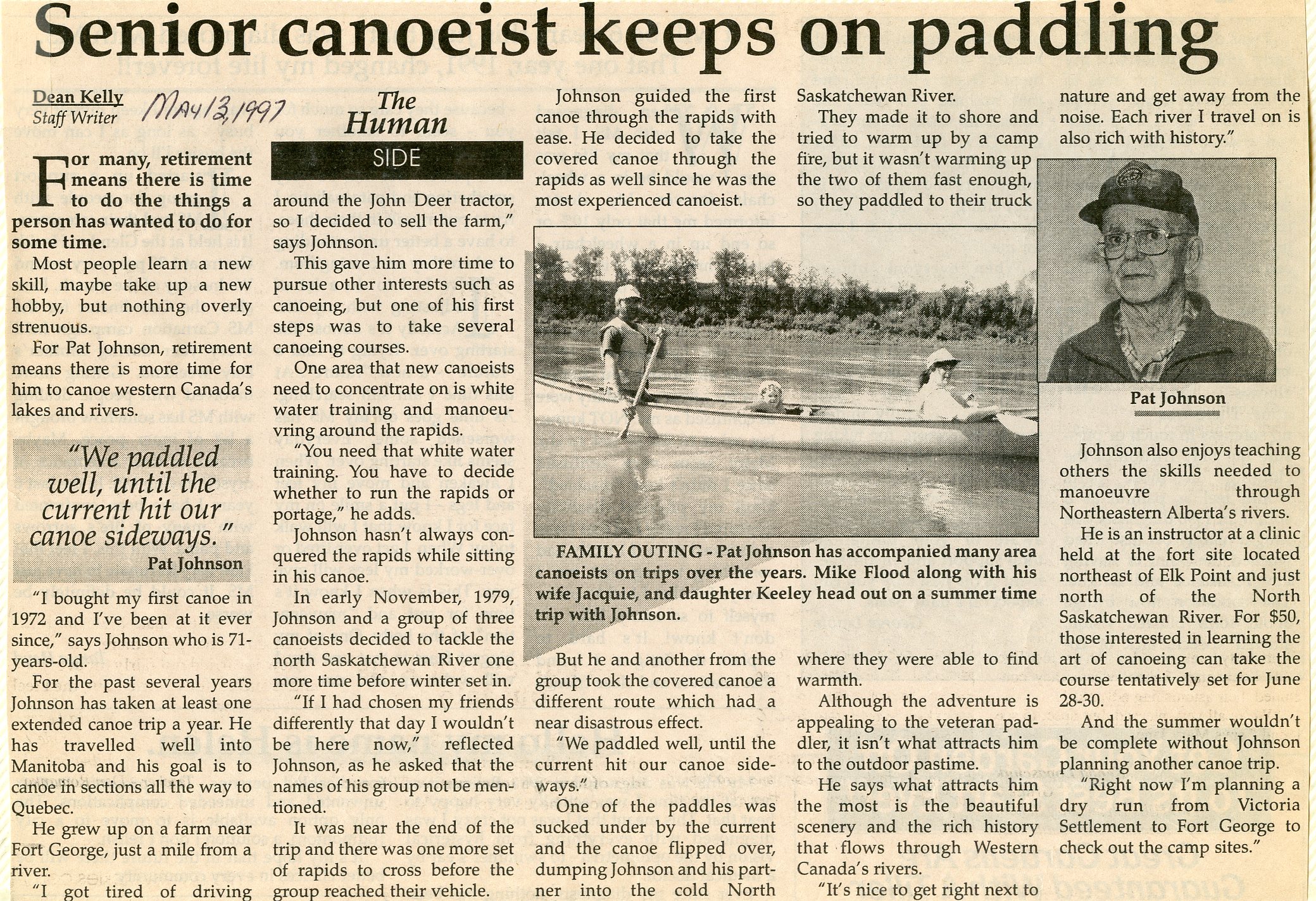 He coined a new phrase from his many adventures. He would say "it takes presence of mind to do the right skill at exactly the right time in moving water to stay upright in the canoe  instead of swimming  with the fishes." We had many laughs and great times discussing at length all the possible techniques we could use if we had the "presence of mind".
The only time we ever saw Pat truly irritated and angry was on a canoe trip. We had a very long portage from one lake to another and had made several trips to bring our canoes and supplies through hot, mosquito infested trails. We were all exhausted and planned to go for a swim to cool down. Pat told us he would come after he had gotten even with the 20 mosquitoes in his head net that had made his hike so miserable.
 Pats biggest accomplishment as a canoer, was to paddle from above Rocky Mountain House to Lake Winnipeg – the early fur trade route that he read so much about. He did sections of this route each year, sometimes with other people and sometimes alone. He did not seem concerned about his safety, and he came back with many stories to tell us. To continue this canoe route, Pat wanted to canoe across the north end of Lake Winnipeg to Nelson House. He spoke about this trip a lot and even took his van over there a few times, but in the end he did not complete the canoe trip across Lake Winnipeg.
Pat was a special part of our family. He was a grandpa to our girls. Leanne describes Pat as a guy who kept you on the straight and narrow, and he never let you get too full of yourself. He was a deep thinker and taught her that there was always a way to fix something, and if she didn't know some information it was best to look it up. He taught her to respect everything including ants. He told her crazy stories about Charlie the squirrel and about the car that drove over the moon and had pictures to prove it. He teased her constantly and was interested in what she was doing. He took her canoeing and taught her how to climb up our 30-foot swing. He had a sense of awe and wonder about the world sharing what he read in the National Geographic and Readers Digest with her. He was sceptical of technology and even though he used it, he did not let it control his life.
Pat was there at most of our important family events. He attended our wedding, birthday parties, Thanksgivings and many Christmas dinners. He went canoeing with us on our holidays and came to visit us in the summertime when we were at the cabin at Muriel Lake. He came over to our house many evenings throughout the week to visit about anything and everything. We went on wilderness canoeing and camping trips together along the Churchill River system in Northern Sask.
Pat had a very profound and positive influence on our lives. He was a wonderful friend. To us he was a person who accepted and respected himself and others, the environment, and animals. He lived in harmony with everyone. He cheered up people with a joke or story, an insight about life or a kind word. He gave of his time and asked nothing in return. He was a wise and gentle man who lived life at his own pace with ease and kindness.
Many things Pat said and did will stay with us and we wanted to share one last saying with you that illustrates Pat's open and caring personality.  Pat said :
           A stranger is a just a friend you haven't met yet.
Happy Journeys Pat
May the sunshine upon your face
And the wind be at your back.