THE BILL MILHOLLAND STORY
by Barbara Milholland
As was mentioned in Reflections, the Milholland family emigrated to Elk Point from Fairmont, Minnesota, U.S.A. in May of 1912. Bill Jr., the first Milholland born a Canadian was born in October of 1912. His childhood memories were happy ones, due to basic needs being satisfactory. Although hardships were many, there was always enough food for the table.
Bill started earning money at the very young age of six years, delivering American papers. The Lone Scout and The Lone Ranger. He attended the country Elk Point School, which was situated at Aarbo's corner, for four years. His family then moved to St. Paul where his parents operated the old Commercial Hotel, for about six months. Bill had the misfortune of entering a French speaking school, not being bilingual he said he sat for three days without learning one word. After the third day the Sisters kept him after school and questioned him in English, but told him he didn't belong in that class. Bill was very angry and refused to go to school in St. Paul.
Bill kept busy helping his parents by carrying wood for all the stoves which were the source of heat at the hotel. It seemed as if there were dozens of these stoves to be fired and these required a lot of wood. He also helped an old fisherman pack his load of white fish when he arrived in St. Paul. These and many other jobs were his work until his parents moved back to Elk Point. Bill became an ardent hunter at a very young age; he supplied the family table with upland game, ducks and rabbits.
The family went berry picking during the berry season. Since this was a source of income, school was secondary. Mother Milholland was very thrifty and wasted nothing; the feathers from the birds were used for pillows and feather ticks; berries that were not sold were canned as was the meat that was brought home.
As a young man Bill always had a job, even picking stumps for 25~ a day, working long hours. In 1937 he started working at the Elk Point Creamery, doing all jobs necessary to operate a creamery. In 1948 due to change of management Bill left the creamery and took a job with Sasdrilling Rigs which drilled the first Elk Point Gas well. In 1949 he started working with the bridge building crew; the present Elk Point bridge was being constructed at this time and Bill fired the boilers required for construction. As many will remember it was a very cold winter and Bill worked from twelve to eighteen hours a day to keep the boilers hot. In the summer of 1950 he returned to the creamery, where he stayed until the creamery was forced to close, due to very little cream being shipped. In 1973 he became a security guard at the Windsor Salt Plant retiring in October 1977. He is now enjoying retirement and keeping very busy with ice fishing, curling, and cross-country skiing in the winter time, and in the summer he enjoys gardening, golfing and relaxing at our cottage on Muriel Lake.
In 1945, Bill and I, Barbara (Walker) were married. I came to Elk Point in 1944 to nurse in the Elk Point Municipal Hospital, where I nursed for almost twenty seven years.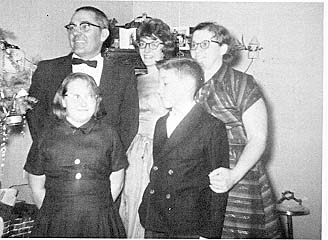 MILHOLLAND FAMILY, XMAS 1961
BACK ROW: Bill, Lynne, Barbara. FRONTROW. Sherry, Wesley.
A few highlights of my childhood as I remember them; my Dad came to homestead on the prairie from North Dakota in 1907 or 1908. Our nearest village was Rich-dale, Alberta, I was one of the ten children born at home with mid-wives in attendance. Seven of us grew up to be adults, I was born in the year of the killer flu at the end of the first great war. My parents suffered many hardships, some of which I vaguely remember; blizzards which lasted for days in the winter time, sandstorms during the summer months, floods in the spring thaw, drought and hail storms in the summer and early fall. The first school that I went to was called Great Star. I attended this one for eight years until in the fall of 1933 our family was forced to move north to the Alliance district. Due to drought and grasshopper infestation and hail storms we were left with very little. The move was hard on our cattle. We started out with forty head and before the winter was over we had less that twenty.
I continued my education in a country two-roomed school called Merna until I had my grade eleven. Because of lack of finances, I left school and took employment in the Galahad Hospital as a ward aid. The salary was $10.00 a month with room and board. I started work at 5:30 a.m. and worked until 7:00 p.m. with one half hour off during the day to relax, one half hour for each meal, and one half day off each week. Then I left the hospital and worked for my room and board to finish my education. I received my high school diploma in 1941, and entered the Misericordia Hospital as a student nurse. I graduated in the spring of 1944, and came to Elk Point as I have already mentioned. Although I had three children I continued to work part-time, and when our youngest daughter was thirteen months old I went back to work full-time until my retirement due to illness in 1977.
In our first years of married life we had many hardships. Bill's salary was small and we had to pay all our hospital bills and clinic visits as well as all our prescriptions. We did not have a car, so all our transportation was walking to town, to the golf course etc. until 1954 when we bought a car.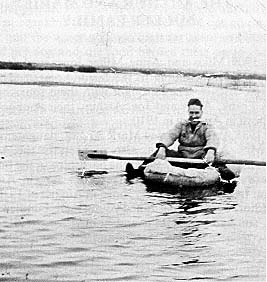 Flood from creamery to town, April, 1948.
Bill Miholland paddling dinghy to town.
Our children, Billy Lynne, born in 1946, George Wesley, born in 1949 and Sherry Dawne, born in 1950, received their basic education in Elk Point. The two girls graduated from the Camrose Lutheran College, while our son graduated from Elk Point High School. Billie Lynne married Keith Boulter from Rosalind, Alberta in 1967 and they have three children: Christy born in 1969, Mark in 1970 and Letitia in 1973. Sherry Dawne married Marshel Pelech from Lindbergh in 1969 and they have two daughters: Jamie Dawne born in 1971 and Jordan Rai in 1975.
Bill and I hope to enjoy our retirement. We hope to spend most of our summer months at our cottage at Muriel Lake. I should mention a few incidents that brought about building our cottage on Muriel Lake. It may seem hard to believe but in 1959 we were unable to reach the present site of our cabin without a great deal of trouble. There were no roads, so a group of about five or six families took a trail across Kehewin Reservation until we reached what was then known as Simeon's Land. From there we made our own trails through marshy land and brush, using any old trail which had not been used for years. We were almost like pioneers and their covered wagons, except we had cars. When we got stuck, all the men worked together to build a pole bridge over the mud holes, to get our vehicles across. When we got to our cabin site we walked in and there was about a foot of water all over the area. The men worked very hard that summer to build the road to the beach. They hauled clay, gravel, dirt and laid slabs of wood to make a road. This road is still used today, and many people who use it do not realize that it was hand built. Incidently, the first four cabins built on Muriel Lake (south beach) were log cabins built by Frank Johnston, ourselves, Paul Petrosky and Dr. K. C. Miller in 1960. It is hard to conceive that only eighteen years ago there were no cabins on Muriel Lake past the Kehewin Reserve. There are so many now, and 1977 and 1978 will see many more all along the shoreline of Muriel Lake