MR. AND MRS. NICK SLYWKA
by Pearl Slywka
Nick Slywka was born on December 19, 1889, in the Ukraine in a village called Borshchiw. He was six years old when he came to Canada with his parents, John and Annie Slywka, to relatives at Beaver Lake. He settled on a homestead in Haight, Alberta. Nick was the oldest of eight children. Going through the hardships of breaking the land and farming it, the children were a big help as they were growing up. Nick helped his parents and also worked out on odd jobs; he also worked on the railroad to make extra money.
In 1915, Nick wanted a farm of his own, so with a wagon, a team of horses and a little money, he left home. He bought a quarter section of land from Mr. Halko, five miles south of Elk Point in the King George district. There was a one room log house on the property. He struggled alone as a bachelor for almost two years. In February, 1917, he married Katherine Bugera, daughter of John and Annie Bugera of the Willow Range district. Both Nick and Katherine were very sincere in their Catholic Religion. Nick helped organize and build the Northern Valley Church which they both attended regularly. Their means of transportation was a wagon and a team of horses. As the years went by and things got better, that was replaced by a democrat.
Nick and Katherine raised a family of four children: Mrs. Kaiser (Ann), Wengzynowski of Grande Prairie; the late William (known as Bill) of Elk Point; John, of Elk Point; and Mrs. John (Leona) Juba of Edmonton. In 1929 they built their own dream home, a big two storey structure with red roof, white siding and a large veranda. It was really a beautiful home and something to be very proud of. In 1929 Nick bought his first motor driven vehicle, a new Ford truck from C.J. Markstad for $750.00 which his family were very proud of, especially Bill as he was the only driver at that time. The family wanted to live closer to town and not have to cross the ferry so in 1941 they moved to the property one mile south of Elk Point, where they farmed for seven years.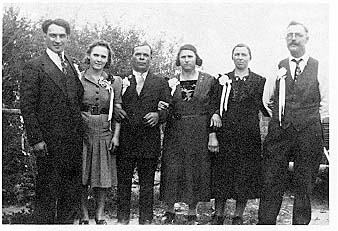 Mr. and Mrs. Kaiser Wengzynowski, Mr. and Mrs. Nick Slywka, Mr. and Mrs. Onufrey Melnyk, Sr., 1940.
In 1948 Nick decided to go into semi-retirement, so they moved into the town of Elk Point. He farmed as a hobby three and one half miles west of town. On August 27, 1954, Nick passed away. After Nick's death Katherine was employed in the Elk Point Hospital as part-time help. She passed away April 24, 1970. Both were laid to rest in the Northern Valley Church Cemetery.