ALBERT LUNDGREN
by Edwin Lundgren
Albert Lundgren, my father, came from Sweden in the early 1880's to Storm Lake, Iowa. He crossed the ocean five times. His first job was with the railroad. His wages were l0 cents an hour, eleven hour days, six days per week. He saved enough money to go back to the Old Country for Christmas. It was then he met his future wife, Amelia Borgren.
When my father came back to U.S.A., he worked sixteen months in a cracker factory. From there he took up his trade as a baker. He sent for his wife-to-be and they were married in the States They had a family of four -- three sons and one daughter After working in the bakery, my father developed a problem from the flour dust and heat. The doctor advised him to go to Sunny Alberta for his health.
Albert Lundgren's wedding picture, 1898.
Dad and a relative went to Edmonton and took up a homestead in 1910 where Morinville now stands. They built a house of logs. After that, my father went back to move his family up to the homestead. An accident happened to me, the youngest son. A tub of boiling water spilled on me. By the time we could move, the rights to the homestead had been cancelled.
My father got word from Morinville that his partner burned up in the house during the winter. He went back to identify him and pick up his belongings in 1911.
Dad had been taking the Swedish paper. Looking through it, he found an article from a man named Oscar Pearson, from Stoney Lake, Alberta, who was homesteading there. In the article he stated what a beautiful place it was around Stoney Lake. My father wrote several letters to him to find out more about the country.
In the spring of 1912, he loaded the family and their belongings on the train and came to Vermilion. We came to Caskeyville with Mr. J.B. Caskey who was hauling the mail to Caskeyville Post Office, a trip of around forty miles. We moved into a house owned by Hoaglunds. We stayed there until our father filed on a homestead -- N.W. 12-57-8-W4. Our neighbors were two bachelors on the same section, Finstead and Larsen, who moved away about a year after. Mr. Nels Swanson took over one quarter in 1914. He brought his wife and a crippled brother. Axel Lundgren came in 1914 with his wife and two daughters. They all came from the same place in the States.
My father built a log house, approximately 18x22x24 feet, with a sod roof. The three families lived in this house for two weeks. The rain poured down for three days. The women were doing the cooking with umbrellas over them as the roof was leaking. There were pots and pans all over under the drips. The children crawled under the bunk beds at night to keep dry.

Albert's home 1916.
We got our groceries at Hopkins Ferry, where Jim Screeton kept a store. When we came, we got our mail at the Orvilton Post Office. The roads consisted of a trail through the timber. There was no road work done in those days.
The farm land was very open since there had been fires that swept through the country. Dad broke twelve acres with oxen the first year, and nine the next. They lived on this for years. He raised only barley and oats which they used for feed for pigs and cattle. He had horses for hauling the pigs to Vermilion.
Sunday was the special day to visit friends and relatives. Everyone dressed up and went out to enjoy the day. Sunday in those days was a very sacred day, with no work involved except the very necessary things.
Our heat came from a wood stove made of a cast iron heater brought from the States. We had coal oil lamps for light. The furniture was old wooden chairs, two beds and a dresser, a couple of old wooden trunks. Our schooling was at Richland School, which was four and a half miles to walk. Some of the other children had nearly seven miles, such as Vera Hobbs down by Stoney Lake. My brother Ralph and I made it to school at times in forty-five minutes, running as fast as we could. Grades were from one to eight, with from twenty five to forty students. My first teacher was Mrs. Harry Day. Our best memory is getting home after the long walk from school and sitting down to a good supper.
The first doctor was Dr. Gagnon of St. Paul. There was no hospital. They had a hotel arranged for a hospital in 1918. When the flu broke out, it was called the "Pest House". Other than that, people stayed home and used home remedies, which they had in an old doctor book called The Peoples Home Library & Remedies, published by the R.C. Barnum Co., Cleveland, Ohio, Minneapolis, Minnesota; Imperial Publishing Co., Toronto, Canada-- 1916. For the medical part it was -- T.J. Ritter, M.D., Michigan State. I have the book and we have used it many times while raising our family of five.
My mother was a midwife and went all through the country to perform her duty. She stayed until the mother was up and able to do her household duties, which was about ten days.
All my folks, except Dad, had the "Spanish flu". They all survived. My mother was in bed for six weeks at home. She got pneumonia, but she recovered.
There was little church in the country. Mr. Harry Day was about the only minister here.
Dances were organized in the houses, especially if someone built a new one. Sometimes they had a barn dance in the hayloft. The music consisted of a fiddle and possibly a guitar. Some places they had a violin, tin pans, a mouth organ, or a comb with a cigarette paper over the teeth.
Picnics included foot races, tug-o-war, sack races, horse races, and jumping over ropes, called high jumping. Baseball was one of the greater sports.
A Fair was held, with all kinds of hand work -- crocheting of all different things, and embroidery. The best vegetables, grain and anything raised on the farm, was exhibited. My mother brought vegetables of all kinds, also home-made cheeses, for which she won a silver cup, which was donated by the Bank of Commerce, Elk Point. I still have the cup.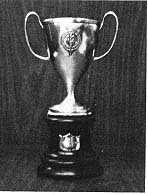 There were plenty of berries, fish and wild game for anyone who would get out and get them.
Coffee cost $1.00 for four to five pounds of bulk coffee beans, which were ground at home. Sugar was twenty pounds for $1.35; sardines, twenty-four cans for $1.00 or 5 cents a can, in the 1920's.
The clothing for men was bib overalls. The women wore long dresses. No slacks in those days.
Threshing with the steam engine meant cooking for fourtteen to sixteen men. They were generally finished in one day. The food often consisted of home baked beans, wild meat, roast pork but very little beef. People never wasted food as it all meant a lot to them.
My oldest brother, Arnold, lived in B.C. after he married. He had two sons and one daughter. He passed away.
Ralph, my second oldest brother, has farmed on our father's homestead since he married. They had five children.
My sister, Elsie Hansen, had a family of seven. Mr. Hansen served all through World War I. They farmed near her folks for a number of years, then moved to B.C. Her husband is 85 years old, Elsie, 73. They will soon celebrate their 60th wedding anniversary.
I bought a farm near my folks --5 112-10-57-8, where I farmed for forty-two years. I married Pat Diamond, who was cooking in the Elk Point Hospital. We lived together until she took sick and was in the Elk Point Hospital for about a year. She passed away June 22, 1934. There were no children. In 1935, I married Eileen Turner. We had five children -- four girls and one boy. They are all married and away.
Eileen and I are now retired in Ashmont, forty miles north-west of Elk Point.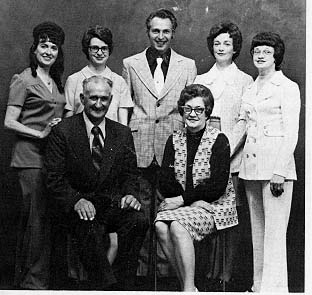 40th Anniversary of Mr. and Mrs. Edwin Lundgren.
BACK ROW, Left to Right: Fern, Dora, Dean, Lorna, Velma.