P.J. KEITGES
by Raymond Keitges
Due to considerable advertising in U.S. newspapers and brochures, Peter J. Keitges, in the fall of 1907, came to Alberta to have a look at the situation regarding the availability of homestead lands. He did not care for southern Alberta but was favorably impressed with the area in what is now the Elk Point district.
In May, 1908, my father, Peter J. Keitges, his wife, Cora (nee Shimer), their sons Raymond, 9, and Franklin, 1, along with my mother's father, John D. Shimer, and his wife, Sarah, and their sons, Eugene and Ed, granddaughter Elsie Bradish, Ed's wife, Jessie, and their two sons, Louis, age 9, and Harold, 2, together shipped three carloads of settlers' effects to Vegreville, where they arrived on May 24th, and were greeted by two inches of fresh snow, which almost made them believe all of the terrible tales that they had been told about Canada by their neighbors at Oto, Iowa (45 miles south east of Sioux City) were true.
The reason for shipping to Vegreville was that, while my father had decided to find land in the Elk Point district, there was no ferry on the Saskatchewan River east of Duvernay-Brosseau. A ferry was installed at Hopkins later that year.
A land guide, Wm. Lorenson, showed my father some land about two miles north of where the first Hopkins ferry was located. This ferry was three miles west and then straight south of the present town of Elk Point. I believe this ferry has been moved up river at least twice since then.
John Shimer filed on one of these quarters and my father filed on the quarter adjoining on the east, while Eugene took the quarter cornering on the south east and Ed Shimer took the quarter cornering on the north east. Both Ed and Eugene proved up on their land, then sold and moved back to U.S.
In 1911, my father and John Shimer and my mother bought South African scrip rights. Canadians who fought in the South African War were given the right to file on and to prove up a half section of land. As some did not want to farm, they could sell their rights. Such rights were bought by my father and John Shimer and my mother. They paid $700.00 for each half section.
Since these rights called for six months' residence on the half section, it was possible for any individual to buy two rights for a half section each and thus prove up a section of land. This was done by my father, my mother, and John Shimer for the land east of Elk Point where my father farmed until his death in 1952. My mother died in 1962. My Sister was born on this farm. My grandmother died in 1917 and her husband then sold his land to my father and moved back to Iowa.
In moving the settlers effects from Vegreville to Elk Point, we came via St. Paul des Metis. There had not been even one shovel of earth moved to make a road, except at the ferry approaches at Duvernay. It seemed to me that it rained constantly. As we camped for about three months, I got enough of camping to last a lifetime. Our wagons were mired many times. The horses would be down in the mud until they could be unhitched and got to shore when long ropes would be attached to the wagons and the combined horsepower used to pull them out. Now, when one drives over the paved road from Vegreville to St. Paul to Elk Point, it seems impossible to believe there ever were such terrible road conditions. Those who talk about "the good old days" can have them. I like it a great deal better now.
My father bought adjoining land from Albert Lien, Alec Findlay, Eustace Leger and Mr. Carley, before 1915. These parcels of land were all homesteaded by the persons named above.
In 1915 a large house was built. There was a saw mill four miles northeast of Ken Pinder's farm and a good stand of timber. My father cut logs and had them sawed and planed there. The flood in the spring of 1915 washed away much of the lumber of the Fraser Lumber Co. along the river flats in Edmonton. It floated down river and drifted into Moose Creek, which flows into the North Saskatchewan. Settlers around took the lumber. We got quite a bit. On the end of each plank was the stamp of the Fraser Lumber Co. so my father wrote them and told them how much he had taken. The Company charged him $2.50 a thousand for the lumber.
Stuart Maxwell was the head carpenter who built the Keitges' house. He was paid $2.50 for a ten-hour day. Helge Hesselgren was the second carpenter and was paid $2.00 for a ten hour day. Bill Bartling was a helper and earned 50 cents per hour.
The first grain raised was mostly sold to settlers. Later it was hauled to Vermilion. I remember only the cold of the trips to Vermilion in winter. We walked most of the way to keep warm.
I plowed fifty-five acres, walking behind a plow. It took one month and I figured I had walked twenty-eight miles a day.
The store that Joe Mah later owned was built in 1917 just north of Aucoin's Store and was used by Mr. O'Mara for a pool hall and barber shop, Mr. W. Nelson being the first barber. I bought the building and had a pool hall and operated the first telegraph. Later I moved the building west of where the Clinic stands, then sold to Joe Mah in 1928.
Our neighbor, Seth Gibson, was a good worker, but a bit queer. He said "Keitges lives on that land, but I own it". Once out in a rain and hail storm, he and I took shelter under a wagon. There was lightning and thunder. Seth shook his fist at the sky and said, "I'm not afraid, Lord. You can't scare me". When the lightning came very close, Seth lifted both hands to the sky and said, "I didn't mean it, Lord. I didn't mean it".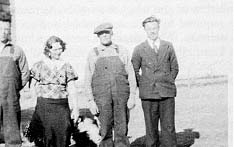 Frank, Helen, and P.J. Keitges, and Orville Holthe.