JOE MAH
by the Mah Family
Joe Mah Chow Doo was a long-time resident-businessman in Elk Point. He was born in Canton, China, son of George Mah Ling, a restaurant owner, and Wong See, a homemaker. In 1921 he emigrated alone to "The Golden Mountains", arriving on Canadian soil at the port of Victoria, B.C. Thirty days on a steam operated ocean freighter with everything being alien to him, he was glad to reach what was to become his adopted homeland. From Victoria he sailed via ferry to the mainland and then travelled by C.N.R. to his destination, Edmonton.
Joe was thirteen at the time and immediately commenced his schooling at Queen's Avenue School (now where the C.N.R. station is located) and later at the Technical School (now where the Edmonton School Board is located). At fourteen he was fortunate to be employed by the MacDonald Hotel as an elevator boy, working from 11:30p.m. to 7:30 a.m. seven days a week. For this he earned a salary of $50 per month, and that was considered a good wage. Working and attending school was a hard, tedious life but, through frugality and thriftiness, he was able to accumulate enough money to purchase a business along with Dick Mah. That business was a restaurant in Elk Point. It was owned by a Mr. Lee, who in turn had purchased the property from R. Keitges. The forty foot structure was located across from the present Clinic site, along with Mr. Markstad's store and the C.N.R. station. In the autumn of 1927 it was moved to Main Street and ten years later extended by another forty feet. This building still exists today.
During the interval from 1927-34 Dick, himself, managed the cafe, while Joe remained in Edmonton. After four years of schooling, and upon completion of his grade eight, Joe went to work alongside his father at the Capitol Cafe, where Eatons now stands. Then, upon being persuaded by a friend, he went into the laundry business in Ponoka and, after an explosion which left him permanently scarred, he went to work for a Dr. Hall as a cook on a farm in Bon Accord. For one year he even operated a shoe-making business on Jasper Avenue in Edmonton.
It wasn't until 1934 that Joe came out to Elk Point, bought out the partnership, and became sole owner. At that time he tallied the population at 186. Joe's easy-going nature and his reputation as a good cook soon attracted a good clientele. At 6 each morning, the Alberta Cafe, as the restaurant was called, opened up to the aroma of freshly home-baked bread. Joe offered quite a varied menu, attractive prices, too. The porterhouse steaks were thick and juicy, done to perfection, and as large as the serving platters themselves. A steak plus all the trimmings, including potato and vegetables, cost 55 cents, $6.50 meal tickets for $5.75, representing a saving of 75 cents, were a real bargain. Perishables were stashed away in the ice box, which at that time was a rare commodity. Blocks of ice from the river were used to replenish the "cooler". They were packed in sawdust and kept in the storage shed at the back. Mrs. Johnson, a very reliable woman, performed the general clean-up duties and assisted Joe whenever extra help was required. The two Boyda sisters waited on tables and, for this, they received a grand salary of $7 per week.
In the meantime Joe decided it was about time he settled down, so, in 1936 he revisited Canton where he met his wife-to be, Mei Lan Tang (Mary). She came from a prominent family, all of the members being scholarly types; in fact she, herself, was studying to become a doctor. Her grandfather was a Manchurian General and a martial arts expert, excelling in the field of Kung-fu. There was an elaborate marriage ceremony and the couple prepared themselves for the long journey to Canada. The fare this time was $90 each, but the voyage lasted only eighteen days and the accommodation was much more comfortable and luxurious. Joe and his spouse had no proof of marriage so had to go through a second ceremony to obtain the necessary documents, and this they did in Edmonton. They lived in a small shack behind the restaurant and then in 1940 rented a larger house from Mr. Libich for one year. Prairie chickens, rabbits, squirrels, and deer were abundant and a real delight to watch, especially for their two children, May and Jean. Both were born at Elk Point Municipal Hospital, with Dr. F.G. Miller as the attending physician. The remainder of the seven children, four girls and three boys, were all born in their new home which was built adjacent to the existing premises. It was usually Dr. Miller or Dr. Ross who was called upon to perform the obstetrical duties, but neither was ever notified in time to deliver the babies. However, all were born without complications and grew up to be healthy, alert children.
There were no plumbing facilities until around 1954, and outside toilets, or privies, were a part of home planning. Old Eatons catalogs and Gillettes lye were two common items stocked by householders. Creeks, rivers and wells were the source of water, and chlorination and flouridation were unheard of. Electricity was provided by a power plant owned by Dr. Miller and operated by Bill Soldan, but there were still a number of coal oil lamps in use. Wood and coal were the major heat sources, with wood being chiefly used for cooking purposes and coal being used for providing warmth. Joe remembers when the farmers and townsmen would gather around his coal stove to thaw out and to catch up on the most recent happenings. On Saturday the farmers would come into town to do their weekly shopping, either by walking or riding in by horse or team. Several horse ties were located around the hamlet, one of which was behind Joe's. On Monday, Wednesday and Friday mail arrived by train and on these evenings throngs of people would flock into Joe's to wait until the mail had been sorted, and sometimes that wasn't until 10:30 or 11 p.m. Joe and his wife always looked forward to mail from "home", as well as the Chinese Times, a Vancouver-based newspaper. Joe read the Edmonton Journal and so was informed about world events as well as the local news.
Considering the size of Elk Point, entertainment was quite varied and a fine social spirit seemed to exist. Dances were sponsored in the old theatre-hall where the present theatre now stands. Mr. Arnott owned the hall and crowds ranging in the hundreds would come to have a good time. The dances would last until 4 or 5 a.m. and Joe would offer to cater to the early morning revellers. A minimum of twenty loaves of ham and cheese sandwiches would be prepared in advance to be later distributed at l0-15 cents each. Coffee served by Mrs. Johnson was 5 cents for as many reffils as one wanted. Joe made great clam chowder soup and that was priced at 15 cents a serving. The crowd would jam into the kitchen and the dining area as utilizing every bit of space possible.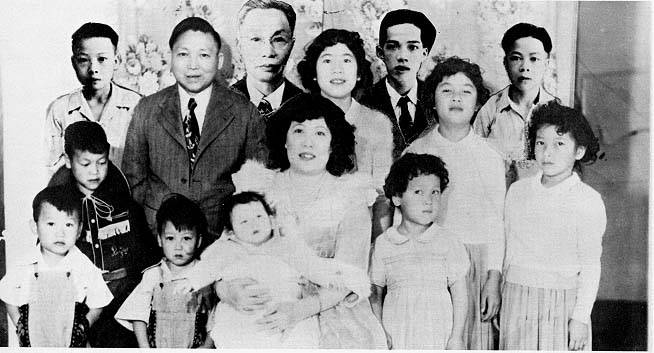 THE JOE MAH FAMILY
BACK ROW, Left to Right: Si, Joe Mah (father), Mr. Mah (grandfather), May, Jim, Jean and Bing.
FRONT ROW, Dean, William, Ken, Mary Mah ( mother) holding Joan, Ellen, and Fernie
Then once a week movies were shown at the theatre, and these came all the way from Smokey Lake. Joe's favorites were the westerns, with Tom Mix and Buck Jones rating high on the list.
Playing cards was a popular pastime and it was something Joe played with a "golden hand". Bridge he loved and fully participated in the week-end house-to-house socializing, until it got to be too much to have to open "shop" the same morning. For some of the men, poker and smear sessions were the highlight of the day. Joe's was the "Las Vegas" of town and good friends would congregate there to have a good time. Tuesday was travellers' day and many of the salesmen would invariably land up at Joe's playing several hands of smear instead of going about their intended business. The stakes were fairly high, $1 to play and 50 cents for each bid, but no one, to Joe's knowledge, really ever lost the shirt off his back.
Joe enjoyed pool and was good at it. The billiard hall, owned by Paul Stepa, was very conveniently located across the street. He quit playing after May, four at the time, got her arm caught between the wringers of the washing machine.
Hunting small game, like grouse, prairie chickens, ducks and partridges, was a good diversion, and the surrounding countryside abounded with them. Willie Wenzel and the Milholland brothers were Joe's hunting buddies and it wasn't very often they came back empty-handed.
Cars were a luxury reserved for the very few and Joe was lucky enough to own one. It was a yellow sports car, a convertible, and, although he made a concentrated effort to learn how to drive it, he never really did master the controls. Once when he was attempting to back the car out of his garage he rammed into Fred Shpeley's outhouse and knocked it over. Needless to say, there was quite a confrontation. Another time he manoeuvered the vehicle right up onto the sidewalk on Main Street. After these two disastrous incidents he decided that driving just wasn't "down his alley" and the chore was left up to one of his many volunteer chauffeurs.
Joe was always happy to provide some of the transportation for the Elk Point Baseball League. The team ranked first place and competed at all the sports day tournaments, travelling the circuit from Vermilion, Lloydminster, St. Paul, Two Hills, Glendon to Dewberry. Joe often treated the boys to their meals and paid for many of the expenses involved. Bill and Russell Milholland, Jim Millar, Willy Wenzel and Vic McLean were some of the outstanding team members. Joe remembers the time when the league played one of their competitors from across the river and, upon their return trip, discovered all their funds had been exhausted. Instead of leaving them stranded, the ferry operator took pity, and the following day Joe settled the account. At that time Mr. Monkman and Ole Jacobson operated the ferry, which ran only during the spring and summer months. In winter the ice on the river froze over solidly enough to permit cars to be driven across.
In 1942 a confectionery business was opened in conjunction with the restaurant. Business virtually started to "boom" after 1945 but Joe became discontented with the "food world" and decided to concentrate his efforts on a grocery-confectionery. His family was growing and he felt he could train his own help; besides, it was a great opportunity to instill in his children a sense of responsibility.
He established a reputation for staying open 8 a.m. to 12 p.m., 365 days a year, closing only to pay respects to a deceased friend or in case of emergency. Once he took his family to "the Big City" (Edmonton) for three days, and returned only to be informed by the drayman, Martin Loftus, that the bolt on the door had worked itself open and that
Jean Mah in front of her Father's store, 1955.
Customers had served themselves, depositing their money along the counter. It elated him to know that the people of Elk Point were so honest and trustworthy. Then there were the times when Joe or one of the children would forget to bolt the door, but never was there any merchandise taken and he was always immediately alerted to the situation.
Joe decided to play the role of farmer and in 1949 purchased a half section of land in the Armistice area from Mr. Turner and , later on, another quarter from Joe Zering. He raised everything from chickens to pigs and sheep, and harvested his grain along with the rest of the farmers. Although he didn't reside on his farm, he had hired hands to tend and care for his livestock. This parcel of land was sold twenty years later.
In 1960 part of Joe's family moved to Edmonton, where the older ones attended university. Then, in 1969, Joe left Elk Point and moved to Vancouver, B.C., where he resides at 8675 S.W. Marine Drive. He and his wife keep busy shopping in Chinatown, gardening and enjoying the scenery in and around British Columbia. They often reminisce about the wonderful times in Elk Point and still have many fond memories of those years that are past.
Ellen Mah in front of her Father's store, 1955.