AS KOST PAWLYK SEES ELK POINT FROM 1934-1978
by Kost Pawlyk
I am Kost Pawlyk. I came to Elk Point with Nick Scraba April 20, 1934. We came through St. Paul. That was the day the Donald Hotel burned. We drove to Elk Point to look for a location to start a business, and we found it. I started a feed mill where Harry Prusak is now. After five years I sold the feed mill and went to carpentering.
Kost Pawlyk (driving) with his cousins, six weeks before he came to Canada from Poland, 1930
Elk Point doesn't look now the same as it did forty-four years ago. That time Main Street looked like a spring and quick sand, nice and smooth. A salesman came to Elk Point thinking it was a hard road. He came to the smooth sand and he stuck in mud right to the axels.
As well as I can remember on the west side of Main Street was the Alberta Hotel, next Andrishak's store, then Dan Windiuk's shoe shop and second hand store, Jacobson's jewellery shop, Neil Fenton's butcher shop, the Caskey Hotel, and C. A. Johnson's grocery store. In the next block north was the store of Joe Helm, then the blacksmith shop which later was burned in Elk Point's first fire. After that we had four fires. On the east side of Main Street going north was the house of the manager of the Imperial Lumber, then the Imperial Lumber Co. In the next block was the Chinese Cafe, the post office with Joe Quin as post master, then the Caskey Garage. To the east of this was Mr. Arnott's hall. East from Highway 41 (starting from the north) the first house belonged to the United Church (the Manse). Next to it was the United Church, south of which was Mrs. Hall's house, then a small shack where an old lady lived. Next was Dr. Ross's house. One house was moved by Mr. Ed Smith on the farm right on the corner by Highway 41. From the corner east was Charlie Hood's place and a few little shacks. Before he died, Charlie Hood sold all his property to Bill Andrishak. From the present Tourist Information Office west the first house was C. A. Johnson's. In 1936 he built a new house. Dr. F. G. Miller had an old house. In 1937 he built a new house. Next was the old Clinic and two schools which stay yet today. Then Mr. Markstad's Garage. On second street on the corner was Dave Nelson's house. He was a hardware manager. West of him was the house that belonged to Bill Dunkin. West across the street from the garage was Markstad's Grocery store, next the gas Power Plant, further to the west was the house of Hugh McQuillan, son-in-law to Mr. Markstad. One more house was near the creek, then the hospital was at the end of town. From the hospital across the road south was Milholland's house, Hank Jacobson's house and the house that Mrs. Gusnowski lives in now. Farther on east again was the Roman Catholic Church, then Art Boos's house, then south was Bill Soldan's house, the Pool Elevator house and Bill Andrishak's house. From Main Street east John Libich had a livery barn, then there was Bill Bartling's house and in one house to the north lived Mr. Solinger. There was one more shack where the old Co-op store was and Kost Pawlyk bought that and made it into a feed mill and lived in the house.
Kost Pawlyk, his wife Mary, and his mother, 1959.
I remember the United Church minister named Mr. Marshall, a very nice fellow. The next minister was Mr. Pringle who was pretty active in the curling rink. He fought for daily train service and he got it. The first time the train came on Sunday all the population came out to meet it. The third time he tried to get a bank in Elk Point he got the Toronto Dominion Bank which opened June 23, 1947 in Kost Pawlyk's building. We had another fellow, Mr. Brailsford, who fought for the railroad friendship train and he got it. We got it from Heinsb'urg to Edmonton and back. There were a couple hundred people on the train and we had lots to eat and drink both ways. We went to Edmonton, stayed over night and had music on train both ways. In Edmonton they took us by car and showed us all over, after which we had dinner at the MacDonald Hotel.
Elk Point gas well was drilled in 1947. That well belongs to the share holders. Now Elk Point has several gas wells.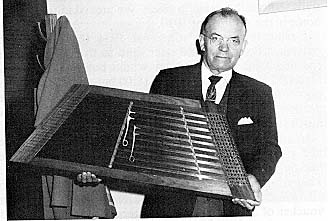 Kost Pawlyk with his own hand-made dulcimer, 1974.
From that time Elk Point grew in population. We got water and sewer in 1952-53. Now Elk Point has nice schools: the new F. G. Miller High School and a large elementary school. About thirty teachers are employed. Elk Point has a big arena named for Dr. Ross, and a new municipal hospital. For the old people there is Buckingham House. The new curling rink has four sheets of ice.
Elk Point has a nice new settlement on the north hill. A new Co-op will be finished in 1978. Now Elk Point has three elevators. We have a medical clinic, a Senior Citizen Centre, and Elks Hall, Police Station and a Library. Elk Point has pavement and good roads. It has four churches.
On the creek that runs through Elk Point there are four bridges including culverts.