MARINUS JEPSON FAMILY
Born in Denmark in 1877, Marinus Jepson immigrated to United States. Here he met Rundena (Dma) Johnson who had been born at Volga, South Dakota in 1881. They were married on September 29, 1900 at Brookings County, South Dakota where they lived until 1911. That year, with their family of five children, they moved to Canada to settle in the Elk Point area. The first winter, they stayed with Dma's sister and her husband, Annie and Jack Valentine. Then they moved to their homestead on the N.E. 1/4 of 14-57-7-W4th. Dma provided butter, pressed into pounds and wrapped, for sale in her sister's store. The going rate for butter at the time was 20 cents a pound. On the homestead, they raised ten of their thirteen children. They farmed until 1946-7, when they sold and moved to Elk Point where they lived until their death.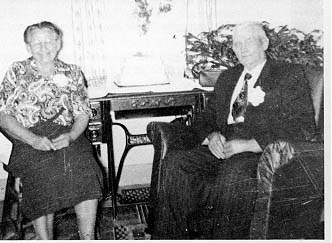 Dina and Marinus' Jepson's 50th wedding anniversary.
Marinus, known as "Jep", was caretaker of the Legion Hall for six or seven years. It was nothing to see him out there at four o'clock in the morning cutting grass. He took great pride in the hedge and grounds around the hall. Dina sewed for different people after she moved to Elk Point. She was loved by all as she was a wonderful person. Marinus passed away March 10th, 1957 and Dma passed away on November 24, 1966. They are buried in the Elk Point East Cemetery.
The Jepson children are: Fred, born in 1902, deceased in 1922; Hans, born in 1904, returned to U.S.A. as a teenager, married, and still lives at Priest River, Idaho; Arthur, born in 1907, married Caroline Koren, lived in Vancouver, B.C. area, and died in 1972; Lovina, born in 1909, married Art Stewart and lives at Worsley, Alberta; Donald ("Rusty"), born in 1911, lives with wife Beth at Heffley Creek, B.C.; Selma ("Sis"), born in 1913, owned drugstores at Rimbey and Bentley.  She married Doyle Clinton and died at Bentley in 1964;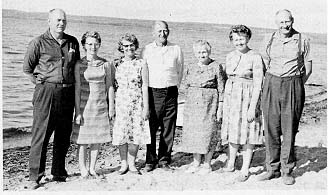 Bob, Helen Jarmoluk, Lovina, Hans, Mrs. Jepson, Maxine, and Rusty -taken at Seba Beach.
Mike, born in 1917, and his wife Sadie live at Gibsons, B.C.; Maxine (Peggy), born 1919, married Fred Smith. Maxine taught school for many years at Stony Plain, where they still reside Bob, born 1923, and wife Rosie live at Kamloops, B.C.; and Helen, born 1926, married Michael Jarmoluk. They own and operate Michael's Photo Studio at Rimbey, Alberta