STEVE DEMCHUK
by Steve
I was born in the province of Brody, Austria, in 1899, to Mike and Ksenka Demchuk. My father was a land owner, and a tailor by trade. We came to Canada in the spring of 1914 and settled at Innisfree, then in early fall we moved to the Lake Eliza district and filed on a homestead. Land was hard to get in the old country and we had news of a great country across the sea where you could get lots of land cheap. Several families from the same and nearby villages came at the same time by steamship. We all got seasick.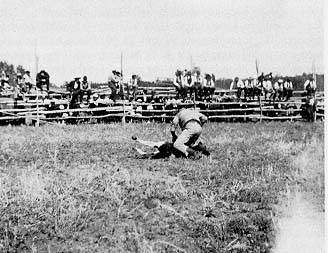 Steve Demchuk, calf-roping at a Stoney Lake stampede, about 1924.
Correspondence was a slow process; two or three letters a year from the old country was very good. Mail came to the Hopkins Post Office until 1916, when a post office was opened at Lake Eliza.
Our homestead house was built of logs -- sod roof and earth floor, the walls mud plastered and whitewashed. Our water supply was a well a quarter of a mile away. We used a horse and a stoneboat to haul water in barrels.
In 1919 I married Ernestine Mychaluk, who had immigrated to Canada with her parents in 1914, from South America, where they had emigrated from Austria.
The school I attended in Austria taught up to grade seven. Subjects were academic, also religion and singing. In Canada I taught myself to read, write and speak the English language.
Sickness was something we dreaded on the homestead. My Dad died right in the house. I think it was pneumonia.
This country in the early days looked like the land of plenty. One could hay any place; the grass and peavine grew knee high. There was lots of game and wild fowl. Then the plow and barbed wire started creeping in.
We first worked oxen, then horses, and in 1929 I got my first tractor. I raised wheat, barley, oats and rye. Our first place to market was Vermilion, then St. Paul and Elk Point. The depression years of the 30's saw cars change from gas-driven to Bennett buggies, pulled by horses. Goods were cheap, but money was scarce. Wheat was 19 cents a bushel, a top steer $9.00, and a hog $2.75.
Watkins and Rawleigh products were used as mild medicants throughout the district. Dr. F.G. Miller began a practice in his home in 1919. He was later joined by Dr. Ross.
In 1932 I owed Dr. Miller money for professional services. In the fall he was making rounds hoping to collect some bills. I had just finished custom threshing so when he came to my farm I didn't give him a chance to tell me why he came. I pulled out a $20.00 bill and gave it to photos He held it in both hands and looked at it, then he said, "Where in hell did you get one of those? " Then he got into his canvas top Model A Ford coupe and drove off.
There were good times. Dances were held in homes until halls were built. In 1927 the Ringling Brothers' Circus came to St. Paul. The band was conducted by John Phillips Sousa, who later became world top band conductor. "Under the Double Eagle" is a Sousa composition.
I started stampeding in 1924. The first rodeo was at Stoney Lake, and is still an annual event. Helping were Cliff Sewall, Eddie Spencer and Gordon Flanagan, all now deceased. We had two holding pens -- one for cattle, one for horses. We had one chute and no arena. The contestant was on his own when the chute gate was opened. If the pick-up men failed, the rule was "Get off the best way you can.
Later I owned a 'bucking string' of horses and staged rodeos throughout the country. I custom threshed for years, and was municipal councillor for about twenty-five years.
I also traded, sold and raised horses, when the horse became a power source on the homesteads. Every fourth horse I traded, I had one horse in my pocket. I made good trades, and some bad ones.
One trade I made with the late Cliff Sewall, who ranched three miles from my place, was often mentioned because Sewall was a shrewd horse trader. At that time he had five matched dapple greys and I knew that he wanted one more to line up a six-horse team. I had such a horse, but it was a cribber. A cribber horse will lack air and will chew on a rail fence, a manger or even a tree. During the chewing period the horse will groan and squeal. So I turned this horse out to pasture, and found that he was a fence jumper as well.
So I took him down to the Sewall ranch and traded him for a bay mare. I told Sewall he would chew wood and no fence would hold photos The horse was tied in the barn. When he began to groan and groan, Cliff told the hired man to turn him out to pasture. About a week later Cliff rode in and said "At least you were honest about that horse chewing wood and no fence will hold photos"
An amusing incident concerned an old man who had his moonshine still stolen. He reported his loss to the St. Paul police. He said he was a carpenter, had made a nice still and someone had stolen it. The police assured him they would be on the lookout for it and would notify him if they found it. He was very pleased and said he would come and take it home.
Travel in the early days was lots of fun at times. I rode many miles on saddle horse, drove team and drove car. Spring was the worst. Ferry crossing was a headache when a team new to crossing was to be driven on. The river in winter was our main highway to Elk Point and part way to Myrnam.
In the fall of 1956 I moved into the town of Elk Point, where I still reside.