CHARLES JOHN MARKSTAD
by Ila (Markstad) Borowsky
Charles John Markstad was born June 9, 1876, in Oslo, Norway, where his father was a master carpenter. He later immigrated to the United States with his parents, learning to speak English after he arrived. He married Emma Lawston, who was a school teacher, in Canton, North Dakota. In 1908, with his wife and four small daughters -- Mildred, Alta, Esther and Hattie -- he came to Elk Point.
At this time the Canadian Government was advertising for settlers for the western provinces. Many Americans were dissatisfied with their present condition so, with the promise of free land, coupled with a spirit of adventure, they decided to come to Canada. Elk Point was chosen because of favorable reports from neighbors who had already moved to the area.
Our father and Jim Ford rented two box cars on an immigrant train in which they shipped their livestock, machinery and household effects to Vermilion which was the nearest point to Elk Point. Mother had baked bread and packed food for the trip; meat was bought at stops along the way. There were facilities for boiling water for drinks on the train. Stops were made also for the immigrants to water and exercise their livestock.
Arriving in Vermilion, the settlers were accommodated in a large immigration hall where families stored their effects and set up temporary housekeeping until they were able to move out to their homesteads. Dad went immediately to Elk Point after fling on a homestead two miles east of Elk Point, N.E. 5-57-6-W4, while Mother and the four girls waited in Vermilion for the trails to dry after the spring thaws and the ice to clear in the North Saskatchewan River so the ferry at Hopkins could operate. Jim Ford filed on the homestead which was across the road from Dad's. He came from an oil rich Oklahoma family and was in search of adventure. Later his brother visited him and persuaded him to sell his land to Dad and return to Oklahoma.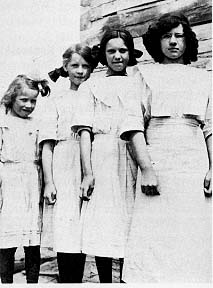 Dressed in their Sunday best.
LEFT TO RIGHT: Hattie, Esther, Alta, and Mildred.
In early April, after loading household goods, a supply of food staples, and necessary hardware into a large lumber wagon drawn by King and Queen -- the two white horses brought from North Dakota, the family set out on their sixty mile journey to their new home. The first night was spent at Mr. LaBoucane's stopping house which was about half way. Since it was full, Mr. LaBoucane gave his beds to the Markstad family, himself and his family spending the night dozing on chairs. At breakfast my sisters found to their dismay their bread was buttered with lard.
The first few days were spent with the O.J. Fish family who lived close by and at the time had only a log house with a sod roof, but gladly gave shelter to six people until a tent could be put up and supplies unloaded. The first summer was spent in a tent where Mother cooked and fed the family, besides the helpers who were busy cutting and hewing logs, finally raising a two and a half story house of square hewn logs.
The new log house on the homestead, 1908.
BACK ROW: Dad, Mother, Jim Ford.
FRONT ROW: Hattie, Mildred, Esther, Alta.
All windows and doors had to be hand made and Dad's carpentry training came in handy. He made cupboards which were used for many years. He also made other furniture. Chairs were difficult to make so a bench stood behind the kitchen table.
Not trusting to tin stove pipes, Dad hired a Mr. Jackson from Mooswa to build a brick chimney from cellar to roof. For pay he asked for Mother's phonograph which had a large horn and used cylindrical records. This was one of the first phonographs, even predating Edison's, which had not yet been made. Settlers were hungry for music. There was a trap door in the roof so the chimney could be cleaned, also a front and back door to the house. Dad had a fear of fire so took every precaution. By the time Ila, the fifth daughter, was born four years later, the house had seen many happy evenings. In winter the young people visited around for cards and music. The Magnussons and Fishes were frequent visitors. We had a game board on which one could play nearly any kind of game. The card games were mostly Casino and King Pedro. Dad had bought an organ and a banjo so there were many musical evenings. Mrs. Albert Whitworth gave Esther and Hattie organ lessons. Dad provided the rhythm by playing the bones. This he did by holding them between his fingers and moving his hand in a special way producing a rhythmical tap. Barn dances at Van Arnam's were attended by whole families.
Dad's entertainment was fishing and hunting. He was very proud of a moose head trophy which graced our front porch for all the years we lived there. His favorite fishing place was at the mouth of the Moose Creek where it flowed into the North Saskatchewan River, which is the present site of the Windsor Salt Plant pumping station. The old road to Mooswa and the creek crossed the sand plains where we were often stuck in dry sandy ruts. Conversely wet sand caused no trouble. Dad was Game Warden for many years, selling hunting and trapping licenses.
Ila playing in front of root house door 1916.
There were many hardships but they were taken for granted. Water was drawn by rope and bucket from the well which was inside a well-house. An outdoor roothouse held vegetables. Wood had to be cut, hauled, sawed, split and piled. Each girl took a turn carrying in wood to fill the big wood box by the stove Dad never burned anything but tamarack which gave more heat and lasted longer. Each year he would build a huge round woodpile of chopped wood, ensuring that we would never be cold during the long winters. Our kitchen stove was called "The Home Comfort" by the salesman who sold it to Dad and it was aptly named. To demonstrate its lasting qualities he knocked the stove lids together and jumped on the oven door. My sisters used to stand on this oven door on the cold mornings while dressing. Years later when Hattie was teaching at Lake Whitney, she was embarrassed by Seth Gibson telling the children he remembered their teacher when she was a little girl and dressed on the oven door.
Other hardships were taken for granted, such as the outdoor toilet made of logs and used both summer and winter. Toilet paper was unheard of but the old Eaton's catalogue served the purpose, probably not as efficiently or comfortably. One morning the kitchen door was frozen shut due to condensation of moisture. The flatirons had to be heated and used to thaw the ice around the door.
During the first few years Dad had to make trips to Vermilion for supplies. This took him two days. Later supplies were obtained from Jim Screeton's store at Hopkins about seven miles distant. Mrs. Beebe received papers and magazines from the U.S. and passed them on to us. Reading material was often passed from house to house.
Mother attended Ladies Aid held at the homes and the family attended church which was also held at homes until later when it was held in the school house. Sunday was rigidly observed. We could sing only hymns, were forbidden to use the scissors, could not sew or play cards. Not being able to use the scissors was very hard on me as the young bachelors used to come for Mother's Sunday dinners and were very good to cut paper dolls for me. I remember them kindly --Jack Holliday, Tom Holliday, Bob Holliday, Martin Loftus and others.
Wild berries abounded in the district and berry picking time saw Mother loading lunch, children, boilers and pails into the wagon and setting off for the sand plains for a day in the berry patch. The trip was great fun since we had time to see all the little creatures along the way and jump in and out of the wagon for a run. Mother unhitched the horses and let them eat grass while we set to picking blueberries which were unusually large and juicy. The girls spent most of their time comparing pails to see who had picked the most until Mother settled them down. Lunch was a picnic and dessert was fresh berries with sugar and cream. When the boilers and pails were full, a tired but happy family set out for home. Next day berries had to be cleaned and canned, then stored in the cellar for winter use. Mother usually had about 300 quarts of different berries canned.
Dad sometimes acted as a guide and advisor to immigrants who were looking for homestead land. Since he could speak Norwegian, he was able to help families coming from Norway who could speak no English.
Because of lack of health care, health education and difficulties of travel, there were many tragedies in families. Mother died of cancer in July of 1917. Dad had taken her to Rochester where she had her operation but it was too late. She had months of suffering at home with no drugs to kill the pain. She must have worried about her five young girls, one deaf, left motherless in a remote area. Mildred lost her hearing because of an ear infection, and due to bad roads and weather it was impossible to get her to a doctor in time. Dad and Mother suffered greatly because of this and did all they could to compensate for her loss of hearing. They bought her a Kodak camera and equipment to develop her own pictures. She made use of this in later life, becoming photographer for many of her class functions. The medicine chest had an important place in our home and was kept well stocked with iodine, castor oil, castoria, salves, liniment, camphorated oil, and much more -- but it could not cope with everything. When deaths occurred during the hot summer, burial took place the next day. Vermilion was the only place where there was a mortician and it took a day's travel to reach there --too long to keep a body without refrigeration.
With four girls of school age, it was a great relief to our parents to see a school built in 1910. They were very fortunate in having Mr. Ramsbottom, who had been a schoolmaster in England, for a teacher. He gave the pupil (scholars, they were then called) a very liberal education for that time, including such subjects as music, chemistry, and health. He did a great deal for Mildred, who had lost her hearing at twelve years of age. He was responsible for her sound elementary grounding. Later Dad took her to Devil's Lake School for the Deaf in North Dakota, where she finished her high school, then on to Gallaudet College, where she obtained her B.Sc. At this time Gallaudet was the only college in the world for the deaf where they might obtain degrees. From there Mildred accepted a position in the Mississippi School for the Deaf, where she taught and supervised for thirty-seven years. She was the first person from Elk Point to obtain a university degree.
After Mother's death Dad took the four of us to Leeds, North Dakota, where we stayed with Mother's sister for a year and continued our education.
Roads and weather played an important part in our life. Roads were mere trails, subject to all the vagaries of the weather. Before Dad set out on the shortest trip he would scan the sky and, if there were the smallest cloud on the horizon, we remained at home. Putting chains on the back car wheels was no fun in a mudhole or ditch with rain pouring down. Side curtains kept passengers dry by snaps on the sides and top of the car. Small isinglass windows let in light. We always went prepared for the worst and often found it --pushing the car out of mud or up a slippery hill. The old Horseshoe Hill on the way to Vermilion gave us the most trouble. But the Ford got us places even though it was temperamental. Once it would not start even though Dad cranked and cranked. Finally he lost his temper and, after a few choice remarks, kicked the car. The next crank it started.
The North Saskatchewan could be a barrier at times. It played a large part in our lives since four of us girls went to school in Vermilion and looked forward to going home weekends. In flood the ferry could not run because of swift water, logs, trees and sometimes buildings floating down river. In fall during freeze-up and in spring during break-up crossing was impossible; but each year some brave souls ignored this and broke through the ice with teams, and later trucks and cars. One man from west of Elk Point bought thirty horses in Calgary, herding them all the way to the river. He misjudged the strength of the ice and lost all to the river.
Somehow the mail got through. I had experience with this once when I was alone going to school in Vermilion and dreaded a lonely holiday more than the precarious trip home. Leaving Vermilion with Mr. Monkman, the mailman, we went as far as the river by sleigh. There we saw open water on each side and solid ice in the middle. Mr. Monkman loaded mail and me into a rowboat which he kept there for such emergencies, rowed the boat across to the ice, pushed the boat over the solid ice, then rowed to the north side, where a team and wagon from Elk Point was waiting. Needless to say, I got a good lecture for coming home under such conditions. Later, crossings were made in a cage fixed to the cable and driven by a gasoline engine. The cable had been known to part and drop the cage to the ice below. This hardly encouraged peace of mind for the passengers. The river also cut off trade from south of the river in spring and fall. Dad and other merchants lost many sales because of this.
In 1915 Dad opened an Implement Shop in Elk Point and also acquired his first Ford car. I well remember this. Mother and I sat in the back seat so as to give Dad plenty of room to operate the "thing" as Mother called it. The only advice she gave was, Now Charlie, don't go too fast. I've heard these things tip over" - . In 1917 he had the Ford agency and kept it for thirty years until his retirement.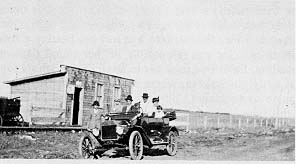 Dad at the wheel of his first Ford car with Mother
and Ila perched fearfully in the back seat of "the Thing", 1916.
In 1918 Dad met and married a school teacher, Blanche MacDonald, from Nova Scotia, and the family, all except Mildred, were united in Elk Point again. With the second marriage three little girls were eventually added to the family. Mother would have been pleased could she have known that her girls would have a Mother again, and that all received the education she so desired for them. Of the girls, five became teachers, one a nurse, one a clerk, and one a stenographer and musician. Since there was no high school in Elk Point yet, we finished our education in Vermilion and Camrose.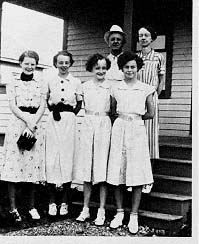 Dad and Mom with Edythe, Ida, and Doris and Doris's friend Etta Cromwell
In 1920 Dad bought the N. E. 1-57-7-W4 from Warren Mabley and moved so as to be nearer his business. The farming of the land was done by Hardy Lawrence and Johnny Peacock. In the disastrous fire of 1922 Dad lost his Implement shop and had to rebuild. When the C.N.R. came through in 1927, he moved west to the new townsite and opened a new General Store, I.H.C. agency, Repair Shop, gas pumps, and also acquired the Imperial Oil Agency.
By Edy the Markstad
Dad was first and foremost a businessman. In spite of very little formal education he could still help us with our high school mathematics. He had a way of explaining problems so simply that we wondered why, with all our studying, we could not understand them as he had. To this day, using his methods of "figgering" makes some of the most complex problems easier for us.
In the 1920's his letterhead read "I.H.C. Machinery, Harness & Saddlery, Pumps, Spare Parts, Real Estate, Loans & Insurance, Groceries, Lumber & Building Materials, Gasoline, Oils and Supplies, and Ford Dealer". When he retired in 1948, the General Store, Garage, Parts Office, Imperial Oil Agency, Ford Dealer, I.H.C. Machinery and the farm (160 acres north of our house) were all part of his interests.
During the depression, most all the residents of Elk Point and area had little or nothing to manage on, and we were no exception. The price of eggs and butter, among other staples, made them almost luxuries for the town folk, but dry goods, flour and sugar were luxuries for the farmers. It was thus that the farmers brought eggs and butter to town, trading them for flour, sugar and dry goods. Unpacking the eggs could prove both exciting and hazardous, for the eggs were usually packed in bran, wheat or chop, and you had to dig into the egg case to extract them. How exasperating when you poked your finger through an eggshell and had to remove the slimy mess! The loss of an egg or more also diminished the narrow margin of profit.
Cheese came in big rounds wrapped in waxed cheesecloth. The mouth-watering that accompanied the first slice of a new round was excessive. Fortunately bulk cookies were close by and, when customers were not around, a slice of cheese between two cookies usually couldn't be resisted. Everything was in bulk -- dried fruits, candy, cookies. The candy jars stood in easy access for the many who came to the store, helping themselves as they came in. Frequently, after all the groceries had been packed and paid for by the customer, Dad would fill a small bag with "hard candy" and stick it in with the groceries "for the kids".
Each fall, boxcar loads of fruit and a good supply of apples for winter would arrive, and, as is natural for young girls, they would bring in all their friends after school for fresh apples. When a shipment of new Fords arrived, they came stacked in a boxcar only partially assembled. Machinery arrived in a similar state and Dad and Hugh McQuillan, his son-in-law, spent many hours putting all the parts together.
During this time many businesses went bankrupt. Dad used to go on "buying trips", buying up bankrupt stock. How exciting when the shipment came and we were able to unpack it. One shipment we well remember contained a full length mirror and foot stool. How we dreamed about them gracing our bedroom and hoped they would not sell. Our dreams were not fulfilled, however, Alberta Pinder, too, loved them, and bought them for her room.
Summer holidays meant more to the three youngest girls than a holiday from school. Ila came home and, with her, a trunk full of exciting things, which we could hardly wait for her to unpack. Every night we looked forward to the stories which she would tell us (and still does, to Ida's grandchildren).
The store was built with an elevated area in front of the windows, and designed for window displays. The area served instead as a place for customers to sit, some waiting for their spouses, others just sitting and visiting, discussing politics, local affairs and the like. Mothers used the area to diaper their babies, and as a safe place for them to sleep. The pot-bellied stove became the center of attraction during the cold winter evenings; men would gather their chairs close to the stove and "shoot the breeze" until "Marky" had to close up.
It was during the depression that Dad planted the trees, first around our yard and later along the entire south edge of eighty acres behind our house. Some of the trees still stand, a reminder of his love for trees, flowers, and generally beautifying the property. As children growing up in "hard times" our social activities were dependent on our own initiative. To sleep in the field in the fall, protected by a wall of stooks, was as thrilling to us as going to a far away land. Mom would keep an eye out for us as, one by one, we returned to the house in the wee hours, frightened by some noise or a field mouse scampering about.
In spring our great adventure was to go "booting" in puddles and areas of water along the railroad tracks. All had rubber boots and, though warned not to get them wet inside, we invariably waded in over our boots and would come home where Mom stuffed the boots with wheat and dried them in the oven, only to have us repeat the performance the next time out!
Although our parents may not have appreciated the long cold winters, we eagerly awaited the arrival of lower temperatures and snow. The skating rink across the street from home provided many hours of enjoyment. Living close to this had obvious advantages. We could put on our skates in the warmth of our kitchen if we couldn't see smoke coming out of the rink-house chimney, and we could, with the aid of Dad's fieldglasses, see who was already skating! However, one disadvantage we remember well. This closeness made it possible for Mom and Dad to use a unique system to let us know when it was time to come home. At nine o'clock each night one of them would turn on our front porch light, an illumination we could not ignore as we skated around the rink. Even if the waist-high boards surrounding the ice had been higher, I am sure this light would have shone through the cracks. Some winters, before the snow fell, the temperature would drop low enough to make it possible for us to skate on Johnson's lake, east of town. To walk there at night, passing the cemetery or "grave yard", as we called it, was often a frightening experience but when we arrived at the lake we were faced with an added fear. If the ice should suddenly give way beneath our feet, would we disappear forever in the quicksand below? We understood cattle had met such a fate.
One winter it snowed, rained, and froze in only a few hours. This unusual condition enabled us to skate down the streets, giving us what seemed to be miles of ice.
As well as our formal education, we were lucky to be able to take piano lessons from Mrs. Howe, who walked into Elk Point every Saturday, regardless of weather, to teach music. She guided the three youngest of us through the preliminaries to grade eight or nine, with Ida going on to become an accomplished pianist who has entertained many groups ever since.
Dancing too was encouraged. Mr. Jim L. Millar spent many hours tutoring a group of four -- Sidney Holthe, James (his son), Ann Miller and myself. We danced the Sailors' Hornpipe and the Highland Fling, to win first prize in the St. Paul Festival for two consecutive years. Other Scottish folk dances were taught, which helped make our dancing in the Arnott Hall more fun.
Mom was an active community worker, in the United Church Ladies Aid, Sunday School, bazaars and church.suppers. Helping Dad in the store did not cause her to neglect her house, family or community; sewing many dresses for us, always baking so that we could have something good for snacks when we came home from school. The chocolate cakes with yummy icing and hot cocoa were wonderful on a cold afternoon!
"The Three Musketeers"' - Mrs. F.G. Miller, Blanche Markstad, and Mrs. G.A. Johnson, 1955.
Mom loved reading, especially poetry. She often recited to us one of the many poems she had memorized as a child. She herself wrote many poems, a reflection of both the happy and sad moments in her life.
One entitled "OUTDOORS" typifies her love of nature's beauty:
I love to be outside
ft's life and health to me
It's basking in the sunshine
And ever feeling free.
Summer, winter, spring and fall
They all appeal to me.
I hope that in the land beyond
Where I must some time go
I'll wander through the golden paths
And see the waters flow
And feel the sun and gentle breeze
Around me soft and low.
Blanche E. Markstad
Some of her earlier poems were published in the Lutheran Herald. A collection of her poems will hopefully be published in the future.
We were all encouraged to attend Sunday School, eventually ending up teaching Sunday School classes each in our turn; playing the organ for Sunday School also fell to each of us.
Dad believed in his family taking part in his business. We all spent many evenings and Saturdays helping in the store. What an excellent opportunity to learn to meet and be courteous to people of all ages and backgrounds, and we loved it.
Because of the shortage of cash during the depression, Dad carried many customers on credit, never refusing credit to anyone, for he knew they would pay when they could, which they always did, if not in cash, with potatoes, geese or meat, or by helping around the yard.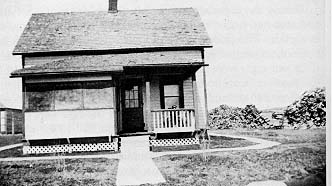 The Markstad home in Elk Point.
Hugh and Hattie McQuillan lived next door to us. How we loved to visit, especially after Bob and Evelyn were born. Hugh worked for many years in the store. He and Lawrence Sumpton always carried on a humorous banter, which was fun to listen to.
In summer the Sports Day was our great day. Always on July 4th booths were set up, our truck, among others, helping haul much of the equipment and food to the fairgrounds. The excitement of seeing St. Paul ball players arrive! Softball, the races, the hot dogs and pies at the booths, the heat from the July sun, and finally the Sports Day dance, where, tired and burned, we always attended attired in new dresses Mom had made for the occasion. No dance started before 11 p.m. and, except for a short intermission for midnight supper continued on until dawn.
Mom and Dad frequently took the softball team to other towns for games. Ida was a star player, and Edythe, well, being bat girl was all she could manage. Skating rink and tennis courts, skus and snow shoes, dances, community suppers, and camping -- who could be bored!
Sundays in the summer were usually spent at Whitney Lake, but, if we were unable to persuade Dad to drive us to the Lake, Doris and Etta Cromwell would spend hours walking slowly down Main Street looking for coins someone may have dropped between the boards in the wooden sidewalks. Surprisingly, they were always able to find enough money to buy one bottle of pop and one chocolate bar at the Drug Store. Doris often wonders if Mr. MacDonald must have dreaded the times they came in, but he never showed it. He didn't hesitate to divide the bar and to pour equal amounts of pop in paper cups placed in chrome containers. Most summers meant camping, first with the Guides and then with the C.G.I.T. at Lake Whitney or Muriel Lake. The tents, straw mattresses, holes in the ground for perishables, hikes, and campfires remain very vivid in our memory.
The radio was our connection with the rest of the world. Ours was operated by using a large battery for the power required. It was played with some constraints due to the cost of replacing the B battery. At first the only sounds heard were through earphones. When voices and music were distinquished from the hum of the static, the squeals of the atmosphere, we were jubilant. Eventually Dad bought an electric radio but, since it had to be used with alternating current, and Elk Point had direct current, we had to use a transformer which made so much noise the sounds from the radio were still difficult to hear. But how wonderful not to have to worry about the batteries going dead!
In 1940 Dad received an engraved gold watch and plaque from the Ford Motor Company for his twenty-five years selling Ford cars and trucks. Imperial Oil Ltd. also awarded him for his many years selling their products.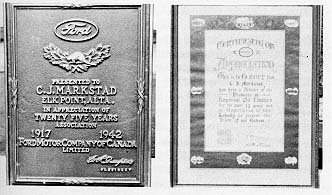 As we each left home to continue our education, the household diminished in size until only Doris remained at home. Since it was then wartime, not many young people were still in Elk Point. Doris and Etta had to content themselves with their bikes and shows. Finally Doris left and, although she became a teacher, she pursued her ambitions to paint, following in our Uncle Murray MacDonald's footsteps.
It was a bleak day in September, 1947, when, because of Dad's serious illness, he had to sell the business. He and Mom moved to Edmonton where Mom would be near Ida and her family. One week later he passed away, leaving a legacy for his family in the education he provided for them, and a home for Mom close to her children and grandchildren.
In 1973 a cairn was erected by the town of Elk Point in recognition of the contribution of land donated by Mom for a town park. The park was re-named Markstad Park. Fortunately Mom was able to be present at the unveiling ceremony, passing away only a year later. As the old hospital was demolished, we were proud Dad had been able to contribute to its development by donating the original four acres on which it stood and served the community for its many years.
DEDICATION OF THE CAIRN IN MARKSTAD PARK
LEFT TO RIGHT: Mayor Habiak, Velma Andrishak, Blanche Markstad,
Mark Fraser (Mrs. Markstad's grandson), and Mr. Young who built the Cairn.
All the girls followed the example set by their parents in serving their respective communities in their many volunteer capacities. Much credit must be given to our parents' sons-in-law -- Hans Eckert, Arnie Henry, Max Borowsky, Hugh McQuillan, Jim Fraser and Wilf Smith -- for providing the kind of support and kindness which Mom and Dad wanted for their daughters.
At the time of writing, Ila and Max now live in Elk Point on part of the property we grew up to love; Ida and Jim are in Edmonton; Doris and Wilf live in Calgary; Esther, now widowed, is in Camrose; Mildred, retired, is in Edmonton as is Edythe, who has continued her career in nursing and is presently Supervisor of the Health Science Clinics at the Un iversity of Alberta Hospital. Sadly, Hattie and Alta are no longer living