THEODORE SPRINGSTEEL
by Delta M. Springsteel
My name is Della Mae Springsteel, S 1208 ElmSt., Spokane, Washington. I was born in Gettysberg, South Dakota on July 30, 1895. My father's name was Theodore Springsteel, stockman and farmer. My mother's name was Clara Merrita Armstrong, housewife.
Clara Springsteel and granddaughter, Dorothy, 1924.
LEFT TO RIGHT. Arley, Mother, Mae and fee, 1913.
We moved from Warroad, Minnesota to the Lake of the Woods, leaving there May 10, 1909. We went to Vegreville, Alberta as my brother Ted and family lived there. Ted was section foreman on the Canadian National Railway. The spring of 1908 my brother Ted who had been section foreman at Windigo, Ontario for three years, had been transferred from Ontario to Vegreville and as we all went to town to see them away on the train (we lived five miles from Warroad), our house burned down leaving us with only the clothes we wore. This was in April 1908. That summer after Ted got settled, he wrote my dad telling him of the good land available in Alberta as homesteads. After my dad had built a liveable house for the family he got settler's rates to travel on the railroad (one cent a mile) and went by C.N.R. to Vegreville, Alberta. A man by the name of Higby was taking people out by horses and buggy to find suitable locations.
My father chose the Dog Rump Valley fourteen miles east of St. Paul, Alberta and eight miles west of Elk Point which is now Armistice, Alberta. He filed on the S.W. quarter of section 18, township 57, range 7, and Ted, my eldest brother, filed on the N.W. of section 18, same range. My dad got an extension for six months as people were to move onto and do some improvements in six months. The spring of 1909 in fact May 10th, my father had the box car loaded with stock and machinery and what household furniture we had and left Longworth Siding about 4:00 p.m. My father went with the box car and stock and they had a coach on for passengers on the same train. In about fifteen minutes we crossed the Manitoba line and were in Canada. That evening we went through customs and stayed all night in Emerson, Manitoba. We had to leave my father there as he had to travel in the box car with the stock to feed, water and care for them. We also had a little dog in the car with my father and my two brothers. Arley was sixteen then and Lee, whose nickname was Buzz, was fourteen.
The next morning we left by passenger train for Winnipeg. We spent most of the day in Winnipeg. Lee and Arley were out about the town most of the day. My mother and I managed to get to T. Eaton Co. Ltd. where my mother purchased quite a few pretty dishes and some clothing. That evening we left by passenger train C.N.R. for Vegreville, Alberta. We were all quite happy to get off the train and be able to walk on Alberta soil. My mother was not too happy. She was quite a confirmed American as her father was killed in the Civil War when she was quite young. We went to stay at my brother Ted's and they lived in a boxcar converted into a dwelling house with a lean-to kitchen built on the side.
In about five days my father arrived. My mother had found a small two-room shack-like house at the edge of town and rented it so we moved into that. In a few days my father and brothers left with axes, saws and all sorts of tools for the farm which was eighty miles away. We only had two horses so they drove them on the wagon. They crossed the Saskatchewan River at Brosseau ferry. It took them two days on the road. My mother and I stayed in Vegreville and took care of the cows. We had five cows and five calves. We picketed out two cows and the rest stayed with them until one day they ran and kicked, pulled up the picket pins, and ran to a pond of water. We couldn't imagine what happened until some man told us it was heel flies. We had never heard of such things. But now we knew what a pest they were.
In a few weeks rny father, Arley (who had lost his left hand in an accidental shooting accident in Minn. He had his hand and arm amputated to the elbow), and Lee arrived back in Vegreville and we prepared to move to the farm. My father had a load of household goods, etc. Art Landers, who we had got to know quite well lived with his mother quite near our little rented house, and always had lots of horses. My Dad hired him to take a load of machinery and go with us to the farm. It was sort of a miserable trip, rained most of the way. We borrowed my brother Ted's driving horse to ride behind the wagons and drive the cattle. I was always the horse lover and had ridden horses as far back as I could sit on a horse. My Dad always had horses so Lee and I took turns riding behind to keep the cattle together. After three days over the prairie trails, hills, ruts, and mud holes my dad stopped and said, "We have to chain the wagon wheels to go down this long hill." It was steep and rough. My mother was so mad. My aunt at Warroad who raised canaries to sell had given my mother a pair of birds to take to Alberta. Our other birds and my pet cat had burned in the house fire at Warroad. Anyway, my mother got out and walked down the hill and carried her birds. When we got to the bottom of the hill my father turned right from the so-called road and we drove through some trees and across another sort of level spot and up among some tall poplar trees with grass as tall as the horses, to a little log shack. He said, "Well, this is home."
Well, if you ever heard of anyone being perplexed you should have heard my mother. My dad opened up the door and if you ever, ever walked into a place that smelled bad, that was it. It was built of green logs with a sod roof. Oh yes, we had three windows and a door; so they got a fire started in the little cook stove, opened the windows to let the fresh air in, and my mother managed to prepare some food for us. We got the place warmed up, but what a moldy, musty smell! We had make-shift beds all over the floor. I was the lucky one. I had a fold-up canvas cot to sleep on. I just rolled in, clothes and all, and covered up head and heels. During the night I heard someone pass by my bed. I didn't uncover my head to see who it was. Then someone else went past my bed. I never stirred for I was warm and didn't care much who it was. Soon I began to swallow and discovered I was sick to my stomach too. At last I couldn't keep it down any longer and I was not about to go outside in the dark so I just raised up and vomited on the floor, no time to call my mom.
Next morning was a beautiful, warm, sunshining day and my father got out his scythe and cut all the high grass around the house and I managed to walk out a few feet from the house to look around and looked across the valley. It looked like a huge park. I was thrilled. The men got the wagons unloaded and started to cut logs to build a barn for the horses, room for four horses. My mother was still very despondent and lectured my dad for bringing his family to a godforsaken place like this - no churches, no schools, in fact, nothing. And if she had the money she would take the stage, go back to Vegreville and take the train back to the U.S.A. and her only sister.
However everyone worked hard and long hours. The boys and my dad got out more logs and built a cow barn and then more logs and built an addition on the back of the other log cabin we lived in. We had two rooms. My mother got rolls of building paper and papered the inside. When it rained, the sod roofs leaked so my Dad got tar paper, put it on the roof and cut poles and laid them on it to keep it on. There was very little in St. Paul, but a man named Rascoe had a general store where my dad traded. We got our mail in St. Paul about once a month that winter.
My brother Ted came out in November as he had to live six months of the year on his claim to hold it. They built a small log house for him about forty rods from us. He had his one horse cutter and they put the buggy tongue on it from the two-seated buggy of my dad's, and it took two horses to make it to St. Paul. With no travel on the road it was an all day trip from early morn until late at night to make the trip for mail and food supplies. We brought some books from the USA with us, and they would buy a paper in St. Paul usually, the Free Press Prairie Farmer, printed in Toronto, Ontario, and an Edmonton paper if they could get it. We also brought a gramophone with a big red morning glory horn. It played flat records and my dad bought that new for $8.00. We had about twenty-four records that certainly got used plenty. My dad made skiis for everyone and little hand sleighs so we did a lot of skiing and sleighing that winter which was fun. Then the boys and my dad played cards. Nights my dad worked on the skiis, they would get my mom or I to sit in on the card games. I was never too thrilled with cards. I gpt used to pop corn as we had brought a hundred pounds of popcorn with us from Minnesota. We had plenty of milk and butter and the boys hunted and killed quite a few deer so we had lots of wild meat. We brought chickens with us, too, so we did have eggs enough to get along.
We had no close neighbors the first year. Then while hunting the cows my dad wandered onto Olas Selland's family living in a tent with four young boys. Henry was about six months old, and Nels was six years old. The only roads were roads you made yourself. The time passed and we had a visit from Charley Plante one Sunday and found there was a settlement of French people up at St. Eduard that we met later and we attended dances and parties with them for some years, but we knew of no schools nearer than St. Paul. I was on the farm for four years before I went to Vegreville, a railroad town, where my brother Ted was CNR section foreman. I went there by horses and cutter with a man named Andy Hepburn who had a homestead near Elk Point. He was a brother-in-law of Art Lander's. It took us two days to drive that eighty miles and we stopped at stopping houses along the way, stayed all night at Brosseau where we crossed the Saskatchewan River on the ice. To get to a town was quite a thrill for me as I was about sixteen years old then.
1918-1919 was the year of the flu outbreak. What a heartache! My brother Arley was very sick with it although my dad and I escaped it. Dr. Decosse from St. Paul came down to see Arley and left just about enough brandy and pills for eight hours and went on down the valley to visit some other family. He stopped at Tom Cooke's place and told Mr. Cooke Arley would not live until the morning. After the doctor left I hitched up the horses and went for a nurse named Mrs. Hitchcock, an English lady who was a very fine nurse. The snow was so bad the horses had to just walk and put their feet in the tracks of the last team that had gone over the road. When I arrived at Jim and Mrs. Hitcock's place Jim was just putting away his team after coming from Mr. and Mrs. Frank Davis' where they had lost two sons with the flu. They, Mr. and Mrs. Hitchock, said they would have a cup of tea and then come to our place. I had left my father alone with Arley. When I heard what Dr. Decosse had told Mr. Cook I went on to Elk Point to phone my mother and brother Ted. My mom was visiting my brother Ted and family in Vegreville. We had a long distance phone at home but it was in the livingroom where we had moved Arley's bed to have him downstairs to avoid running up and down stairs and I had him where I could catch photos I went on to Elk Point and called Ted. This was about five p.m. My mother and Ted and wife said they would come next so they rode the stage (horse drawn) the next day.
The next day after Mrs. Hitchcock had worked over Arley all night he was much better, but his brandy and medicine was all gone so I had to go to St. Paul that evening to pick my mother and brother and wife and more medicine and brandy. It was Mrs. Hitchcock's expert nursing and care that saved his life.
Mae Spnngsteel and her 1929 Model T Ford
purchased from C. Markstad, for $85.00. 1933.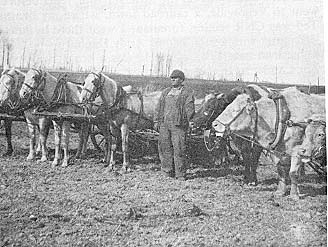 Arley Springsteel with his horses and oxen.
The stage arrived about seven p.m. We had coffee and started home. Our team was in good condition as we fed them well on oats, but no hay, a bit of straw, as there was no feed to be purchased any place. My dad used to go cut willows for the stock. We lost many cattle and two horses.
However we started home in the cold and bad roads. We had a cutter and a foot warmer. We hit a piece of good road protected by a row of willows. (The horses were a good team of drivers). When their feet hit that solid road they took off at quite a speed. (There were four of us in the cutter). When we got near the end of the willows the snow had drifted in the road on the north side and over the cutter went and all of us in the snow bank. Steam rose from the foot warmer. The horses were well
broken and when I shouted "Whoa" they stopped and we got the snow shook out the best we could and went on home and happy to be in a warm house. Arley was feeling much better; however, the following week Guy Shrieve came to phone for Dr. Decosse to come to see Mrs. Earl and a little grand-daughter of hers. They were very ill. Earl's were old timers in there too. The doctor told them he couldn't get a livery team to take him any place. Being short of feed all horses were just played out so my brother Arley said to me, "You go get the doctor and bring him down to Jerry Earl's and he can stop and see me too." So I got ready and took off at about six thirty p.m. back to St. Paul. I didn't stop to feed the horses but turned around and started for home again. We stopped at home to feed the horses and had a lunch about eleven p.m. Then we went on down to Earl's which was five miles. We stopped there and Dr. Decosse did what he could for Mrs. Earl and the baby but they both passed away three days after. While we were at Earl's there came a man that had been to our house to phone and found we had gone to Earl's and came there looking for a doctor.
Then came the surveyors to survey the right of way for the railroad. Our nearest telegraph office was run by Ed O. Boyd. He and his wife Mary were very close friends of mine. I used to spend lots of time with them after Ed was transferred to Rife, Alberta. My father and brother got cut logs and had a new house well on the way when my mother came home in the spring of 1912 from being down at Vegreville when my nephew (Stanley Clair) was born. That made Ted's third child. He had Guy Stewart, now of Seattle, Juanita, who passed away five years ago and Elywin Ray, born 1916 and now of Edmonton. It was he and his wife who sent me your golden book, received yesterday, which I just love. There are so many familiar faces and stories. It certainly brought back pleasant memories to me.
One of the pictures of which I have a copy, show the horses tied to the hitching rail at Hopkins. The first team at left is my dad and the third or fourth was my brother Arley with our team. Then there was a family of Howards, Ray and Lyle. "Lark" was Lyle's nickname. He was a popular young man, a very good friend of our family, as was Ray. Duckey Homes and Fred and George Chick had quite a singing group. The Chick brothers were also baseball players from Minneapolis, Minnesota, who lived winters on the homesteads and back to baseball in summer-a jolly bunch of boys.
My dad finished our new house after Matt Erickson had done the fine carpenter work and we moved in that fall much to our delight. Then came the railroad with all the excitement. They laid the steel into Armistice on Armistice Day. That is how it got its name. Then they built a grain elevator there and put Percy Martin there as grain buyer and his mother and father, Mr. and Mrs. Sid Martin opened up a grocery store and had living quarters in the back. Mr. Hobden Senior got a post office operating there and then the farmers got together, many
donated the rough lumber and donated their labor to f build the Armistice Hall. Matt Erickson was head carpenter. They had to buy windows, doors and flooring.
But it was pretty nice (we all thought). Then we bought a piano and worked hard to pay for all that had to be bought. We had chicken dinners and an oyster supper, all help donated. We had big crowds and in time paid it all off. For our big "do's" we hired a St. Paul orchestra and often times had August Bartling and Co. play for our dances. Sometimes had a professional violinist, Charley Greenstreet, played violin with Percy Martin on banjo and myself on piano. We also used to have school Xmas Concerts there and dance after.
BACK ROW, Left to Right: Liszie Mitholland, Mae Springsteel, Angie McMurdo, Ma Bartling, Erwin (Rosie) Bartling, ??.
FRONT ROW: Cora and Russell Muholland, John, Minnie and Ella Bartling, 1920.
I lost my mother from cancer in 1932 and my dad in 1935 and two weeks later my brother Arley died of erysipelas. All are buried in the Johnson Cemetery east of Elk Point. My daughter Dorothy attended Paramount School and went to Elk Point High for a short time, then took a government correspondence course and did well. In 1942 I had a sale and left the farm. Dorothy and I lived in a small apartment and Dorothy went to Business College. Before she graduated, Tom Robinson of Robinson and Sons Music Store in Edmonton came to the college to get a girl to work in the store. The Dean of the college recommended Dorothy so she went to work and went to night school to finish her courses and get her diploma. She worked for him for five years and then had the opportunity to come to Spokane to work for Sampson Ayers Music Store. She worked for them for twenty years and then bought the business. She now owns the biggest music store in the north west and is very busy. She has a staff of fifteen people. I sold the farm to Alex Lindquist and it is now owned by N. G. McFadyen. Since I had a light stroke on my right side three years ago it's hard for me to write well so I hope you can read this, and it makes sense. I don't hear much of Elk Point except from Elsie Babcock. Mrs. Day was a close friend of mine. Mr. Day preached funerals for mother, dad and Arley.
(Della Mae Springsteel died in Spokane, Wash. in the spring of 1978 at the age of eighty-three. She is survived by her daughter Dorothy Hutchinson, grand-daughter Shelly, three nephews: Guy, Clair and Elywin Springsteel; and grand-niece Marilyn Sergi.)