THE F. G. MILLER FAMILY
By Dr. K.C. Miller
In the summer of 1817, Mathew Emerson left his home in Durbon, and set sail from England with his wife and family. He had been a farmer and a worker in the lead and silver mines. The ship they were on was wrecked by storms on the shores of the Orkney Islands. After procuring passage on another ship, they arrived in a subsequent wreck on the shores of Newfoundland. From there, their travels led them to Kingston, Ontario. The following generations of Emersons were involved in farming,. both in Canada and the United States. However, the families that had moved to the States returned at a later date. Cora Emerson was born in Lindsay, Ontario in 1885, and migrated west with her family around the turn of the century. They settled on a farm about twelve to fourteen miles south of Vermilion in a community called Thorne cliff.
Dr. Robert Bell was a physician and surgeon in Belfast, Ireland in the late 1700's. He had as an assistant, Dr. George Miller of Newry. Fortunately for George, Dr. Bell had a daughter, who consented to marry photos They sailed for Canada with their family around 1820. Among their nine children was another George Miller, who married Eliza Stephens. This young couple moved first to Ann Arbor, Michigan, where their first son, Thomas Bell, was born. They returned to Canada, where they settled in Owen Sound, Ontario. Thomas Bell Miller married Emma Lister and begat four children -- the second of which was Fredrick Gustave Miller.
Fred and his younger brother, Kenelm, moved eventually to the Vermilion area of Alberta. They took up homesteads southwest of town. Fred worked enough at the homestead to keep his claim alive, but also worked for H.N. Stephens and Co. in their Vermilion store - clerking and freighting. He enjoyed the trips by team to Edmonton and back, and not many years ago, could still name every mud hole and bad crossing between Vermilion and Edmonton. At this time also, much of the freight was being brought down the North Saskatchewan River to the junction with the Vermilion River at Lea Park and thence overland to Vermilion. Fred made such a trip around the year 1904. The population of Edmonton at that time was 6,000. That trip down the river took ten days, and Larry Garneau was the river pilot.
In 1912, Fred sold his homestead for four thousand dollars and went back East to start his education for the practice of medicine. In the summer of 1915, the No.3 General Hospital Army unit was organized and transported to France to help with the casualties there. Dr. A.G. Ross was a member of this staff also and their long friendship was established at that time.
The time spent in Vermilion had not been all work - the courtship of Cora Emerson had progressed favorably! When Fred returned from the wars, to complete his studies, he made a side trip to Vermilion from his discharge point in Calgary. There, he convinced Cora and her father, James Emerson that the time had come. So on January 22, 1918, Cora and Fred were married. They returned to Montreal for the winter.
Fred graduated in the spring and spent the summer interning at the various Montreal hospitals. He then returned to Vermilion to work with Dr. Smith. In the summer of 1920, he moved to Elk Point, where he practiced medicine for fifty-two years.
In 1922, A.G. Ross joined the practice and the two men built, staffed and operated the first hospital in 1923. The government hospital was opened in 1928 and the practice continued to thrive. They travelled east as far as Onion Lake to care for the sick and confined. The doctors used horses and buggies in summer; horses and sleighs in the winter. When the river froze over, it became a road for them to use. Long Lake, or Kehewin Lake to the north, served the same purpose. In the spring and fall, before the ice was safe to travel on, the doctors would cross the river by means of a plank, suspended from a cable. They would get on the plank on one side - their weight would carry them nearly across, from which point they would hand-over-hand their way to the far bank. A friendly farmer would be waiting with horses and buggy or sleigh. They cooperated with doctors in Cold Lake and Bonnyville, helping them with operations. Usually these trips took three days - one to travel there; one to operate; one to return home. Fred and Sandy Ross also worked in close conjunction with Dr. Decosse of St. Paul de Metis, as it was then known. As a result of this dedication to his profession, Fred Miller earned the respect and trust of the people of northeastern Alberta.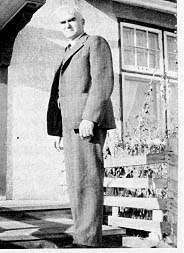 Dr F G Miller on steps of old hospital  1944
Fred was active in sports, both as a participant and as a coach. In the mid-thirties, he sponsored a teenage hockey team in the winter, then kept the same players busy at baseball in the summer. The major portion of the expenses of these clubs was born by him, although he had a lot of volunteer help from the families of the boys.
He was also involved in starting the first curling rink in the -community, with the help of Dave Nelson, C.A. Johnson, Bill Soldan and Lawrence Sumpton. This two sheet structure became the center of winter social activities in Elk Point. A couple of winters, he skipped rinks in the men's open bonspiel in Edmonton. He was written up in the Edmonton Journal as "the strong, silept Dr. F.G. Miller of Elk Point". With the assistance of Ivy Ross, Joe Mah and Margaret McGinnis, he won the Grand Challenge in the mixed bonspiel at the Windsor Salt Plant, although their rink was the oldest one to win this event. When things would go badly on the ice, he had a favorite swear word which he would say vehemently.
Anyone behind the glass windows with some lip-reading ability, could easily figure it out! Fred curled until he was 86 years old. The last ten years of his life, he could not see the end of the sheet of ice; so a spotlight flashlight was used instead of a broom. He played lead then, and on some of his better nights, he would get sixteen to twenty rocks in the house!
In 1930, Fred Miller bought a quarter section southwest of Elk Point. A Golf Club was started and this land developed into a golf course. It is still used for that purpose today.
For forty years, he was active on various school boards -first, a local board for a one room school in Elk Point. Then, he was Elk Point's representative to the School Division of St. Paul. Finally, he served as our member to the County of St. Paul. When the new high school was built in 1961, it was named the F.G. Miller High School" in his honor.
He joined the Masonic Lodge in St. Paul in 1925, making regular trips by train, horseback and car to attend meetings there. In 1952, he was instrumental in persuading the Grand Lodge to establish a lodge of Masons in Elk Point. St. George's Lodge was dedicated in 1953, and has continued to be active and well attended since that time.
Fred was a strong man - Cora Miller was his equal. She kept the home fires burning, as well as organizing the food and laundry for the nursing staff and the patients in the hospital. Many times she fed and provided beds for friends or family of patients. In addition, she bore five children and raised eight. Often, she and Fred gave up their bed for a patient's comfort. From 1923 to 1943, she gave anaesthetics for the surgical patients in both the original and the second hospital in Elk Point. Her gentle touch, her compassion and her sense of humor was appreciated by all the patients. She was active in the ladies' group of the United Church Women. For many years, she played the organ in church. Cora was an accomplished pianist and really enjoyed church music, as well as that of the twenties and thirties. She tried to pass on this appreciation of music to her family.
Mrs. F. Johns, Mrs. F.G. Miller, Miss Mary Miller (Dr. Miller's sister), Dr. F.G. Miller
on the occasion of Joanne Miller's marriage, 1963.
On January 22, 1968, Fred and Cora celebrated their fiftieth wedding anniversary. In attendance were all their own family; seventeen grandchildren; Fred's sister, Mary Miller of Owen Sound; and his nephew Tom, son of Ken Miller. This turned out to be a three-day celebration, which was climaxed by an open house in the United Church Hall. A multitude of friends from Elk Point and the surrounding communities arrived to extend congratulations to them.
Fred died on August 30, 1972, at 10 p.m. at the age of eighty-seven in the University Hospital. Cora is now ninety-one years old, up and active and as pleasant as ever, although her memory is gone.
Their family is scattered around the country. Dr. George Miller resides in Calgary with his wife Marilyn and their family. He is in practice with the Calgary Associate Clinic. Ann Miller Crane lives in Kelowna, British Columbia with her husband, David, and their family. Dr. Richard Miller lives in Guelph, Ontario, with his wife Margaret and their family. Hugh Miller died in the 1920's of pneumonia. Dr. Kenelm C. Miller, his wife Irene and their family reside in Elk Point. He is carrying on the practice of medicine started by his father. Joanne Miller Ramsbottom is in High Prairie with her husband James and their family. John Taylor lives in Vancouver, British Columbia with his wife and family. His sister, Dorothy Taylor, returned to England. There are no doctors of medicine among the grandchildren as yet, but all are academically inclined and involved, especially in the fields of science.
This is the outline of the history of the Fred G. Miller family in this community. No attempt has been made to relate the individual incidents that made up their lives, through these years from horse and buggy to modern cars and hospitals. There are many in this area who will remember and will relate these incidents to their friends and children. As death brings all history into perspective, it is best to leave the judgment of their actions and accomplishments to the storyteller.
Dr F G Miller delivering an address at the Elk Point Centennial celebration 1967