JOHN ANDRIASCHUK FAMILY
by Olga (Andriaschuk) Seniuk
My father, John Andriaschuk, was born July 10, 1910. He was one of the four children born to John and Rosie Andriaschuk of Chernavetski village in the province of Burhamet in the Ukraine. Yearning for independence and adventure, he borrowed money from his family and set sail to Canada around 1928, not knowing he would never return. He was compelled to labour with the railroad gangs as well as on farms around Yorkton, Saskatchewan. By then, the land in Saskatchewan was homesteaded and expensive to buy. He eventually travelled to Lavoy, Alberta where in the summer of 1933 he found employment on a well-established farm owned by Mr. and Mrs. Mike Mazar.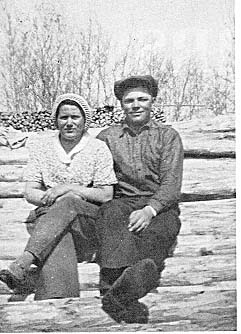 Jenny and John Andriaschuk 1939
My mother, Jenny Kupchanko, was born July 1, 1912, the youngest daughter of Alec and Mary Kupchanko of Chernavetski in Burhamet in the Ukraine. In 1932 she bade farewell to her family and homeland to join her brothers Nick and John in Canada. Upon her arrival she was employed at the Banff Springs Hotel in the laundry. The following spring her Uncle Mike Mazar whose wife was ill, brought her to Lavoy to look after the children and do the housework. It was here she met and married Dad on October 13, 1934. My Dad had a dream to fulfill so by putting their meagre savings together they ventured into general store business firstly in Plain Lake, then Two Hills from 1937 to 1939.
With prospects of advancement in business opportunities and me being three years old they moved to the Northern Valley district in the spring of 1939. It was here that my sister Rose was born and we acquired our first new vehicle, a 1940 Fargo truck. With it Dad was happy to provide some transportation for the neighbors. Business virtually started to boom after 1945. It was then Dad decided to play the role of farmer and businessman and in 1946 he purchased the N.E.-33-55-6-W4th. That was the year my youngest sister Mary-Anne was born. He moved the new house that was on this quarter and converted it to the store that was in operation till 1975. It was about the time he became postmaster for the Northern Valley Post Office, a position he held until 1966 when it was transferred to the town of Elk Point.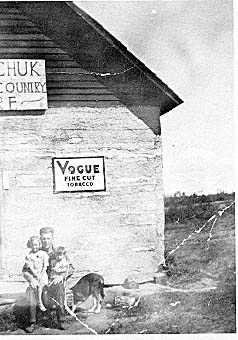 First Northern Valley store, origionally a Ukrainian Catholic Church.
Mr. John Andriaschuk and daughters Olga and Rosie, 1939.
During the time we had the store, customers brought sacks of dried seneca roots and eggs that were used in trade for flour, sugar and dry goods. Unpacking the eggs could prove both exciting and hazardous for the eggs were usually packed in chop and you had to dig into the egg case to extract them. How provoking when you poked your finger through an egg shell and had to remove the slimy mess. The loss of an egg or more diminished the narrow margin of profit.
Dad believed in his family taking part in his business so we all spent many evenings helping in the store. It was an excellent opportunity to learn to meet and to be courteous to people of all ages and backgrounds and we loved it. Dad carried many customers on credit, never refusing credit to anyone, for he knew they would pay when they could, which they always did, if not in cash, with grain or by helping on the farm.
Nick and Mary Kapeluk, Andrew and Rosie Bugera, Joe and Olga Capjack, Fred and Louise Swab, Walter and Dora Zaraska, lived next to us. How we loved to visit, especially after the children were born.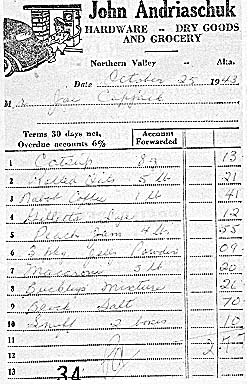 A hand-written grocery bill, 1943, illustrating food prices of that time.
Dad was first and foremost a businessman. In spite of his third grade education he could still help us with our high school mathematics. He had a way of explaining problems so simply that we wondered why, with all our studying, we could not understand them as he had. To this day, using his methods of "figgering" makes some of the most complex problems easier for us. We three girls were educated in the Willow Range, Derwent and Elk Point public and high schools.
In 1952 I went to Vermilion School of Agriculture and in 1953 became engaged to Bill Seniuk. We were married on August 11, 1954. We live one and one half miles from the home place. We have one daughter and two sons.
After Rose completed her high school she took a nursing aid course in Calgary later working in the Drumheller, Peace River and Vermilion Hospitals. She met and married Paul Yarmuch November 5,1960. After working three years in Edmonton, Paul decided to move and farm the home place at Vermilion where they are now residing with their three sons and two daughters.
After Mary-Anne completed her high school she took two years of art by correspondence then worked at St. Josephs Hospital in Vegreville. She returned only briefly to Elk Point and married Orest V. Kiziak on May 5, 1969. They reside on a farm between Derwent and Clandonald with their two children, Donna and Jody.
Dad passed away very suddenly May 7, 1970 at the age of fifty-nine. The funeral was May 9 at St. Vladmir Greek Orthodox Church of which both parents were active members. Mom eventually sold the farm to Bill and me in 1976. She now resides in the town of Elk Point.