THE H.J. RAMSBOTTOM FAMILY
by Violet (Ramsbottom) Richardson
I, Violet (Ramsbottom) Richardson, was born in Clitheroe, Lancashire, England, in 1888. My father, Henry James Ramsbottom, a school teacher, was born Nov.27, 1865, in Tasmania. My mother, Francis Adah Ramsbottom, a school mistress, was born in England. Both parents taught in various parts of England before coming to Canada.
Two sons, Willie and Horace, heard of land available in the Elk Point area at ten dollars per quarter section. So they came and got their quarter-section each, then started writing to their father for money to equip the farm and build. Father decided to come out with the family to see what they wanted so much money for.
He took three months leave from his teaching job, and arranged passage for himself, wife, and four children: Violet, age 23; Claire, age 7; Victor, age 10; and Harry, just four years old. They sailed from England in September, 1911, on the steamer Prince Edward. It took eight days to cross the ocean. The trip was very stormy, and Mother was so ill the family thought for sure they would lose her before the end of the journey. Harry had learned to sing "God Save the King", and created quite a stir on board ship by singing to all the passengers.
We crossed Canada by Canadian National train to Vermilion, where we expected to be met by "Carriage", but much to the surprise of all we were met by Mr. C.J. Markstad with a team and wagon. This was in October. Fortunately Mother had recovered sufficiently and regained her great sense of humor, which was to carry us through many trying situations in our new environment.
Willie and Horace had built a log house, and had three oxen when the family arrived. Father bought a quarter-section, and later built a log house, but in the meantime we all lived with Willie and Horace. Water came from a well, baths were taken in a tin tub, and plumbing was outside. The house was heated by a wood heater, cooking done on the same, and light was from kerosene lamps. Father was able to get a teaching job at King George School, just south of the ferry crossing. He had to live there during the week, and come home for week-ends. For this reason our house never quite got finished.
Brother Willie got his first crop badly hit by hail, just the day before it was to be harvested, and all the family went out with pails and gathered the grain by hand. In those days in the fall the farmers would take a load of wheat to St. Paul or Vermilion, to be ground into flour, bran, and cracked wheat. When the river froze, the ferry could not operate, and sometimes by spring there would be no flour, so some of the bachelor neighbors would bring us any bits they had, and Mother would bake bread and divide the loaves. Sometimes it was necessary to use oatmeal or other substitutes to produce bread.
There was little in the way of entertainment except music and dancing and singing. We were all quite musical. We had brought a piano, built in England in 1905, a guitar and a violin from England with us, and this provided a great deal of enjoyment for the family as well as the neighbors. Victor was asked to sing at the Caskeyville Church, where the first church services were Anglican. I taught piano to Ruth Lambright, and Esther and Hattie Markstad, and played organ at Elk Point school. A new neighbor, Mr. Boyd, built a house, and for a house-warming gave a dance. He asked for the loan of our piano, and me to play it, to form an orchestra with a Mr. Holmes and a Mr. Fisher. Mr. Edwin Richardson was at the dance, and he was later to become my husband. I didn't get home from the dance until 3 a.m., which was quite a shock to Father. After this, Father had to have a written request from anyone wanting me to play for a dance, before he would consent.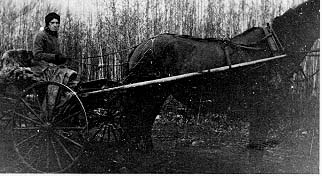 The "schoolmarm" off to school, Violet (Ramsbottom) Richardson, 1917.
We brought a box camera from England, and I took a great many pictures of interest, and developed them myself. Even to-day, the negatives still produce a good snapshot.
Father started teaching in Elk Point School in 1916, and it was he and Billie Wolfe who gave the first church service in Elk Point. Through the years, he played a major roll in the development of Elk Point, as a teacher and as a member of the school board, and also assisted in developing the first municipality. He was asked to run for parliament, but was not interested in politics beyond the local level. He died at Elk Point on Oct.29, 1923.
Horace was wounded in World War I. Willie married a neighbor girl, Elva Plummer.