REV. SAM MARSHALL AND FAMILY
by Muriel (Marshall) Coslin
Rev. Sam Marshall served Elk Point United Church from 1934 to 1939. Mr. Marshall was born in Belfast, Ireland, and came to Niagara Falls, Ontario in 1914. He enlisted with the Canadian branch of the Royal Flying Corps in that year, and served as an instructor at Camp Borden during W.W. I with the rank of second lieutenant.
At the end of the war he enrolled in Emmanuel College in Toronto where he studied theology. Later he studied at the Alberta Methodist Theological College in Edmonton. He was ordained there in 1923.
Before serving Elk Point, Rev. S. Marshall served pastorates in Brooks, Mountain Park, and Edmonton. His last charge was in Ogden (Calgary) from 1939 to 1946. At that time he was also secretary of the United Church Persbytery of Calgary. He died in Calgary in September, 1946.
During Mr. Marshall's five years in Elk Point many church improvements were made with the cooperation of loyal members and adherents. Funds were raised through carnivals and ladies' teas for new pews, a pulpit, and finally a church bell. He shared his musical talents as choir director. His interest in leading the Boy Scouts took them to summer camps at Muriel Lake.
His widow, (Mrs.) Rosa Marshall, resides in her own home in Edmonton since she has retired from teaching school there. Daughter Muriel is married and living in Claresholm. Their son Ralph is also married, and he lives in Edmonton, where he works as a guidance counsellor at Grant McEwan College. He has two teenage daughters, Karen and Jody. Muriel has two daughters, Patricia and Mary Ellen, and a son Samuel.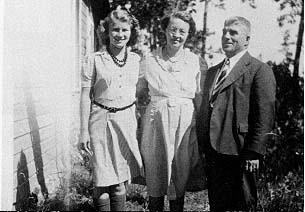 Rev.and Mrs. Samuel Marshall with daughter Muriel at Gull Lake, 1945.