ORLO JASON FISH
by Dr. Harvey Fish
My father, Orlo Jason Fish (O.J.), was born in January 25, 1874, in Mapleton, Minnesota. At the age of nine my mother, Mary Pederson, arrived in the United States from Denmark, where she had taken a secretarial course. She and my father were married in the early 90's. They both worked in a steam laundry in Redfield, South Dakota, which Dad and his brother Harry owned.
In the summer of 1906 Dad and Uncle Bill Mabley arrived in Edmonton, arranged for a boat, and took off down the river to where the Elk Point bridge now stands. They walked inland about seven miles until they found adjoining quarters with a creek, some small trees and lots of timber within hauling distance. They went back to the boat and on down river to Lloydminster and finally North Battleford, where they filed on the land they had chosen.
In the spring of 1907, the party consisting of Orlo Fish, his wife, Mary, my brother Romanzo, and Uncle Bill Mabley arrived in Vegreville with their car loads of settler effects. It was about seventy-five miles to the homestead. It had been a long cold winter with lots of snow and even at the end of May the snow was still up to the box of the big-wheeled wagon.
My mother was supposed to go back to Vegreville to be delivered by the doctor there, but I came too soon so I was delivered by Uncle Bill in a trapper's cabin on the Johnson farm just across from the present East Cemetery. I was the first white child born between St. Paul and Onion Lake.
In the old shack my mother found snakes and mice dropping down onto her bed. A house was soon built on Dad's homestead -- N.W. 4-57-6-- and was about 14 x 24 with rooms upstairs. It was built of peeled poplar logs sealed with clay and straw, and later, sometimes cow manure. There was a sod roof which leaked badly. Every time it rained there was a mad scurry to get pots and pans under all the leaks. Later this roof was removed and replaced by tar paper and boards, which still leaked some. Heat was from dry poplar and spruce, which burned very quickly, but Dad usually managed to go about six miles north and get tamarack which would last most of the night.
For the rest of 1907 and the winter of 1908, Dad had to go to Vegreville for supplies. If he was lucky and didn't get stuck too often, he could make the trip in a week. He crossed the river at Duvernay. When the ferry was put in at Hopkins, he went to Vermilion, about fifty miles, or a three-day trip. They stopped overnight with homesteaders along the way. Two or three settlers would get together for the trip. Dad usually stayed near the rear as Eric Arnott had a team of oxen which were slower than horses. Fairly often it was necessary to "double" up the hills. The first year we got our mail at Caskeyville. That is the place shown on my birth certificate.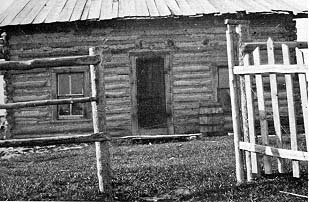 First house on Fish homestead.
The old Indian Trail from Edmonton to Frog Lake went past Uncle Bill's house.
We had two fairly shallow wells, about sixteen feet deep. One had excellent cold, very hard water. The other was at the edge of a slough near the barn and was used chiefly for the animals. Later Dad acquired two more quarters of land, both a mile and a half from the home quarter.
For meat, there was plenty of wild game and rabbits. One family, newly over from England, existed mainly on rabbits during the winter. Whenever we went to visit, the north side of their granary was covered with rabbits hanging up.
As far as buildings were concerned, they were usually of peeled poplar logs. The old outdoor toilet, or out behind the barn, was sufficient for the men; the women had pails which had to be taken out frequently. Eaton's catalogues or those of Montgomery Ward served for toilet paper.
Another brother was born about 1912 but he died of pneumonia at six months. When my sister, Mary, was about to be born in April, 1916, my mother told my brother and me to stay close to the house. It wasn't long until she called for us to hurry and bring Aunt Martha.
There was great excitement when Dad's mother and father came up to visit us. We borrowed a democrat (two-seated buggy) and went to Hopkins ferry to meet them. Grandfather must have been in his seventies and was a very splendid looking fellow with a long white beard. Grandmother was not in very good health and was quiet and reserved. She spent most of the last years of her life in bed, crippled with arthritis.
Uncle Bill and Aunt Martha found the homestead life too hard, so went back to Minnesota about 1918. Uncle Bill wrote to me occasionally when I was going to school in Calgary and always enclosed a dollar bill, which I spent very carefully.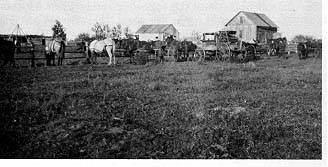 Sale at Bill Mabley's farm in 1921. Later Oscar Holthe's farm.
The first threshing machine was driven by a team of horses hitched to a long pole which went around and around on a turn-table. This provided the power for the threshing machine. A year or two later came the steam engine which was self propelled and driven from field to field to thresh from the stacks of bundles. This was a day of big excitement. My mother cooked for several days, with usually one of the neighbor women coming in to help her. It was amazing to see the food the threshing crew of some seven to ten men could put away.
During the first years my brother attended school at Tyrol (Mooswa) since there was no school at Elk Point. I attended the new school just half a mile from home and we usually had a new teacher every year. The children from Elk Point -this was now the post office, two stores and some other businesses -- had to walk the two and a half miles to school. My early school days do not come back so clearly. I remember Martin Aarbo coming to school for his first time. He couldn't speak a word of English so around noon decided to go home. His brother, Jens, had to run after him to bring him back. My schoolmates were Jens and Martin Aarbo and Frank Keitges. Frank used to ride six miles to school every day on his roan pony. I learned to skate when Jens received a pair of clamp-on skates from the old country. We each used one skate for a while -- after clearing off the pond near the lower well. We used a crooked willow for a hockey stick. With the horses and cattle going down to the well, there was no shortage of frozen pucks. Then one Christmas Dad came back from Vermilion with a pair of hockey boots and CCM skates, which we had to fasten on with screws. I was the happiest kid in the country.
Another time Dad brought home a box of apples. It was just before Christmas and 30 or 40 below but he wrapped the box in a big imitation buffalo robe and several blankets, then sat on it all the way home. Not a single apple was frozen but they surely disappeared in a hurry -- in spite of my mother's rationing.
I remember Uncle Bill with his trousers rolled up, exposing hairy legs, trying to turn the hind wheel on our wagon which was stuck in the slough below the barn. Dad had taken his prize sow across on a stoneboat for the fair at the school grounds. Mother had some exhibits in the wagon and my brother, Ro, had driven too far to one side and got stuck. I am happy to recollect that we did get to the fair on time and Dad won first prize with his brood sow.
Our first car was a 1918 Model T Ford for which my Dad traded six milking cows and two heifers to Jim Babcock, the storekeeper. My mother was very angry about the deal, which was made in December, 1918, but we were not able to take the car home until the following spring when the snow melted and the mud holes dried up. The car was black in color and had smooth white tires with no treads. I am sure the right front tire wasn't replaced for three or four years. Dad was not a very good driver so my brother soon took over as chauffeur and it was not very long before I was driving.
My mother would never forgive me if I didn't mention our new frame house, which was the first in the area. Ro and Dad made a couple trips to Vermilion for cement with the Ford. I think they managed four or five bags for each load and even with that amount had to back up the Horse Shoe Hill. Helge Hesselgreen, a Scandinavian homesteader, was a good carpenter and he built and finished a very nice house with two bedrooms upstairs, kitchen, pantry, living room, parlor, and bedroom downstairs.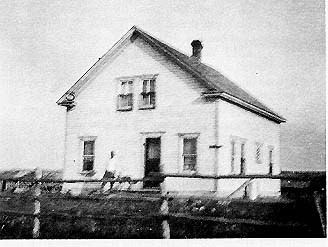 Home, Sweet Home! The Fish home built in 1920.
There was visiting among the early settlers; berry picking outings, picnics and dances. I remember being left in my brother's care while the others were out gathering berries. I woke up all alone and was very scared. Our mother didn't care much for chokecherries. Consequently we used to trade our good meat or chicken sandwiches with the kids who had only chokecherries in their sandwich.
Following World War I things were better for a while. There was some prosperity. Some veterans qualified for government loans and bought cows. I believe they went up from $100 or $200 to $400 per cow. There were also quite a few new settlers.
About 1919 when we finally had some grain to sell, my brother and I persuaded my Dad to join the Wheat Pool. Dad and I hauled about 1100 bushels of No.1 wheat and track loaded it. We received a down payment of 18 or 19 cents (wheat was selling for well over 50 or 60 cents per bushel) but that was the only payment until 1936 when Dad came home with a cheque of about $150 final payment. He gave me half of the cheque, as I was leaving for McLennan the following day to establish a medical practice and needed train fare and a few medical instruments.
My first trip to the city and my first ride on the train was about 1920. Ro, mother and I drove to Vermilion, left the team in the livery barn, then took the train to Vegreville and then to Edmonton where we visited the Dellers, who had homesteaded south of Arnott's.
I remember being one of the earliest patients in Dr. Miller's first hospital when I had my tonsils out in 1922.
I failed my grade eight exams; they couldn't read my writing, but the School Inspector and my teacher decided I could probably do the grade nine work so after Christmas my mother took me to Calgary where she had arranged for me to stay with the Garnhams, who had left the homestead, and go to Central High School. I had missed the first four months of the term so had to make up a lot of work but I had excellent teachers so my average was good enough that I did not have to write the end of the term exams.
I completed my grades ten and eleven at Central Higi School, then in 1925-26 went to Normal and got my teaching certificate and a job at Martin School near Heinsburg. I taught there for two summers, staying with Bill Franks. His two children walked with me to school about a mile and a half. I got $5 for each school day -- $100 a month. I was in clover. The next summer I taught at Shamrock Valley, only six or seven pupils. I used to ride there horseback about nine miles. Sometimes Dad let me have the Model T which made the trip to and from school faster. Then the bottom fell out -- no more summer schools, so in the winter of 1927 there was no work. I got a job helping Mr. Van Arnam, the local stock buyer, and helped him one day a week to buy pigs anl cattle -- little more than cigarette money. I was in the Officers Training Corps (COTC) and managed to get a course in weaponry at Sarcee Camp near Calgary and was lucky enough to be called on for a second month. I was a lieutenant and I was paid $3 a day, less mess charge of 75 cents a day.
In the winter Jens Aarbo and I got a few weeks work with the C.N.R. loading tamarack ties at 30 cents an hour. This was really hard work as it was 20 to 40 degrees below and many of the ties were heavier than both Jens and I.
After joining a threshing crew in the fall of 1928, I found out what hard work really was. Everyone had a heavy crop. It was all I could do to get the heavy bundles on the load. I was handyman -- drove the engine, helped with the threshing machine, drove truck, and hauled grain and oil -- a job that lasted from 4:30 a.m. to 11:30 p.m. Finally one morning when we woke up in the bunk house it was raining. That was the end of my threshing days.
I had, with the blessing of Dad and Mother, decided to go to university. 1927 and 1928 were not too bad for the farmer and Dad thought he could help me out. In 1929 the depression hit us.
Mother always sent in a twelve dozen crate of eggs to buy a few necessities -- sugar, salt, tea and coffee. Eggs were 3 centrs per dozen. Pigs had been as high as 24~ cents a pound, now were 5 cents. I remember Dad taking in half a young sow --100 pounds for which C.A. Johnson gave him $5.00 There was no market for cattle -- one was lucky, if he shipped young stock, to get enough to pay the freight. Mother had a standing order for two quarts of cream at the hospital for, I think, 25 cents per quart. The hospital also took a few chickens and we usually had twenty or thirty turkeys and a similar number of young roosters but they didn't bring in much cash in the fall.
I remember one July 4th-- there were a lot of Americans who had homesteaded around Elk Point so we celebrated July 4th, not July 1st. We had no money but Dad said "Well, there's that granary full of oats." So we loaded up the wagon with No.1 feed oats, took it to the elevator, and got 8 cents per bushel for 110 bushels. It had cost Dad six cents a bushel to thresh them.
One Christmas we went into town to buy a few things. Mother gave Dad her list and told him ''If you have any money left, bring home a box of Jap oranges (75 cents but if you haven't any money, don't charge it." Needless to say, we went home without any Jap oranges. I think it was the only time Dad didn't have a bill in his purse.
We needed some money to finish paying the final half of my tuition fees so we jumped into the old car and took off to the nearest bank -- St. Paul. The banker listened to Dad's story and said: "Sorry, O.J., but the bank cannot lend you any money". And that with three quarters of land, a full line of machinery, thirty to forty head of cattle, about twenty pigs, and no money owing anyone.
Luckily, I met Dr. Sandy Ross on the street. He asked me to come to the hospital in the morning as he had some surgery. I was in fourth-year medicine but had never scrubbed for surgery before. After the operation, he told me, "One of these patients is Ukrainian and has no money. However the other patient is Treaty Indian and they will pay some. Here is $10." That is what took me back to the city to continue my studies to my graduation as an M.D. in 1936. That seemed a long time to spend studying but it was worth it as I was then able to help the folks out financially with the farm -- to some extent, and finally finished paying off a small government loan that was worrying my mother. I have never regretted going into medicine.
I spent five and a half years in the Royal Canadian Army Medical Corps, two years in England and a year in northwest Europe, the rest in Canada. I then returned to general practice, from which I am now retiring. I think I have done fairly well as a G.P. or family doctor. It seems regrettable to me that so many of our new medical men are interested only in the almighty dollar; not that I turned down the dollars, but I have received a lot of satisfaction from helping those who need it, whether they pay or not.
Harvey, Mary, Mrs. Fish, Mr. Fish and Romanzo, 1936
My mother was more or less the manager, although how she fed us all I'll never know. She was the one who was determined I was to go to school, particularly as brother Ro had given up school at grade six. My sister Mary also went through high school and received her teaching certificate. Then she decided to get married and moved with her husband to Idaho, then to Oregon.
My father and mother were very well thought of in the community. Dad was chairman of the school board and also the first chairman of the Hospital Board when it was built in 1928. His advice was often asked and he was sort of the unofficial J.P. of the community. His word was his bond. He joined the Masonic Lodge and qualified for the Shrine -- their highest honor. He and my mother worked very hard, especially during the depression when they were trying to keep my sister and I in school.
Mother died in 1941 at the age of 61. Dad lived to a ripe old age of 84. He died in September, 1958, at my home in McLennan, following major surgery at the University Hospital.
My family were among the first permanent settlers in the Elk Point area. I hope this script is in some way a tribute to them both.
BACK ROW Left to Right: Mrs Fish, Mrs Bullis, Mrs Hood, Ted Dory, Mr Hood. FRONT ROW: Mary Fish, Mr Bullis.