ONUFREY AND JESSIE MELNYK
by Onufer Melnyk Jr.
My father was born in Shehine in western Ukraine. At the age of twenty-one he joined the Austrian army in which he served for three years. There he attained a rank of sergeant and became an outstanding marksman.
In 1912 dad came to Canada and stayed with his brother Alexander who had come here earlier. He bought the homestead S.W.30-55-5-4 in the Landonville District, one and a half miles away from his brother's place.
Mother was born in the Ukraine on May 10, 1899, in the same village as dad. At the age of three she came to Canada with her parents Demitri and Marie Hawirko, and settled in the Warwick district. They were followed by the Yaremkevich and Cap families, who lived with them and later moved to the Elk Point area.
Mother and dad got married in 1916, and they built a house and a barn on their homestead. Dad had to go out working most of the time. One winter he walked to Mr. Johnson's, three and a half miles twice a day, to do chores. In return Mr. Johnson agreed to teach him the English language. Later dad bought the S.E. quarter adjoining his land. The former owner had built a log cabin there and mother and dad moved in and lived in it until 1928. Then they moved in to their new house which was built by John Melnyk. This house still stands on the home place.
Dad took a keen interest in the community and its affairs. He was an official of the Gratz Hall, a municipal councillor for the district of Ethelwyn for fourteen years, a member of the Elk Point Municipal Hospital Board for eight years, a trustee of the Northern Star School, and a cantor at the church for twenty-five years. He was also on the board of the St. Vladimir Ukrainian Orthodox Church in Elk Point which he had helped to build.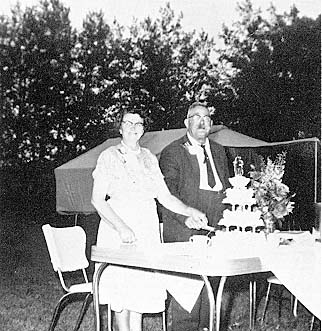 Onufrey and Jessie Melnyk on their 50th wedding anniversary, 1966.
In 1955 mother and dad decided to retire in Elk Point. They bought a house from C. A. Johnson. Dad passed away on October 13, 1969.
Mother and dad raised nine sons and four daughters: Demitro and Danny of Edmonton; Walter of White Rock, B. C. Gerald of Clandonald, Boris of Vegreville; Tom of St. Paul; Edward of Lakeland, Florida; Onufer of Elk Point; Sam (passed away in 1963), Pearl Slwyka of Elk Point; Rose Russell of Elk Point; Helen Zarowny of Vancouver; and Mary McIntosh of Edmonton.