WILLIAM ZENKO STORY

John's father, William Zenko was born on October 30, 1889 in a village north of Moscow, Russia. He came to Canada in 1904 to Montreal. In 1914 he enlisted in the Canadian Expeditionary Force 100th Winnipeg Grenadiers Reinforcements. He served in Canada, England and France. He got wounded twice, once over his left eye and once on his leg. He was discharged on April2, 1919.
He married Antonia Hancharuk in 1920 in Montreal. She was born in Austria on March 17, 1888. They came west to the St. Paul area (Lac Bellevue) and homesteaded N.E. 31-55-9-W4. They farmed a very short time and then moved to Winnipeg. The five children, of which two are still living, were Olga who died at a young age. John, Mary, then Steve who died of diptheria at the age of eleven, and Zigmont who died as an infant.
John's father died in Winnipeg on March 3,1952 and his mother died in St. Paul on July 3, 1955. Mary married Bill Middleton of Edmonton and still resides there. John also has one half-sister, Stella, living in Edmonton.
John and I were married on December 18, 1942 in Elk Point. We moved on to S.W. 20-57-7 where there was an old log shack which we got into living condition the previous summer. From there on we were on our own, back tracking into the footsteps of my parents. In 1944 we bought the adjoining quarter N.W. 20-57-7 where there was a well, a spacious five-room house and some barns. It was a cold house but with a big wood burning heater in the living room and a wood burning cookstove in the kitchen we managed to keep warm provided the woodpile held out. At night we would have to get up to restoke the fire; even then the water would freeze in the pail.
Our first born, Lucille, came on March 13, 1946 and a year later our only son, Edward was born in July 1947. Then the baby of our family, Debbie, was born dn May 31, 1959.
All our children went to the Elk Point public and High School and graduated from there. Lucille took up nursing and graduated from the Miseracordia Hospital of Edmonton in 1968. She got married to Terry Topolinski of Edmonton in 1976.
Ed spent a number of years at university. He first got his degree in Medical Science, but didn't think he'd be happy in that field, so a couple years later got his Bachelor of Agriculture. Now he is back to get his Masters in Agriculture.
Debbie got married shortly after she graduated from high school, on July 8, 1977 to Ernie Poulin of St. Paul and is now attending University of Alberta in Edmonton in Education.
We are living on the same farm but now live in another house which we purchased in 1967 and moved here from St. Edward. We are still farming, but for the last four years John has been the county councillor for this area which he enjoys doing. We are expecting our first grandchild in March 1978 from Lucille and Terry.
John and Adeline Zenko's first home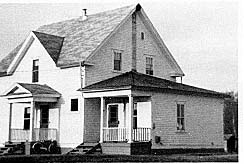 John and Adeline's third, and present house.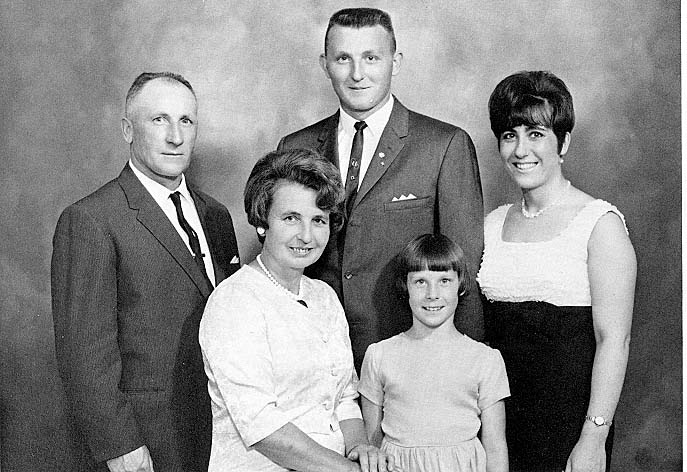 JOHN ZENKO FAMILY
BACK ROW, Left to Right John Edward Lucille
FRONT ROW Adeline and Debbie, 1967.