VICTOR AND MARY E. (ETTA) SCOTT FAMILY
by Larry Scott, (with the help of his mother Etta)
Victor and Etta Scott came from southern Alberta to Elk Point district in September, 1923. They had previously lived in the Majorville and Gleichen areas. Both were born in Ontario but came west when they were very young.
After moving to Elk Point, Victor went to work harvesting with Oscar Holthe and promptly got his right arm broken on the threshing machine. In January, 1924, their daughter Margaret was born in Dr. Miller's first hospital. In 1924, Etta ran the post office at Monkman (now Derwent) and Victor farmed the land on which it was located. They homesteaded between Elk Point and Mooswa (Lindbergh) in 1925 and worked for Courtland Smith and his sons, farming and wintering cattle. In 1926, '27 and '28, Victor worked on the railroad grade construction from Armistice to Heinsburg. From 1929 to 1936, the family farmed and Victor and his brother Edmond (Ed) ran a small saw mill. They supplied lumber for many local projects, including the first parts of the present Spring Park Hall. In 1931, a son, Lawrence, was born in the Elk Point Hospital.
Victor's brother, Ed, had come to the district in 1925 with his wife. In 1927 they were joined by another brother, Ernest, and his wife and family, who settled south-east of Elk Point. Etta's parents, Joseph (Joe) and Mary Long and two brothers, Norman and Robert (Bud) Long also came in 1923 and settled nearer to Mooswa (Lindbergh).
Victor and Etta moved into Elk Point in 1936. Victor went to work for the provincial government. In 1938 his work made it necessary for the family to move to Edmonton. Victor worked for the province until 1960, when he retired as Superintendent of Mineral Taxation. He lived in Edmonton until his death in 1972 at age 77. He is buried in the Mooswa cemetery. Etta lives in her own apartment in Edmonton and spends her time keeping tabs on her family. Margaret is married to Allan Foss and lives at Coutts. They have five children and six grandchildren. Lawrence (Larry) is married to Geraldine (Tait) and works for the City of Edmonton. They have four children and one grandson.
The family still keeps in contact with the Elk Point area through trips to Whitney Lake in the summer and the Spring Park Chicken Supper as often as possible.
THE EDMOND SCOTT FAMILY 1954
FRONT ROW, Left to Right: Helen Ingersoll Mrs Ed Scott, Mr. Ed Scott.
BACK ROW: Irvin Scott, Roy Scott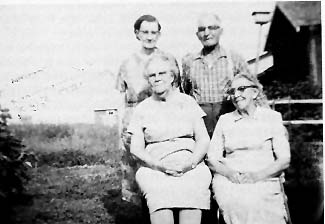 Mr. and Mrs. Ed Scott (Mrs) Gertrude Swanson
Mrs 0. Graves, on the occasion of Mrs Swanson's 80th birthday