BILL KELLER
by Bill Keller
My father took a homestead at Northern Valley in 1910. There was no school at Northern Valley at the time, so we went to London, Ont., for eight years to attend school. The fall of 1919 we came back to the homestead. Our closest village was Elk Point. To reach it we had to cross the river, by a ferry in summer, and on the ice in winter. The winter of 1919-20 I did chores for Mr. A.J. Monkman, who had the mail delivery from Elk Point to Vermilion, and back. The next winter Mr. Monkman asked me to drive the mail by horse team. The distance we covered was fifty-six miles, in winter in an open sleigh in all kinds of weather. I used to leave Elk Point at 7 a.m. and had to be in Vermilion by 6 p.m. There were several post offices between the two points. In those days the Mounted Police rode horses, patrolling from the north to Vermilion. I often met them on the trail.
Mr. Charles Hood was the Elk Point postmaster at that time. He had a hardware store on the corner where Steve Andrishak's Museum now stands. I stayed at the Caskey Hotel, which was east of the store. The Livery Barn was to south of the hotel. Livery barns were very important as most travel was by horses.
Later on, in the hungry thirties, I worked as second manon the ferry one summer.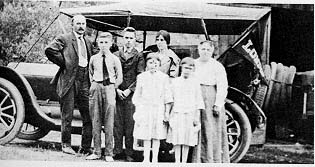 Joe Keller, Charlie, Bill, Beth, Josephine, Joe and Nellie,
and the car that carried them to Alberta, 1919.
NOTE: Bill Keller died in January, 1977.