LESTER L. SMITH
by Myrna (Valentine) Fedorus
In Seattle, Washington, Lester L. Smith and his buddy, Martin Loftus, were flat broke due to Halley's Comet. It was forecast that the world would be destroyed as it passed through the tail of Halley's Comet on May 20, 1910. So Lester and Martin treated themselves to a proper restaurant supper and a comfortable hotel bed for their last night on earth --- for everyone sincerely believed that the world would end that night. The next morning they wakened to brilliant sunshine, and empty pockets. So, off to Canada to homestead!
The summer of 1911, Lester and his mother, Carrie Smith, came from Barrie, North Dakota, to settle on the homesteads they had filed on in 1910. Originally Lester had planned to head for the Peace River country to make his fortune. But sister Laura's husband, F.E. VanArnam, was in real estate in the Elk Point area, and Martin already had a homestead there. So Lester homesteaded on N.E. 23-57-6-W4 in the Spring Park district. Carrie filed on N.W. 9-57-6-W4 just out of Elk Point.
In the fall of 1913, Lester returned to Barrie, N.D., to marry Mina Grace Stevens in November. The newly weds:
LESTER AND GRACE SMITH AND FAMILY ABOUT 1931
BACK ROW, Left to Right: Lester and Grace Smith, Meryl and George.
FRONT ROW: Marymac, Avis, Phyllis, and Lois.
arrived by train in Vermilion in December. Martin Loftus brought them to Elk Point by team and buggy. They were forced to cross the river upstream from the ferry, as it was out of order.
Lester took over the Spring Park Post Office from Munroes in 1916 and operated itintheirlog home until it was officially closed in 1948. They carried the mail from Elk Point to Spring Park once a week.
Smiths boarded the first two school teachers in Spring Park: Miss Lang and Mr. Murray MacDonald. United Church services were held in their home for many years.
As each new house in the district was completed, a dance was held in it. After the Spring Park school house was built in 1917, Smiths took their organ to the school, where they held dances. Grace, who is very musical, played to help make music. Grace and Lester were never too tired or busy to dance, go to a concert or go on a picnic.
The Elk Point Fall Fair was a highlight of the homesteaders' entertainment. Grace was an active member of the Elk Point Drama Society, of which Mr. and Mrs. Earl Bullis were organizers. She drove a team and buggy from Spring Park to Elk Point to practices for concerts.
Lester Smith's home built in 1915.
Lester Smith ready for a trip to Elk Point with his team and wagon, 1911.
Lester and Grace belonged to the Elk Point farm organization, U.F.A. This time was before there was a movie theater in Elk Point, so the organization brought a crank-operated silent movie projector. Films were shown in the Elk Point Community Hall, before the fire destroyed part of the old town. The faster one cranked the projector, the faster the people in the movie moved. After a few years, the projector became idle in the Elk Point Community. It was stored at Earl BolEs's. Some years later, being a member of the group who had originally purchased the projector, Lester Smith received it. He wrote to the University of Alberta for the loan of silent films so that once again the projector was in use --now in the Spring Park Community. Years later, son, George, loaned the projector to Steve Andrishak for display purposes in his museum, where it is still on loan today.
Lester was very active in the new political movement that was developing in Alberta at that time -- the Social Credit League.
The delivery of the Smith children depicted the advancement of medical help. A missionary doctor visiting from China, Sally Wolfe, delivered their first born, Meryl; Mrs. Plummer acted as mid-wife for the second, son George; the other four -- Marymae, Lois, Avis and Phyllis, were born after Drs. Miller and Ross came to Elk Point.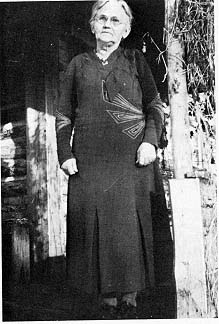 Lester Smith's mother Mrs C Smith, 1921
Meryl married Lawrence (Buster) Valentine. They farmed in the Spring Park district for thirty years before moving to Calgary, and later to Duncan, B.C. They have two girls and a boy.
George married Inez Carison. They farm the original homestead. They have two boys.
Marymac married Floyd Stanley. After his medical schooling, they lived in Duncan, B.C. They had five children. Mary-mae died in 1969.
Lois married Bob Switzer, eventually settling in Vancouver, B.C., with their three children. Later, Lois married Cohn Wilson.
Avis married Jim Bateman of Edmonton. Three girls comprise their family.
Phyllis and her husband, Clarence Boos, Jr., had a girl and a boy. After living in Elk Point for many years, they moved to Edmonton, where Clarence died in 1975.
Lester and Grace left the Elk Point district in 1953. They lived at Port Alberni and Vancouver before settling at Duncan. Lester died in 1967. Grace still resides at Duncan, where she is active with the O.A.P. -- senior citizens' group --helping with their choir and orchestra