FAMILY HISTORY OF THE LAWRENCE MODINS
by Lawrence Modin
I was born the fourth of six children to John and Johanna Modin of Mannville in 1920. My parents had emigrated there from Sweden about thirteen years earlier. With my brother and four sisters I spent my early life on a farm southwest of Elk Point about thirty-five miles. I attended Fidelity school for my grades 1 to 10; while I received my grades 11 and 12 in Mannville. I went on to Normal School in Edmonton in 1939 and 1940.
I taught for the St. Paul School Division and then the County of St. Paul for thirty-six years.
My first assignment was at Martin School, northeast of Heinsburg, where I spent one year. It was while I was here that my father, who had come to take me home for the weekend heard one of my students call me 'Mr. Modin'. This was the first time he had heard that named applied to anyone but himself and it was rather a shock to him to realize that I had grown up.
The next year I moved to the Beaver River School, northwest of St. Paul about forty miles. At both of these schools I taught grades I to 9 inclusive with 12 and 25 students respectively.
The following year I moved six miles west to the Edna School at Sugden. I spent four years there. While there I met the girl who was to become my wife on July 1,1943. Margaret Anderson was the daughter of a Scottish emigrant William Anderson and his wife Emma of Sugden. She was the eldest of a family of three girls and one boy. You might say, July 1, is a queer date for a wedding. Yes, but it is about the only day between the closing of the school year and the start of summer school! This rushing off to summer school right after the closing of school was to be the story of our lives for many years. It takes a long time to acquire four years of university by summer school courses. While I was teaching at Edna (later known as Sugden) our eldest son Allan was born.
We moved on in the fall of 1946 to Tompkins Lake School at McRae, north of Spedden about seventeen miles. We were there for three years and my salary had risen to the princely amount of $920.00 a year from the original $756.00 which I had gotten while at Martin. We also received a $100.00 a year bonus for isolation. The first year we were at Tompkins Lake, due to the shortage of teachers, Margaret supervised thirty students in the Elementary School. We were isolated all right, and that first year we did not get into town from the Teacher's Convention (in Bonnyville that year) in October, until May 24, when we had a meeting in Ashmont to organize a Track Meet. We had walked the eight miles to Margaret's folks for Christmas, no small task with a fall of fresh wet snow. We shopped at Woodwards by mail for the bulk of our needs and this was delivered to us by the mail carrier, who also did our incidental shopping for us (and this included the embroidery thread Margaret used from time to time) in Spedden. It was a good experience for us, in retrospect.
In the fall of 1949 we moved to Lindbergh, having been assured a teacherage was ready for us. Well, it was, - all three sides of it, - the porch off the old Therien school. Mr. Elias Taschuk who was already there had very wisely kept the key to his teacherage in his pocket when he went on holidays. The plans had been to finish off the porch for him while we were to move into the teacherage he had been occupying, since it had one bedroom and there were three of us.
We moved into one room of the two roomed school, which had been beautifully cleaned and freshly oiled on the floor (to keep the dust down) by Mrs. Ted Magnusson. Now picture trying to keep bedding and one small active boy of four clean with this gooey mess underfoot. The oil was later done away with since it softened the rubber on the soles of boots and thus hastened the end of their usefulness. Except for the kindness and friendship of people like the Ted Magnussons and Walter Saranchuks we probably would have packed up and gone -- but where? I got in touch with Bill Smith, (father of Bob) councillor for that district, and after four or five days he located and rented for us a house belonging to Gladys Sweheim and we were able to move into it the night before school started. We spent one year in that house next to the school grounds, but by the next fall the school division had bought the Kwapicz house, situated across the tracks and on the bank of the creek, as a teacher-age. We lived there for seven more years, though I taught in Lindbergh for ten years in all. They were happy years and a number of events took place in our lives during that time. We got our first car - a dark green four door Ford sedan - in the summer of 1950. Our second son, Roderick joined us in December of that year. Our two daughters also arrived while we were there, Valerie in 1952 and Beverly in 1954. We experienced the coldest weather in our lives and the biggest snow drifts. It was always 10 degrees colder at Lindbergh (in the valley) than anywhere else. One thing about it was we knew what participaction was. We had always done the janitor work for the schools where we'd been and Lindbergh was no exception. In addition to the usual sweeping, we stoked fires at night in the cold weather, hauled in the wood and coal and hauled out the ashes. We shovelled snow from steps and paths to the various places of necessity.
A minimum of snow plowing was done, and cars didn't start too readily in winter then either, so any shopping or visiting involved much walking. Margaret recalls two instances with much joy. Once when Phyllis Saranchuk and she decided to drive out to Fred Frisby's (about three miles - where Rod Boothman lives now), to pick up Irene and go on to Tommy Johnson's (Pat's father - where George Anderson lives) for Mrs. Johnson's birthday. When they arrived at Frisby's they found they'd have to walk the rest of the way (about one mile) because of deep snow. With Allan in a box on a sleigh, and the birthday cake under an arm, they set off, stumbling and falling their way through the snow drifts to the Johnson farm. Halfway there they gave up with the sleigh and Allan rode the rest of the way pick-a-back. Mrs. Johnson's reaction to the surprise birthday party was so delightful that it made the trip all worthwhile. Fortunately, Pat was on hand and drove them back to Frisbys. The other occasion was on April 20, 1955 - birthday for both Beverly and Ernie Saranchuk - when Phyllis had planned a birthday party and the night before we got about twelve inches of wet snow. Once again, out came the toboggan and with Bev and Val tucked into the wash boiler and Rod on his knees behind to hold them on, they made their way up the hill to the party. It was always a great day after the snow when Clarence Hoard would get his tractor with a mounted snow blade and make paths around town. Lindbergh had a number of children at that time, among them the Jim Youngs', the Karl Heinemanns', the Saranchuks', the Sawchuks', Clarence Hoards' and the Tony Sheplawys' and these children, joined occasionally by others, used our kitchen as a skating shack. It was handy for them since we lived on a wide bend in the creek which provided two-fold entertainment for them. The hill down to the creek supplied good tobogganing and the ice good skating. Our house was never dull; however, in 1957 when our boys were getting bigger we decided they needed something more to do and we bought the acreage where we still live from Jack Bauman (Sr.). On May 4, 1957 we moved to the acreage where the boys had chickens, pigs and gardening to take care of, though they could never see the need of this.
For the next two years I travelled to Lindbergh to teach; however, by September 1959, Dr. F.G. Miller had persuaded me to begin teaching in Elk Point in a grade 8 classroom however, because of a teacher shortage I moved into the high' school one month later and I taught there until my retirement in June of 1976. Though I have retired from teaching I have not stopped work; I began working for the Elk Point Gas Co. in August of 1976. This is a new challenge - one of learning what goes into the operation of a gas utility.
Since we moved to Elk Point, both Margaret and I have been involved in a number of community activities including such things as Guiding and Scouting, Red Cross, Lions, etc. Margaret has helped Lawrence and Bea Sumpton in the hatchery and more recently has been school secretary in F.G. Miller High School since September 1964, where she still works at this time. Allan and his wife Mary live in Calgary with their two daughters Sheryl and Patricia. Allan works for the Bank of British Columbia. Rod and his wife Lynne live in Brunei where he is a driller for an oil company. They expect to return to Alberta permanently in a couple of years. Valerie, after graduating from Bible School and Royal Alexander School of Nursing, works in Wainwright hospital. Beverly, married to Ivan Peterson lives on a farm northeast of Lindbergh. They have two sons, Stewart and Daniel.
The years in Elk Point have been busy, happy years, durng which time we have had many rich and rewarding experinces and made many good friends.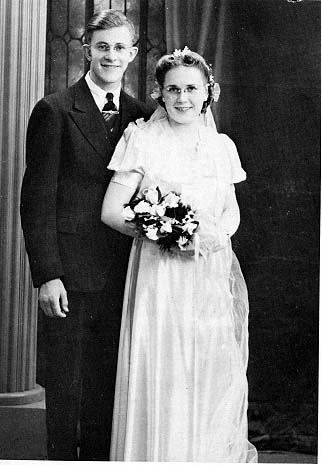 Mr. and Mrs. Lawrence Modin, July 1, 1943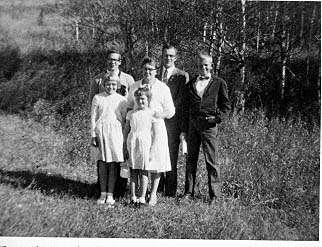 The Modin Family, 1962.
BACK ROW, Left to Right: Allan, Mr. Modin, Rodney.
MIDDLE ROW: Mrs. Modin. FRONT ROW: Valerie, Beverly.