THE BOOS FAMILY
by Clarence Boos Sr.
I was born in Little Falls, Minnesota in 1904. My parents, Nicholas and Jane Boos, together with their seven children (two girls and five boys) moved into the Elk Point district in 1910. They homesteaded eight miles north of Elk Point.
The journey was made by train to Innisfree and then by team and wagon over the Hopkins Ferry. Our guide was Jim Atkinson. Some of the road had to be brushed out before the wagon could be pulled through. Wild game was always available and we managed to put up enough hay to raise a few cattle. The only neighbors we had were Bill and John Noble. About two years later many homesteaders moved in. Our house was the largest at that time in the valley so every Saturday night all the settlers gathered there to have a dance. A few musicians I can remember were Earl Graham, George Rice and Bert Hicks. In 1926, I married Minnie Bartling and we lived in Elk Point until 1963 when we moved to Edmonton. We had one son, Clarence Jr., who died in 1975.
Of the rest of my brothers and sisters, Sherman and Art lived most of their lives around Elk Point and St. Paul, and both died in their mid-forties.
Edith married Frank Ploufe in the States and brought their family of two to homestead in the Shamrock Valley. They moved to Elk Point and Frank freighted between Elk Point and Vermilion while Edith operated a restaurant for a couple of years. They moved to St. Paul, later to Duverney and then to Edmonton where their descendants still live.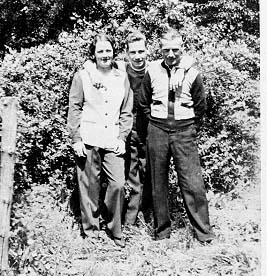 Minnie, Clarence Jr., Clarence Sr.
They had eleven children.
Edwin married Videline Ross and farmed in the Shamrock Valley area. He was very successful and shipped grain and cattle by the box car. He had one son, Jack, who married Kathleen Reed. They moved to Wildwood in 1951 where Edwin still resides.
Grace married Larry Garneau, who operated a sawmill in Moose Mountains. He died the year of the "hard flu". They had two children, Larry Jr. and Jean. She re-married to Ed Magnusson and they had one daughter, Delores. They spent all their life around Elk Point. Grace passed away in 1976.
Dewey married Maxine Demyer and they had eleven children. They left Elk Point around 1950 and moved to Edmonton where they still reside.