THE DUNKIN FAMILY
by Eva
Mr. William Louis Dunkin was born December 11th, 1882 at Charlotteville, Norfolk County in Ontario. He left Ontario in 1905 and worked on a farm near Brandon, Manitoba until 1906 when he moved to Alberta. There he filed on a home-stead approximately three miles south of the Elk Point bridge. Legal description of the land N.E. 1/4 of Sec. 2, Twp. 56, Range 7, West of the 4th Mer., Hopkins Post Office, Alberta.
Travel from Manitoba was principally by rail to Vermilion where he purchased a team of oxen, tools, plow, tent etc. From Vermilion to the homestead site he drove by oxen with a compass on his knee as there were no roads marked.
A log house was started the first year but winter slowed the construction and the first winter was spent in a tent. The house was finished the next year complete with sod roof. Five acres of land were broken - crops of rye and oats planted and harvested all using a walking plow and team of oxen. The farm was equipped with a good spring which provided drinking water for man and beast and attracted wild deer. Dad was a good shot, and wild game was a main source of food. Gradually the necessities of life were acquired - a wood burning range complete with reservoir (for hot water). Kerosene lamps and candles provided light. Toilet facilities were the usual path and small house - complete with "catalogue".
Animals bought and raised were pigs, cattle and horses. Dad was a great lover of horses and in Ontario had been used to a good team and a smart buggy for going to house parties and dances - the main entertainment in the part of Ontario where he spent his youth.
All supplies had to be brought from Vermilion, usually a minimum trip of two days. Mail came sporadically to Hopkins Post Office, then Peat Post Office, and finally Heineman's Post Office.
An older brother of my dad - Edward Dunkin, arrived in 1907 and filed on a homestead near Spencers' Ferry. Later on, the third and youngest brother arrived. Fred Dunkin is still living at Barrhead, Alberta and is 88 years of age.
Late in the year of 1907 Mr. Dunkin's parents arrived from Ontario. They brought with them a rail car of family furniture and goods including an oak dining room suite, wooden beds and a cherry-wood pump organ. They took up residence at my dad's homestead. Mr. Dunkin Sr. died in 1911. Burial took place at Vermilion. Grandma Dunkin continued at the homestead as housekeeper for my dad.
During the year 1918 a Miss Emily Florence Bailey, born November 25th, 1899 at Toronto, Ontario, came west to teach school. She landed in Edmonton and her first appointment was in the Chipman district. During her sojourn there the great 'flu epidemic of 1918-1919-1920 raged. The schools were turned into hospitals. The teachers were also pressed into service as practical nurses and Miss Bailey worked under the direct supervision of Dr. Archer (long associated with the Lamont Hospital).
Miss Bailey's next school appointment was to the King George School, adjacent to the Dunkin homestead. The Dunkins had always boarded the teacher, and Miss Bailey also became a boarder in their home.
The majority of the pupils enrolled at the King George School were "New Canadians" their parents having fled to Canada following the first world conflict and the Russian Revolution. Most of them could not speak English. To a city-raised young woman of twenty, educated "Down East" in private boarding schools, the whole experience was so different - and so challenging - but rewarding. My mother (Miss Bailey) expended all her energy and ingenuity teaching her young charges as much as possible. Her teaching tools were crude in the extreme - tar paper blackboards. She sent to Edmonton for chalk and other needs, which she paid for out of her own pocket, and then tried to collect from the school board later.
Original Dunkin homestead house, 1908.
The first Christmas concert established her solidly. She could play and sing well enough to direct the drills and pageants, and to the country people who were starved for entertainment the whole affair was a great success. The entire district turned out and it became an annual event.
Eventually her association with my dad resulted in a permanent union to which four children were born. All were born at home on the farm except brother Jack who was born at the old Elk Point Hospital, attached to Dr. F.G. Miller's original residence. Dr. Miller was in attendance at all the births.
Eva, born September 2nd, 1920, was the first baby delivered by Dr. Miller, who was just starting up his practice at Elk Point. This was a high forceps delivery and quite complicated considering the facilities available.
2) William Frank Dunkin - born October 26th, 1921
3) John Leonard Dunkin - born April 2nd, 1923
4) Mary Florence Dunkin- born January 1st, 1926
John was always known as "Jack", and Mary as "Marie".
Eva and Frank started their formal schooling at King George - in grade two as mother taught us grade one at home. The teacher's name was Miss Fecla. We walked to school, and eight grades were taught.
In 1926 a mortgage was foreclosed on the homestead and the family moved to the Village of Elk Point, taking up residence in a very small frame house near the United Church. Mother soon became very active in the church. She taught Sunday School, organized Christmas concerts, trained the drills and plays. She had a flair for this type of thing and had some formal training in elocution. As a consequence the "Dunkin kids" were drilled in these areas and took numerous prizes at the school fairs held in Elk Point, and later at the musical festivals which were held in the neighboring town of St. Paul. Mother was in the "thick" of it always.
The "Great Depression" was by this time in full swing. Money was non-existent for the most part. We, like so many others, accepted the deprivations more or less as normal. Dad worked at various construction jobs - a new school, the first municipal hospital, a new United Church, and whatever was available. He always grew a large garden. All kinds of wild fruit was picked and preserved for the winter. He also continued to do quite a lot of hunting which, when we could come up with money for shells, kept the meat pot replenished.
Christmas was mother's big day. She made our Christmases memorable with very little "real money". She always decorated the house and there was always a tree and presents. We all hung our stockings knowing there would be a whole chocolate bar in the toe of each. Most of the year we had to divide one bar between four. These memories have lasted and although our Christmases are certainly much more lavish in a material way, her efforts and knack for creating the "real spirit of Cnristmas" was instilled and remains with each one of us.
Good times were local church camps in the summer - first at Lake Whitney and later at Muriel Lake. They were usually mixed camps, Boy Scouts and Girl Guides or later C.G.I.T. One of my vivid recollections at a camp at Muriel Lake was the sight of a large wash tub filled with several dozen poaching eggs in preparation for the hungry campers - presided over by Reverend Sam Marshall. "Rev. Sam" was an old school chum of my mother's. She renewed her association with him when she was appointed a delegate to the United Church conference held in Edmonton, and was instrumental in persuading him to come to the Elk Point charge.
The four Dunkin children were educated in the Elk Point public and high schools. Teachers were as follows: Miss McLennan, Miss Veronica Miller, Mrs. Sumpton, Miss Alberta Pinder, Mr. and Mrs. J. Jensen, Mrs. H. McQuillan, Miss Kitty Fenton (later Mrs. H. Fish), Miss White, Mr. J. Munn,
Early Entertainment:
July 4th Sports Days, Baseball Tournaments
Shows - came one a week from St. Paul
Ice-Skating - Johnson's Lake, east of town and then the local outdoor rink in town.
Dances were numerous - at all the neighbouring districts and school houses.
· Music - usually by Augie Bartling's Orchestra (Johnnie Maxwell, Lyle Howe and Cohn Beswick).
Towards the end of the "Dirty Thirties" my mother decided on a big step. She moved to Edmonton herself, taking with her the two girls, Eva and Marie, and leaving the boys with dad. Eva was finished high school and mother, a devotee of education and recognizing the limitations in the small village, arranged through her church connections and some financial help from the "East" that I be enrolled at Alberta College for secretarial training. She obtained work in the city, and Marie went to school. We managed. I graduated the next June and was ready for the work force. Jobs were very hard to come by, and many of my classmates were glad to accept a position for car fare and experience. I was fortunate in finally getting established with the provincial government and worked some two and one half years - 1940-1941.
The Second World War was declared on my 19th birthday. My brothers joined up as so many others did - Frank in the army and eventually Jack in the navy. Frank went to England with the 3rd Division and while there acquired an English wife and two sons. He landed on the beaches of Normandy on "D" Day - June 6th, 1944, fought through the European Campaign and finished up in Germany on V.E. Day. He returned only briefly to Elk Point in 1946, leaving to attend university and graduating from University of Alberta with a B.Sc. in Agriculture in 1950. He has since been employed with Gulf Oil in Edmonton continuously.
Jack served on numerous navy craft - Corvettes, and finally got into the serious fighting on the Aircraft Carrier Nabob. During an encounter in the North Sea the carrier was attacked by submarine and torpedoed. He was fortunate to escape injury and was able to get back to Scotland. He also returned very briefly to Elk Point at the end of the war but left to enroll at U. of A. in Edmonton. He graduated in 1950 with a B.Sc. in Mining Engineering. He married the same year and has a family of four - three boys and one daughter. They live in Edmonton.
Eva met and became engaged to an Edmonton boy, Cliff G. Bijou. They were married in June of 1943. Cliff was in the airforce but did not go overseas. They travelled around the country to numerous cities - East and West - and finally returned to Edmonton in the fall of 1945. Cliff returned to his former employment with the Bank of Nova Scotia and will retire in the spring of 1980. They have a son and a daughter, both married and living in Calgary.
Marie completed her schooling and took commercial courses also, working during the war years for the American army. She met and married an Edmonton boy. They moved to the west coast shortly after and they live in Victoria, B.C. They also have a daughter and a son.
One incident related to us was a "Buggy Whip" fight between the British and American factions over the date to celebrate the local Sports Day (July 1st or July 4th). This altercation took place between my dad's father, Mr. Dunkin Sr., and Mr. Court Smith. The American faction must have prevailed as the Elk Point celebration always took place on July 4th.
Mother developed a fatal illness and left us in August 1958at the age of 58. Dad died in December of 1966 at 84 years. They are both buried in Edmonton's Mount Pleasant Cemetery.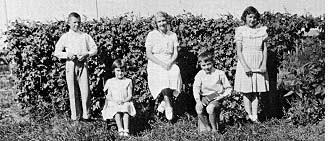 Mrs. Dunkin and children, Eva, Frank, Jack, Marie, 1933.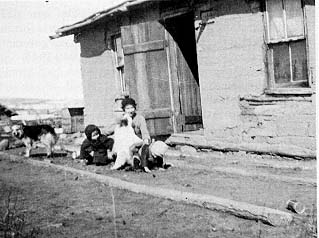 Mrs. Dunkin Eva and Frank 1922
Standard home remedies for illnesses were as follows:
For Colds - Croup etc.: a wool or flannel cloth wrung out in ice water, wrapped around the neck and covered with a wool scarf.
For all digestive upsets: Castor Oil and A.B.S. and C. Pills, sometimes even Epsom Salts.
Goose grease and camphorated oil were rubbed on chests and necks for coughs and colds also. Heavy chest colds got the mustard plaster treatment.
Dr. Miller usually doubled as the dentist and pulled most of the teeth. We never visited a dentist until we moved to the city.
Bags of heated salt were used for ear aches.
Baths were usually taken once a week in the wash tub in front of the kitchen stove.
Heated curling irons and rags curled our hair. Some of the ladies used marcelle curling irons also.
"The Little Wool Shirt" was really a wool vest worn between Thanksgiving and Easter. We knew spring had arrived when mother FINALLY let us leave off our shirts