HARRY CLIFFORD FLANDERS AND FAMILY
by Vivian (Flanders) Davis
Harry Clifford (Cliff) Flanders, his wife, Nettie Marie (nee Peterson), and their two children, Ronald and Vivian, were farming in the Carmichael area of Saskatchewan in 1926. Nettie's brother, Roy, had been a member of the crew building the railroad to Elk Point. He had sent us many good reports about the area around Elk Point. So it was that the summer of 1926 found us travelling to Elk Point. All our belongings were packed in a covered grain tank wagon and a trail wagon. Behind this wagon a driving team was hooked onto a buggy. Cliff, my father, up front, with six horses spanned out before him, was the moving force. Ronald, eleven years old, rode horseback, herding our four cows. Mom cooked all the meals for the month-long trip over open camp fires. I, five years old, had a month-long picnic.
We arrived in Elk Point on July 4 -- Sports Day, and a baseball game was in progress where the curling rink now stands. It was Mom's birthday. The air of celebration was a welcome change. The railway was under construction and we camped near the bunkhouse until we located a vacant farm house.
Two things stand out in my memory of that arrival in Elk Point: First, crossing the North Saskatchewan River on the ferry - getting down those very steep banks with the wheel team holding back all that weight; - hoping that our momentum didn't roll us onto the ferry and right off the other side into the current. Finally, we were all safe on the other side.
The second is a typical five-year-old's memory of the cook house for the railway crew. A wonderful lady, Mrs. Bill McGee, was in charge, making what seemed mountains of sugar cookies. I was allowed to watch her, to sample the cookies, and get a first-hand experience of the excitement of cooking for a large crew of working men.
Two more moves in the area were made before, in 1934, N.W. 18-57-6-W4 became home. A 12-foot addition to a 16 x 16 foot granary of squared logs became the house. A barn and henhouse were built of logs. There was a small field; the remainder was heavy bush, rooted in very rocky soil. Land was cleared by axe and broken by six horses on a sixteen-inch breaking plow.
School was an important part of our lives. An education was valued, and much effort was made to obtain all that was available. In those days we were responsible for our own textbooks, writing materials and transportation. Many country children walked to school. Others drove a cutter in the wintertime. I rode horseback. Ronald and I attended Paramount School, one-room, and then Elk Point School -- two rooms. By the time I was ready for high school, another small building had been added, and Mr. and Mrs. Jack Jensen were the teachers.
Schools served the community as a cultural-entertainment centre also. Christmas concerts were an all-out effort. Everyone performed in some capacity. Who can forget the finale -- first the bells jingling outside, then much stamping of snowy feet, and Ho! Ho! Ho! Santa Claus. When you're a believer, it's half terror, half delight.
Saturday night dances, especially in the winter, were usually in the country schools and were popular. I remember Muriel School and Armistice, Spring Park and Elk Point Halls. These were family affairs -- no baby sitters. When the little ones got sleepy, they were bedded down out of the way on a pile of coats.
Summertime outings were mostly fishing trips to Long Lake, and berry picking expeditions. Saskatoons, blueberries, huckleberries, strawberries, raspberries, and high and low bush cranberries were abundant most years. When I tell my son and granddaughters of this free abundance that was ours while I was growing up; that there were no poisonous snakes or spiders to worry about; no weird or evil people out to harm or rob us, I realize again what glorious freedom we had. I could ride my saddle horse anywhere I wanted to, for as long as I liked, with only the limits set by my parents to concern me.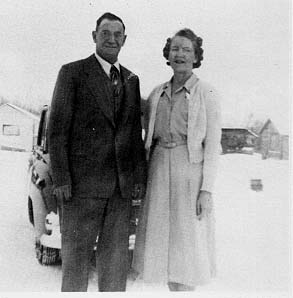 Mr. and Mrs. H. C. Flanders.
We were most fortunate as a community to have two such outstanding men as Dr. Alexander Ross and Dr. F.G. Miller. My mother was hospitalized in the first hospital, part of Dr. Miller's home. In 1931 I had an eighty-day stay in the new hospital. Many others, I know, appreciated, as I did, the care and comforting of Miss Signe Holter, Miss Dorothy Watt, Miss Phil Fouracre, and others on the hospital staff.
That was during the depression. Much of that hospital bill was paid by Dad and Ronald hauling as many as 225 loads of wood to town in winter. Groceries were purchased this way, too, especially from Mr. Markstad.
In the summertime each farmer was allotted a certain amount of time in roadwork -- four horses on a fresno, two horses on a slip, or a man alone picking rocks. The proceeds went toward tax payment.
An asset to life in the early days was the ice house. Dad and Ronald would go to Spring Park Lake after the ice was about two feet thick. There they'd cut big blocks of ice which they hooked with ice tongs which were fastened to the doubletrees, then pulled out by a team of sharp-shod horses. It was dangerous work but the rewards were enjoyed all summer. The blocks of ice were stacked in a log building, then deeply covered with sawdust. It would keep all summer long. We used it to keep our milk, cream and butter cold, and to make home-made ice cream. Oh! That ice cream, topped off generously with fresh strawberries!
Remember the sleigh bells they used to have on the horses' harness in the winter time? Most everyone had some, but the most musical ones I remember belonged to Bud Rockwell, Harold Pinder and Buster Valentine. Each was easily identified long before he could be seen.
Dad was an expert horseman. In 1928 he went to the Beaver River with four horses to haul ties for Cinnamons. The road was watered each night, so Dad had to keep the horses sharp-shod all around. He hauled from 125 to 160 ties to a load. The "axe-made" ties weighed 120 to 150 pounds each, so it took a man to load them.
In 1929 Dad went west of Edmonton with six horses to haul logs. He shipped his outfit out by train but that cost so much that he drove them home in the spring-- 175 miles. He would travel thirty miles in a day, right down Main Street when he came through Edmonton.
Ronald was a horseman, too. He started at the age of seventeen, when he went to the bush at Carrot Creek for the winter, where he hauled logs or skidded them. He did the same in the winter of 1939.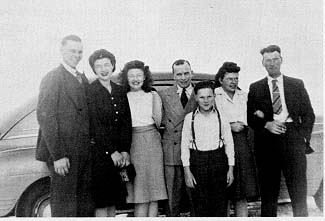 LEFT TO RIGHT: Ronald and Gladys Flanders, Vivian and George Davis, Larry, Joyce and Leon Babcock.
Cliff Flanders on left, Leo Babcock on right with their two grandchildren,
LEFT: George (Skip) Davis Jr. and RIGHT: Marilyn Flanders.
In 1934 and 1935 Ronald dug wells, mostly in the Landonville area. He has "water divining power" and this was an asset for this work. People still contact him to come "witch" a well. Goldfields lured him north in 1936 and until the fall of 1937. Here he logged, by hand, and worked in the sawmill. He returned to Elk Point to farm.
Travel in the "single" days was by horseback; skating, hockey, baseball, dancing or whatever was the entertainment. Dances especially were all night affairs, so Ronald would go to sleep and his horse would take him home to go to work. On one such occasion, he sensed something was wrong and opened his eyes to see a mother skunk and five little ones walking alongside. It didn't take his horse long to move when she felt Ronald wake up!
Mom was plagued with asthma all her years on the farm. Come fall, and pollen dust and field dust, she was confined to bed. Ronald learned to clean house, cook and can fruit at an early age.
In 1949 Dad became manager of the Elk Point Co-op. They bought a home in town and moved from the farm. Two years later, Dad became maintenance man and steam engineer at the hospital. He continued there until he suffered a stroke in 1957. Mom took care of him until he passed away in 1959.
In 1938 I married George Davis, who had come to the area in 1929 together with his brother Warren, and sister-in-law Mae. We have lived in California for thirty six years. We have one son and two granddaughters. Ronald married Gladys Babcock in 1943. They have two daughters and one son, and four grandchildren. They live on the "home" place.
Mom lives in Elk Point. Over the years she has made many visits to California. Her life has spanned teaching school as a young woman in Minnesota, life as a pioneer raising a family, and retirement in town. Her reputation as a talented seamstress and willing community worker are well earned