HELENA SARAH VAUGHAN
by Estella Vaughan
The youngest of a family of twelve, Helena Sarah Brown was born July 3, 1878 and raised on a farm near Ottawa, Ontario.
Vaughan family at Whitney Lake.
LEFT TO RIGHT: Clarence, Alice, Helena, Estella, Freda, Earl.
She married Arthur Vaughan, a building contractor and they resided in Manitoba for a few years before going "West" in 1910 as so many were doing at that time. They filed on a homestead north of Chinook, Alberta, where they farmed successfully for years. Then the dry years began, the terrible dust storms were common and the grasshoppers destroyed anything that did grow.
Helena Vaughan in the Elk Point Library, 1959, situated where E.P. Insurance is located now.
Helena's husband died in 1925. With two children still in school, times were very hard but she was a true pioneer woman. In 1932 she moved to the Elk Point district where she became actively involved in the Sunday School, Church work and the library. In spite of extremely cold weather she was never late for Sunday School or absent from the library. She enjoyed gardening, knitting, crocheting, quilt making and she was especially fond of house plants. There were five children. Estella and her husband, Earl Young, raised three sons, farmed before moving to Armistice where they had the post office and small store. Estella taught school for years. Earl and his wife Pearl (Fossum) had three children. He farmed, worked on the Elk Point ferry, was a licenced mechanic, worked in the Treasury Branch, operated the St. Paul theatre and drive-in, and at the time of his death in 1977 he was studying morse code for his amateur radio licence. Pearl was also well known in the community for her many and varied activities and the years she worked in Mr. Barwick's store. She died very suddenly in 1974. Alice and her husband, Joe Young, live at Lindbergh, raised five children, farmed, bought stock for the N.E. Alta. Co-op, and owned and operated the Elk Point Transport. Freda and her husband, Bud Bowtell, live on a farm at Wainwright. They have four children.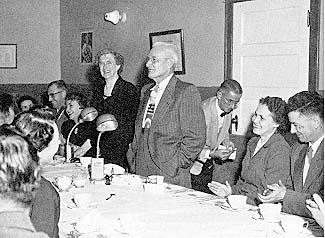 Helena Vaughan being presented with lamps and
a plaque for "Out-standing Community Service by the Chamber of Commerce
She is a registered nurse, and still nurses in the hospital there. Bud's parents were early settlers in the Frog Lake district. Clarence was a farmer, a trucker and is presently a journeyman carpenter supervising the building of houses on the Metis Colony. His wife Helga (Couseneau) has worked in the hospital for many years. It required a great deal of courage and stamina for the early settlers to survive the difficult and hard times they had to face. Helena suffered greatly with arthritis and passed away in 1962 at the age of eighty-four.