ERNEST AND GRACE SCOTT FAMILY
by Wesley F. Scott
Ernest Samuel Scott was born in Marchmont, Ontario on the 27th of January, 1891. His wife Grace Isobella Scott (Gardiner) was born in Leadbury, Ontario on the 10th day of May, 1889.
Ernest and Grace with their family of three boys: Victor, Frank, and Wesley, and three girls: Isobel, Eleanor and Myrta moved to the Elk Point area in October of 1927 from Langside, Ontario where Ernest had operated a country store for a number of years. The family travelled west from Ontario in a Chevrolet touring car (about a 1923 Model). The only items carried on the trip were blankets and a violin strapped above the back seat. The rougher the road, the more the old violin swung about.
Dad homesteaded the N.E. 1/4 33-56-6-W4 (the original Jack Larsen quarter) on which he built a house of logs and made a home for the family.
Father was a painter and decorator by trade, specializing in sign painting. He also had his steam engineer's papers for both Saskatchewan and Alberta. He operated the Elk Point ferry for a number of years (1940's) and was commissioned as a Justice of the Peace and served as such in the 1950's. In 1952 Father and Mother moved into the town of Elk Point, where they lived until their retirement.
Before we left Ontario, Dad had shipped our household goods, - chairs, tables, beds, piano and rugs, to Manville, Alberta. These items were freighted across country by team to our new home. Dad also went to Manville with the car to bring some of the lighter things. When he arrived at the river on the return trip, the ferry could not be used, but the fiver ice was not thick enough to support heavy traffic, so he left the car on the south side of the river. A few days later he returned to bring the car home only to find the battery gone and also one of Mother's good rugs.
I recall the enjoyment we had from the piano as Mother played and sang for us in the lonely homestead surroundings, especially in the evenings before Dad came home from work.
When my brother Victor was sixteen years old he was bringing a load of lumber home from Spring Park with a team and "Bennett Buggy" (the old Chevrolet car had been dismantled and the running gear made into a rubber-tired wagon). He had just started down what was known as the "Holley Hill" - a very steep hill with several curves and a bridge at the bottom (Gordon Miller lives there now), when one of the front wheels struck a stone causing the wagon pole to break. The wagon came up against the horses' heels. My brother jumped clear of the load and the team went down hill on the dead gallop. How they made all the curves no one will ever know. My brother caught up to them on the other side of the valley near the railway crossing. They had become tangled in the harness. Vic spent the next two days gathering up lumber and parts of the wagon strewn along the runaway route.
In the 1930's we had a barbed wire telephone circuit in our neighborhood. Some of the subscribers were Harry Ramsbottom, Dan Lambright, Earl Bullis Jr., Earl Vaughn and my brother Frank. When it was 40 degrees below 0 "F" the phones worked real well but in warmer weather, not so good.
In 1941, I joined the Royal Canadian Signal Corp. and served as a wireless operator for forty-three months in England, France, Belgium, Holland and Western Germany. My brother Frank joined the Armoured Tank Corp. and was a volunteer for the Pacific but the war there ended before he was called. My brother Victor and his wife Dora (Cinnamon) live in Spring Park. Their four children are now married and away from home. My brother Frank and his wife Joan (Murray) live at Innisfail, Alberta. They have one daughter married and one son still living at home. Phyllis (Aarbo) and I were married in July 1964. We now live on the N.W. 1/4 33-56-6-W4., where Phyllis's Father and Mother, Mr. and Mrs. Tom Aarbo raised their family. We have one daughter, Karen; and three sons; Kendall, David and Glen. My sister Isobel married Joe Evasiw. They have a family of five and are now living in Edmonton. My sister Eleanor never married. She lived in Calgary but is recently deceased. My sister Myrta married Martin Cinnamon. They have a family of six and are now living in Kelowna British Columbia.
Ernest Scott in front of sign he painted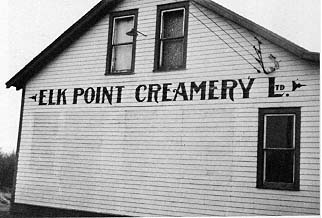 Creamery sign painted by Ernie Scott
IT SAYS HERE
(Excerpted from Local Newspaper)
By Peggy Bell
Column space is gladly given for this poem "The Frog Lake Massacre", by Ernest S. Scott.
Mr. Scott, a pioneer Canadian whose home is at Elk Point believes in publicizing and preserving the historial background of incidents which add color and factual value to historical records. His poem and elegy bear out this thought.
The cairn erected at the site by the federal government carries a plaque which states that the Frog Lake Massacre occurred April 2, 1885 when rebel Indians under Big Bear massacred two Roman Catholic fathers, the Indian agent, the farm instructor and five other white persons.
The Frog Lake Massacre
Red sunset lingers in the west;
Homeward herds are winding on their way.
The shades of even tide are falling fast,
To curtain out the glories of the day.
Charms of the afternoon are gone;
Its balm, its haze and all its rarest hues,
Save that its beauty in me lingers on
And lights the solemn urging of the muse.
Return - some gifted bard of old,
The olden inner flame sublime to share,
Unto these lines, a finer elegy to mould;
And story them so long departed here.
No history these verses tell -
Nor whom, nor why of early station here;
In erstly extant pages written well,
The seeker finds the whole recorded there.
Rather now to memmorate their lot -
Some kindly cursive note to them accord -
As dimly through the veil of time our thought
Reviews the welding into greater nationhood.
This lonely neglected little spot -
While farther afield the sylvan circles hem -
Now seems to urge that we forget them not,
Though far from the living human stream.
How Joy 'dl a', April swept the snows away
They braved long trails in dull monotony,
How Joy'd! as April swept the snows away
And sprung the early wild anemone.
And oftly, as ended duty's day,
They stroll'd o'er knolls, or coulees near,
Or wended farther from abode away,
To view the tiny lake of waters clear.
No modern arts, awheel they knew;
On trusty horse or yet afoot they strode,
Haply to bear a danger signal through;
Crude wagons bore their burdens on the road.
The scars are eight, upon the ground,
Of note - whereon each martyr fell;
On tiny crosses eight, each name is found,
Unsung, Unstoried - now in mute appeal.
No tale of carnage they convey;
Dull prose alone records their ending hour;
Lips long sealed and all forever laid away,
They sleep within their lowly earthen bower.
Hard by on humble cairn ofstone -
A monument that points into the skies,
Noting their earthly duties, every one -
A bronzen plaque each name and state supplied.
Now on their graves recording time,
Unfalling beams the sun benignly down,
The stars by night or silver moon sublime,
Or northern lights in vivid beauty strewn
Light the sky in splendor all serene,
To ease the gloom and shadows cast away,
Until the brighter coming of the dawn,
Returns the friendly greeting of the day.
An Epitaph
Dear reader - here, erected nigh,
A village once these lonely acres knew,
Now lives in legend that will never die,
For out ofsuch our great Dominion grew;
And they, that in these lines are mourn 'd,
Adventures to death so harshly done -
Rest on, - their souls unto their Cod return'd,
And here their country mark them as her own.