THE YAREMKEVICH FAMILY
by John H. and Walter Yaremkevicb
John Sr. and Anne Yaremkevich arrived in the district of Warwick in 1910 from Austria. With them came six children: Dmetro, Nick, Mary, Alex, Katherin and Andrew. John Jr. and Bill were born in Warwick, Alberta.
Because no homestead land was available there, in 1920 they moved to the Gratz district, where they purchased three homesteads at $10.00 each. They built a log house which they plastered and shingled, and then they cultivated the land by horse and walking plow. As the family grew bigger more land was purchased and a larger house built. After many hardships and some good times,John Yaremkevich Sr. died in 1936; his wife Anne died in 1935.
In 1913 Dmetro took over the Gratz Post Office and in 1930 his brother Andrew took over his job until it closed in 1959. The mail was first hauled to Gratz from Landonville by Dick Waltz, later from Derwent by Bill Kozicky, and then from Elk Point by Johnny Yaremkevich. After 1959 the rural farmers picked up their mail at Elk Point.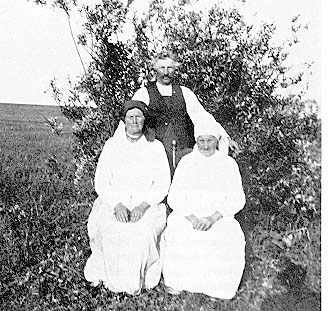 Back Row, Left to Right: John Yaremkevich 
FRONT ROW: his wife Anna and her mother, Mrs. Hawirko.
Dmetro married Mary Krywulch in 1912 and they had four children: Anne, Johnny, Olga and Rose. Dmetro died in 1943. Nick married Madeline Krywulch in 1913 and they had six children: Mike, Pearl, Anne, Pauline, Stanley and Alexandra. Nick died in 1976. Mary married Alex Melnyk in 1912; their six children were Anne, John, Katherine, Millie, Alex and Stephania. Mary died in 1958. Alex married Katherine Kozak in 1926. They had one son, Walter. Alex died in 1965. Mike married Katie Ewaszko in 1927. They had three girls: Bessie, Jennie and Josie. Mike is presently retired in Elk Point. Katherine married Metro Woloshyn in 1917 and they have two children, Jessie and Dick. Katherine died in 1920. Andrew married Mary Yaremkevich in 1928. They had two children, Leona and Marshall. Andrew died in 1974. John Jr. married Mary Wirsta in 1937 and they had three sons: Edward, Melvin and Orest. John Jr. is presently farming at Willow Range. Bill married Sadie Gordey in 1936. They had one son, David. Bill died in 1974.