THE PAUL PETROSKY FAMILY (PAUL & HELEN)
by Helen
My husband and I first met in Myrnam some thirty miles from Elk Point. I was visiting my sister and Paul was training to be a blacksmith. I went to Edmonton to acquire some vocational skills through a youth training program sponsored by the provincial government. Prior to this I grew up and got my grade XII in Two Hills.
After finishing the vocational courses, a friend I met at a seamstress' course, and I, decided to open a dress shop. She left it to me to chose a location. In the fall of 1940 a brother-in-law of mine was distributing school texts for Elk Point and district. I decided to look Elk Point over. At that time Elk Point had a population of two hundred. I was fortunate to find a hair-dressing shop run by Miller girls. They wished to rent it, at $20.00 a month. This was just the thing since I had hair dressing skills; with the dress shop, I considered it would be a good combination.
Helen and Paul Petrosky, 1942.
At the same time Paul had decided to look over a blacksmith shop in Elk Point. Paul grew up in Lake Eliza district some fifteen miles west of Elk Point. He was not aware that I was present in the area, and I was unaware of the fact that he lived so close to Elk Point. We were both hoping to surprise one another, and we did. My friend and I set up shop. Paul moved in with Mr. Stepa who ran the local billiard hall, and arranged the transaction for the blacksmith shop.
Paul and I had decided to get married in June. However, it was a very cold winter, and my friend who had been raised in a city was unable to take the cold and the isolation of the country and decided not to come back after Christmas. I was left alone. So that January of 1941 Paul and I got married.
We made our home at the back of the shop in a tiny room - bedroom, kitchen, livingroom all in one. We did not even have to get out of bed to put wood in the stove, and the water froze solid in a pail over night. In a couple of months we moved into bigger quarters, owned by Mr. Scraba, on the main street. Here we had a little more room. The kitchen and bedroom were two separate rooms, and it gave me a fairly good size hair-dressing parlour. By now I had decided to turn to hair-dressing alone, and Paul was doing fairly well with his blacksmith shop.
By June of that year things changed. Paul volunteered in the Canadian Army. As he was soon going to be recruited and he wished to have a choice of the division in the army, he joined the Royal Canadian Engineers. This was the start of our war-time life. I was more on the road than in my shop. We travelled by train or car those days. While in Canada my husband was stationed in Edmonton, then in Camrose, and lastly in Chilliwack B.C. In December of that year he left for overseas. It was a lonesome year that followed, for me, but I got to know Elk Point better. The people of the town used to love to go and meet the train. The train arrived about 7:30 in the evening. Then everyone met at the post office. The Post-Mistress, Mrs. Quin, took about half an hour before she opened the wicket. I remember one hot summer evening at the post office, a young lady, who worked for Mrs. Sumpton, came in, in shorts and a halter. Mr. Martin, an evangelist preacher, took off his hat and passed it around for a collection to buy her some clothes. The dress was very conservative those days, but it wasn't long before the ladies skirt length crept above the knees. For entertainment, almost everybody went to the weekly movie at the local theatre. The United Church also played a great part in the life of the village.
My husband returned from England after about a year and a half. He had his back injured and was sent back in a cast to a hospital in Calgary. There he spent a month and then he came home only to go back to Colonel Mewburn Hospital in Edmonton for a year, where he had his back operated on. This was the end of his blacksmith days. At any rate the method of farm machinery repairing was changing. When he got home, we bought our first home, from the druggist, Mr. McDonald. It was situated on the main street, slightly to the back, next to the drug store. My husband added on a front porch, where he set up the Treasury Branch agency. I did hair-dressing in another part of our home. All this we found much too small, so we built a building in front of the house next to the street, which my husband stocked with novelties and men's wear, plus the agency. I moved my hair-dressing parlour into the porch. A few years later my sister and her husband, Mary and Mike Petesky, went into business with us. We built another and bigger building, which presently is part of MacLeods, on the same spot and opened a grocery store. At the back of the store we built a hair-dressing parlour, which my sister and I operated. Mary was a hair-dresser too.
Between moving and building we had our first daughter, Donna. When I was leaving the hospital the nurses gave me verbal instructions on how to bath the baby. I was to do it over a basin of warm water holding her in the crook of my arm. That evening I proceeded to bath my baby. When I put some water on her body Donna wiggled and pretty nearly fell out of my arms. I became so frightened of dropping her that I burst into tears. I looked over my shoulder, and who should be there to my rescue but my dear friend Buzzy. She said, "I knew that would happen". You see Buzzy was one of the nurses from the hospital. Next day I bought myself a baby bath tub. Two years later our second daughter, Alberta, was born.
Those were great days. We bought our first car, a Model A. and painted it red. We travelled over narrow trails. Nearly every Sunday my sister Mary, and her husband, Mike, and their son Ronnie would come from Mynam and we would go fishing in Kehewin Lake. It was known as Long Lake in those days. We had to make sure we got home before any heavy rain. To the south of town was a strip of muskeg and the road through it in spring was something to behold. We loved to go to the river and watch the ice move out. To get across the river you had to take the ferry, except in winter, when you had clear sailing by car. That reminds me of one Sunday when Mary and Mike Petesky were coming to visit me from Myrnam while Paul was overseas. People were talking about a bad crack in the ice and how it was necessary to make a detour. Hearing this I walked two and a half miles to the river to meet them and warn them.
After the end of the war, Elk Point was bombarded with drilling rigs, in search of oil, and gas, and whatever else they could find. Luckily for Elk Point and district a vast area of underground salt was discovered. This brought the Lindberg Salt Plant to our area. In 1948 a group of men including Paul formed a company and put their money together to drill for natural gas. This was an absolute gamble; but the gamble was good. They struck gas. When the well blew you should have seen all the jubilation. Many hats and caps went flying into the flame. The town was really busy for a few years laying the gas lines, converting wood and coal furnaces or installing new ones. Paul was made the secretary-treasurer, and set the business in motion.
As my family was growing up, I became quite involved with church work. I took a Sunday School class. I joined a ladies church group. We put on many chicken suppers, catered to banquets and had fall bazaars. We also did things for recreation. About this time a curling rink was built. We all spent many good evenings on the ice, or in the lunch booth making money for the club, or going bonspieling. A group of us from town and district even formed a square dancing group, and we danced for a couple of years. Scouting and Guiding were quite active under the leadership of Dr.Weigerinck. We had two Guides growing up so I joined the parents group of which I shortly became the secretary-treasurer. I stayed in that capacity for five years. I enjoyed many good hours with the Guide leader Barbara Milholland doing things pertaining to Guiding and out-door life.
In 1953 our third daughter, Alexa, was born. We sold our store and my husband accepted the position of town secretary-treasurer. His office was situated in the old fire hall. With the two secretary-treasurer jobs he was kept quite busy and often spent many later hours in the office. We moved our home to a new area, and I quit hair-dressing. It was so wonderful to have natural gas in our homes that we started hankering for running water. Our town fathers concurred and through plebecite borrowed enough money to go into water works. Again our little town was busy, and we said good-bye to outdoor toilets, drawing of water, and melting snow for laundry.
In October of 1954 my husband went to Edmonton with two maintenance men to buy some equipment for the town. That night brought with it a crisis which changed our lives for some time, and yet in spite of it, strengthened our family. On his return home alone Paul flipped the car several times and ended up in the Vegreville hospital. He fractured his neck bone which caused partial temporary paralysis. The car was a total loss. Paul spent another three months in Vegreville before he was transferred to Elk Point Hospital for a considerable length of time. I tried to look after the things in the office with his help from his bed. Paul recovered miraculously and that spring he acquired new head-quarters. One of the old school houses was converted into a town office and court room.
In the winter of '55 we added another child to our family.
LEFT TO RIGHT: Alberta, Donna, Alexa, Helen, and Mike the dog, 1954.
This time it was a boy, David. Another friend of mine was also expecting a baby and her husband's name was Paul too. Next morning he was congratulated on a son; ironically, his wife was still at home. (Incidentally, she had a boy too.) That winter was memorable in another way. It was one of the coldest I remember. There were snow banks ten to fifteen feet high.
We soon had all the children in school. The day I took our son, David, to his first day of school, my neighbour and a very close friend Marion Tredger took their last boy too. Both Marion and I had been thinking, "How nice to have till noon all to ourselves." Standing on the side we ran into Audrey with tears in her eyes. This was her first one. We took her home to Marion's for a cup of coffee to console her. This was a good period; there was time for morning coffee breaks with our neighbours. But those were the busy times too, with the children in school activities and different groups. The girls were still in Guides. David soon became a Cub and then went on to Scouts. There were school concerts and ice carnivals. In the summer holidays the Red Cross gave swimming lessons at Lake Witney. This involved quite a few years. We mothers had to take turns on the bus to supervise. There was also Guide, Scout and church camping.
The church was an important part of our lives. We saw it grow from the little church on the hill to the Christian Education Centre and present sanctuary. We tried to help as much as we could in different church committees and groups. The girls, each in turn, sang in junior choir. I must say that when Alexa's group came up, they became quite popular and were often in demand for other functions in the town. We looked forward to Christmas concerts. Paul even took his turn at being Santa Claus. Alberta was about three at the time and when we were going home we were surprised when she said, "Daddy you were Santa Claus". "Oh No", came the reply - "Oh yes you were Daddy. Those were your shoes." Again, "Oh No". "But those were your eyes, Daddy". That was the end of her belief in Santa Claus.
Christmas Eve will always be dear in our hearts. First we would all go to the evening church service. Then the Tredger family would come over. Marion would play the piano, and we would all sing till midnight. Next day we would call on Tredgers. It almost became a ritual. -Oh how I miss those Christmases.
When Paul took his holidays, we would generally take a trip, mostly to the mountains and often to the west coast. Those were memorable times. Then we decided to build a cabin by a lake. A group of families got together and we built our cabins on Muriel Lake. Many happy and interesting hours were spent building, helping each other and living together. There wasn't even a road into the south shore so the men had to build one. Many hours were spent laying wooden bridges over very low spots. It was a lot of work but great fun.
In the early part of 1960 the two older girls were in high school. Donna took her grade nine and ten in Elk Point and finished her high school in Edmonton at Alberta College and Red Deer. Then she went to the University of Alberta where she obtained her Bachelor of Education. Alberta finished her grade eleven in Elk Point and went on to Vermilion Vocational College for half a term where she took stenographic courses before she was admitted to a Certified Nursing Aide course in Edmonton. Later she took work at the Pharmacy department in University Hospital in Edmonton as a pharmaceutical aide, where she worked for five years. About this time we built our new home. Elk Point was experiencing growth. Quite a few new homes were built.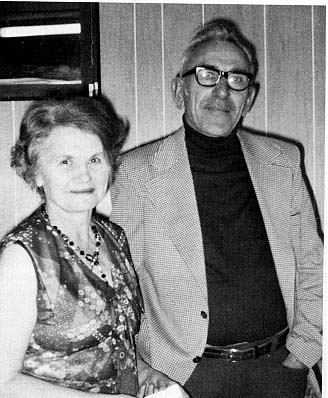 Helen and Paul Petrosky.
Soon we were approaching centennial year. We were very fortunate when Mr. Barwick started a Majorette, Bugle and Drum Band. This involved almost all the young people of the town and district including Alexa and David. We parents almost always came out and watched our children play and march. With our family almost all grown up I found more time on my hands so I decided to join the library board, first as secretary-treasurer, then as assistant to the librarian, Mrs. Darroch. I took a library custodian course given through the provincial supervisor for Libraries Department. This was an all winter correspondence course. Centennial year I became head librarian, a job at which I worked at until we moved in 1974. When I began the library was situated on the main street but the building soon became too small so the town council decided to erect a new library building with a new town office, as a centennial project. This involved quite a few hours of planning. The whole town was preparing for centennial celebrations. Come centennial year our two younger ones were gone almost every weekend performing at celebrations through-out the province. This I am sure will be a high light in their lives.
In 1969 with Elk Point still growing, the book work for both the town and Gas Company was getting too heavy for one man. Paul decided to give up the town books and work for the Gas Company only. About the same time he was also elected to thc town council. With more traffic the town was getting dustier and dustier. My husband was a strong advocate for paving. It was wonderful when the town went for paving the streets.
In our own family another important event took place. Donna announced that she and John were getting married. So in August of 1970 Donna married John Mitchell and they moved to Port Alberni B.C. In the meantime Alberta met a young fellow by the name of Karl Norhaugen. He was in the Canadian Armed Forces and they were married the following June. Alexa and David were completing their high school education. This they did in the new F.G. Miller High School.
Alexa was quite active on school committees, and on completion of her schooling went to University of Alberta in Edmonton. Two years later David finished his grade XII. We were so proud when he was chosen valedictorian. That spring of 1973 both Alexa and David applied in the Canada World Youth Exchange Program and were both chosen to go. David was with an exchange from Mexico. Alexa's group prepared to go to Yugoslavia. We had two Mexican boys as guests over the Christmas holidays. After Christmas David left for Mexico and Alexa for Europe. Donna and John returned from Port Alberni. Donna took a position in the English department at Grant MacEwan College, and John as assistant manager with Canada Safeway. Alberta and Karl left for Kingston, Ontario where Karl attended Military College taking officers training.
That is when my husband and I decided that we should make a move. So in July 1974 we had a sale and left for Surrey B.C. Alexa went to Montreal where she attended Sir George Williams University. David came with us and attended Simon Frazer University. We had a grand send off. The friends in Elk Point paid us a great tribute, which we shall remember and cherish in our hearts.
Since then our daughter Alexa married Francois Nadeau whom she met in her Canada World Youth Year and they are gone to Moscow where Francois is employed in the Canadian Department of External Affairs. David is attending University of Calgary for the second year, in faculty of engineering. Karl will be graduating from Kingston Military University this spring of 77 and we hope to see them back west. We have presently moved to Chilliwack, B.C. where we are awaiting another new event. Soon we shall become proud grandparents to Donna and John's child. We are looking forward to many more experiences, surprises and pleasures in the days ahead