THE BEEBES
by Martin Aarbo
Dalton M. Beebe came to the Elk Point district at the age of twenty, with his father, George W. Beebe, and mother, Elizabeth, to homestead in 1909. George Beebe homesteaded NE 4-57-6-W4 and Del, as he was better known to all, homesteaded SW 3-57-6-W4.
In the year 1862 Del's father, at the age of eighteen, travelled the southern states of Oklahoma, Kansas and Texas with a band of hunters, shooting buffalo for their hides. This practice led to the extinction of the buffalo in that area. This writer read a day-to-day diary of George's experiences and later he stated that he was not proud of this act; but, being young, without work, one does anything to make a dollar.
George and Elizabeth Beebe.
George and Elizabeth lived for some time in the state of Washington before moving to Agassiz, B.C., prior to 1899.
As with most homesteaders that came to this area, the Beebes knew very little about farming, but they did have the first team of mules in this district and broke up a few acres every year, to make a living. It was always a treat for all to see Del driving his team of mules to town.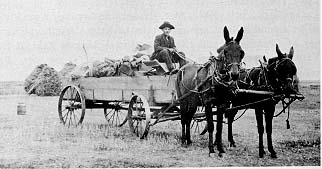 Del Beebe and his team of mules, about 1912.
Mr. Beebe, Sr., passed away Jan. 8, 1918, and Del faithfully looked after his mother until her passing Feb. 4., 1925.
When the Elk Point Municipal Hospital was built in 1928, Del was hired as janitor, a job he held until his death Oct. 4, 1955. He served twenty-seven years, wages $30.00 per month.  Del will always be remembered by staff and patients for his sense of humor, the tricks he played on the girls, and his work that went way 'beyond the call of duty'.
Dalton Beebe in front of the hospital residence, 1936