PHOTOS OF THE 40's
ST PAUL BONSPIEL EARLY 1940's.
WINNERS OF GRAND CHALLENGE.
FRONT ROW, Left to Right: C. A. Johnson, Dave Ross, Bill Soldan, Dr. F. G. Miller.
BACK ROW Runners up - a St. Paul rink.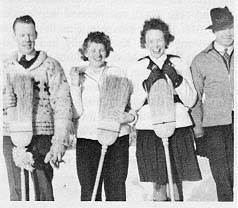 CURLERS: Frank Keitges, Barbara Milholland, Floris Fenton, Neil Fenton.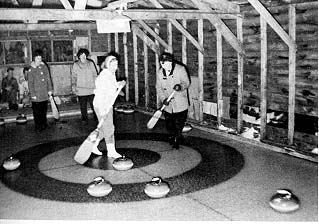 The old curling rink.
Curling in the old two - sheet rink in the 1940's.
LEFT TO RIGHT: Sheila Homer, Rose Bartling, Dorothy McMullen, Dr. A. Weigerinck.
COOKS: Margaret McGinnis, Marjorie Keller, Margaret Modin, in the old curling rink
Washout by Frank Miller's farm 1945.