WILLIAM AND SARAH (LIGHTFOOT) APPLETON
by Sarah Appleton
William and Sarah Appleton left England in 1893, with their two sons, Fred and Ernest. They settled in Pennsylvania, where William worked in a coal mine. Later they moved to Centerville, Iowa, where Annie, William Jr., and Peter were born. Peter died. They farmed in this area while son Fred worked in the coal mine at age eleven.
In 1907 William came to Alberta, where he took a homestead at Peat in the Gideon Lake district - N.W. 10-56-7-W4. In 1908 he moved his family here. The first year they lived in a tent. William worked with oxen. The house had a sod roof. Vermilion was the nearest town. There was a doctor in St. Paul by 1918, the year Fred had the flu.
Fred homesteaded N.E. 10-56-7-W4, and William Jr. N.W. 4-56-7-W4. William Jr. and Ernest enlisted in World War I. William was killed and is buried in Flanders Fields. Ernest came back to continue farming. William Jr.'s farm was sold for $400. to Mr. and Mrs. John Carpenter, parents of Fred's wife, Emily.
Emily and Fred Appleton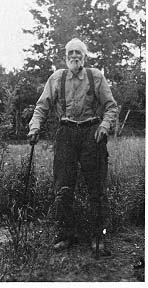 Mr. William Appleton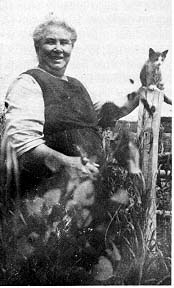 Mrs. William Appleton