THE HARDY J. LAWRENCE FAMILY
by Beth (Keller) Lawrence
In 1911 Hardy arrived in Elk Point with the Ramsbottom family having come from Steeple, England, the place of his birth. He was sixteen years of age. He lator moved into the Hugh Cinnamon family house along with the six Cinnamon boys and Mrs. Cinnamon. He also spent a lot of tiime at the home of Rev. and Mrs. Harry Day.
Hardy fied on a homestead in the Elk Point area, N.W. 35-56-6-4. He went to work in Islay and when World War I was upon us he joined up in 1914. He trained as a grenadethrower and served in many countries. In 1919 he returned to Canada and settled once again in Elk Point where he operated a livery barn. He had a beautiful driving team and a cutter and was hired by soldier settlement men, revenue men, collectors, etc. to drive them to their various destinations. Hardy met me while I was working for :Ma" Caskey in 1920-21. He bought a frame house from the Plummer family who lived near the Saskatchewan River and moved it on his homestead. We marreid and as time went on we had five children, all born at the house.
I remember in the middle of the 20's we had some beautiful two year old heifers which we sold and received $8.00 each. Food prices were low except also except eggs which we would trade at the store and I remember getting a pound of tea and a half pound of tobacco for one dozen eggs. We did all our dealing for groceries at Markstads. In the fall of the year we would ship a carload of wheat and all the money was given to Mr. Markstad. We would buy groceries for one year and most times it would end up that wheat money would not carry us through. Hardy also broke land with eight horses and cleared land for the C.N. Railway and part of Elk Point. He broke and farmed for Chas. Hood who ran the hardware store and post office. He also farmed Charlie Markstad's land north of main street. We read news from from papers that were several days old. Radio came in during the late 1920's. We started with a little crystal set. Hardy and I heard the first hockey game played in Chicago. We used headphones. Bill Wolfe, our neighbour to the west built his own radio set. He and Hardy would talk to each other over this set. I remember too that my brother Charlie Keller sang "Let Me Call You Sweetheart" amid a lot of laughing and teasing.
There were dances held in the Arnott Hall where the theatre now stands. Hardy was the floor manager and the ladies all brought lunch so our tickets were paid in this manner.   The music consisted of Mrs. Howe, piano, Cohn Beswick banjo, Augie Bartling violin, and Hardy often relieved the man on drums. (the name is forgotten) Great times were had and we would dance until the wee hours of the morning.
We grew all our own vegetables and would pick wild berries and can them for winter use as well. We raised Marquis wheat which we hauled by team and wagon to Vemilion. The roads were just dirt with lots of holes. We crossed the Saskatchewan River by ferry during the summer months and then crossed on the ice. When there was no snow and the river was slippery we would follow a straw road over the ice. In 1925 we bought our first car, a Ford. Many times I helped push the car out of mud holes. In winter we travelled by team and cutter and if the family were with us we used a bob sled. We heated rocks in the oven and put them in the sleigh box as a source of warmth.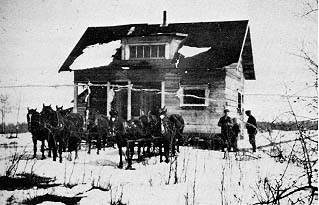 Hardy Lawrence's homestead house, 1921.
In 1928 we moved to Lindbergh on the farm where our son Vincent now lives. We moved into a house built by Hugh Cinnamon who had taken part in the Reil Rebellion in Battleford in 1885. In payment the federal government gave the soldiers a half section of land. The house, built in 1915, was later sold to Stonehocker and in 1928 we bought it from an insurance company. It was a two storey log building and we had ample room for our family. It was during this time that John Peacock came to work for us and stayed. In the depression years we made our own soap and our own coffee from wheat. Later we had honey bees to help supplement our sugar supply. Our five children all attended the Lindbergh school and later attended high school in Elk Point.
For entertainment we listened to music from records played on a gramaphone and in later years we had a piano. We had many, many sing songs in our home and singing is still a family favorite when we all get together. Hardy spent some very scarce money on a record entitled "The End of a Perfect Day". He put it in the sleigh box and I stepped on it. Needless to say the title of the record was very suitable for the way I felt.
In 1941 we moved to a house made from lumber which was logged from our own property. It is in this house that out son Vincent and his wife the former Olga Chomlack and their sons live. It was in 1942 that Hardy became the postmaster at Lindbergh, a position he held until the spring of 1950. Our daughter Phyllis was postmistress from 1950 until January of 1974. In 1944 we got word from the War Department that our eldest son Fred was killed in action in Italy.
Our daughter Irene is married to Chas. Drummond and they make their home in Victoria. Marie, our youngest, is married to Jim Purdue and lives in Vancouver. I have retired and still live in Penticton where Hardy and I moved in retirement in 1959. Hardy passed away in Aug. 1971 after a lengthy illness. Our daughter Phyl. married Walter Saranchuk and they still make their home in Lindbergh. Walter has been the administrator of the Elk Point Hospital since 1954. John Peacock lives in a very lovely Senior Citizen Lodge in Penticton.
Hardy Lawrence after his retirement in Penticton, B.C.