MR. AND MRS. PERCY HOARD
by Martha (Hoard) Zarowny
My mother, Mrs. Percy Hoard, was born in Stirling, Hastings County, Ontario, in 1887. My mother's father lived near Belfast, Ireland. They came to the New England States, U.S.A. After many years they moved to Belleville, Ontario, about six miles from Stirling.
My great grandmother's husband emigrated from England to the New England States. In the troublesome times, they moved to Kingston, near Belleville, as United Empire Loyalists.
Grandfather Hoard and his father were Ontario men at a location called Hoard's Station. My father, Percy, was born January 1, 1890.
My mother and father came from large families. Mother helped her sisters and brothers, most of whom were farmers. Father, one of four boys, went out to look for work. He found land at Cereal, Alberta. He had a Model T Ford. He carried what he owned in a trunk. He then returned to Ontario to marry my mother on March 1, 1916. They then came out to his farm.
The first year they planted a wagon box of wheat and that is what they harvested. It was a very dry year. But there were good crops.
I was born in 1917, my brother, Clarence, in 1918.
My father rented land. His mother was ill and his sisters thought the brothers should support her. So every month for many years a set number of dollars was laid aside for her. He finally rented a bigger farm closer to school and the town of Cereal. He got better crops, but we never got away from the dust storms.
Mother's father died in 1923. With the money she received, they bought a Chrysler in 1927.
We then got plagued with grasshoppers. They ate all that was young, crawling up the stems for juices. Crawling across the road, they looked just like a carpet. Cars had to have screens in front so as not to fill the radiators with them. The dust storms were quite regular. They often blew for two days, covering up machinery and cutting off the young plants. If we were lucky and got rain, growth would catch up. Most of the time this did not happen.
If you were lucky to have put money in the bank, you found yourself taking it out for whatever was needed. Cattle weren't worth much, eggs were almost given away. Groceries were not so expensive, but you didn't get much for what you sold.
We managed to get a Westinghouse radio with a horn. So we did our school work while we listened. Dad usually read and had a pipe of tobacco, and Mother was repairing some thing, or, once in a while, embroidering. She had to rip or re sew in the daytime in winter until we got a mantle lamp and had a better light. Mother didn't buy much yardage as her brothers and sisters sent out clothes their families couldn't use any more.
My uncle worked for the Northern Alberta Dairy Supply. He came to our place and offered Dad a chance to ride around with him in the Elk Point district. My uncle visited the creamery and a few dairy farmers. Dad talked to Lan Johnson, who owned a quarter of land one mile east of the Muriel siding. They decided Dad would bring his family to see it.
We slept in the car and had picnic meals by the side of the road. When we got here, we saw trees, green hills, creeks here, lakes there, and the river. People told us there were many kinds of berries. We decided, if we could buy with what money we had in the bank, we would take it. When we got home, we applied for the government loan. It was approved. Our work was cut out—we had only two weeks until the railway cars would be there.
We had fifty head of range cattle we had to walk to market, I believe fifty miles. We received the big sum of $109.00. Real rich!
Then we had to take apart the machinery as we could get only one box car and one cattle car. The combine stayed behind. We put some chickens in crates, also took four cows and four horses. We put a tank of water in the stock car. Dad and Clarence rode with the stock. Mother and I went by train. We stopped in Edmonton over the weekend. We came to the Muriel siding on Monday. We unloaded everything in three days so the cars could be picked up again. This was in 1933.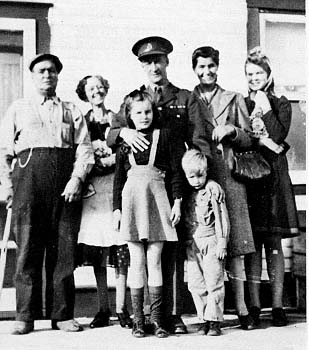 A visit from the docror. Mr. and Mrs. Hoard, Dr. Ross
with Barbara and Ian, Mrs. Ross and Jean Ross.
We met Harry Ramsbottom, then Martin Loftus, who owned the land to the south of us, across the road. The people of the Muriel district were the most friendly people one could wish for, just like those in the south—they helped as much as possible.
We were something like beggars as we had no garden and no fruit. The next year it was a pleasure not to see dust flying or hear bad winds blowing.
Dad had a real struggle in the spring. We were green to the weed wild oat. That gave us many problems, even in the garden.
Dad and Clarence had to find hay and straw for winter. The cattle went crazy eating the green grass but it was too soft. They were not satisfied.
That winter Dad and Clarence went to Moose Mountain with Willard Van Natter to cut and saw logs to make us a barn, also lumber for Willard. Mother and I stayed home and did chores, knit socks and mitts and patched.
In the summer of 1935 Mother was hospitalized for most of the summer so I had the house and garden to look after. But the barn got built.
It was a pleasure not to have so much wind; to see it rain hard. But one thing we found out—the soil dried very fast.
Clarence and I would have liked to go to school for a few more years, but there was only an old horse and buggy, three and a half miles to go, and the winter roads were something to think about. So it was forgotten. Mr. Loftus built our house, and Mr. VanNatter the barn.
In 1937 1 worked for $10 a month. In 1941 worked at Earl Bullis' for a couple days a month, to do the wash and clean the floors. I helped Mrs. Arnott one day a week for a long time. She was handicapped as she had only one eye and one hand, the result of a war time farm accident. I cleaned and washed for Mrs. George Graham, the druggist's wife.
In 1941 Dad died. By this time Muriel School had been built. Parrish and Heimbecker elevator was up and working. I did the janitor work at the school for a year. Mrs. Van Arnam was the last school teacher at Muriel. Mr. Kossman operated the elevator.
I met my husband in the fall of 1941. We were married in the spring of 1943. We lived with Frank's father and mother for ten months, when we moved to the John Palinka farm by King George hall. Then we moved to Cleve Deihl's farm a mile and a half west of the hall for ten years, then to Earl Bullis' for seventeen years. We retired to Elk Point in 1973.