WILLIAM SENIUK FAMILY
by William Seniuk
I, Bill Seniuk, son of Mr. and Mrs. John Seniuk of Northern Valley district, was born February, 1927, took my education to grade ten in the King George school, farmed with my parents until 1956 and later moved to a farm I bought from George Faryna ten miles south east of Elk Point.
In 1954 1 married Olga Andriaschuk, daughter of Mr. and Mrs. John Andriaschuk who operated a store and farm for thirty-five years in the Northern Valley district. We were married in the Northern Valley Ukrainian Catholic Church of which I am the president now.
Later we acquired more land to the south east and in 1976 bought the land Olga's parents lived on.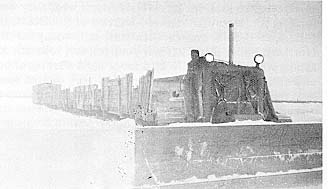 Bill Seniuk operating a cat train at Yellowknife.
I worked at Hay River and Yellowknife in 1956 driving cat trains across Great Slave Lake to Rayrock and Discovery Mines, having the misfortune of breaking through the ice with a brand new D7 caterpillar into forty-one feet of water which nearly took my life. We have one daughter, Sharon, and two sons, Marshall and Richard. Sharon graduated from Elk Point High School, went on to become a dental assistant, is married to David Jaremco, son of Mr. and Mrs. Peter Jaremco and now resides in Edmonton. Marshall graduated from the same school, worked for Elk Point Sales and Service for two years and is presently employed at Imperial Lumber Company. Richard is still going to school and taking grade eight.