THE MILHOLLAND FAMILY HISTORY
by Bill and Barbara Milholland
Bill (William H.) and Lizzie (Elizabeth Bartling) Milholland emigrated to Elk Point, Alberta, Canada, in May, 1912, from Fairmont, Minnesota, U.S.A. At that time there were three children -- Russel, age six; Cora, age four; and Leona, age two. Bill Jr. (William) was born in October, 1912, the year of the move, Margaret in 1914 and Mildred in 1916.
With the Milbollands came Lizzie's parents, Charlie and Willamena Bartling; Lizzie's sister Annie and husband, Martin Eckman, and family; and friends John and Francis Hems.
The Milholland family moved into a log shack with a sod roof, known as the old McLeary place. This shack was situated almost at the same site as our Elk Point gas well, one half mile south of town on the present John Slwyka place. In November of 1912 they moved into their brand new log home with a sod roof on their homestead -- S.E.24-57-7-W4--the present Andy Zazulak farm, three miles north of town. One of the outstanding memories of this home remembered by Bill Jr. was that during a rainy season, the roof was not water proof. Pots and pans were set under the drips and the plink, plink continued for at least three days after the rain stopped. Another memory by Cora was that the logs were chinked with moss on the inside and mud on the outside to keep the winter winds out.
The older children went to Paramount School. They walked three and a half miles each way. School was in progress only during the warm months. The first teacher was Elsie Bradshaw, a seventeen-year-old, teaching on a permit. She had her difficult moments because many of her students were her age. The next teacher was a medical student, Mr. Munn, who, along with another male medical student who was teaching at Richland, started ball clubs. They had many good ball teams after that.
Farming wasn't very profitable the first years so Bill Sr. got a job in the butcher's department of Jim Babcock's store. From 1916 to 1920 the Milholland parents set up a cream buying and testing station in a lean-to on Babcock's store. The cream was graded and tested, then dumped into a large wooden keg. They also bought, slaughtered and dressed poultry. Cream and poultry were hauled to Vermilion by team and wagon or sleigh.
In the winter of 1917-18 the homestead house burned to the ground. The children were alone. Dad was working in town and Mother was over at a neighbor's sewing spring clothes. The older children put a blanket on the ground a safe distance from the burning house, placed baby Mildred, age one, on the blanket with Margaret, age three, to watch her; then the four older children dragged a large wooden-covered box to safety. Dad had built this box and it contained all the new spring clothes Mother had been sewing for school. That was all that was saved. All the children except Russel, who was eleven, ran toward the Charlie Willis home, a quarter of a mile distant. Cora, age nine, carried Mildred; Leona, age seven, had Margaret by the hand. As they ran, Dad's bullets started exploding, frightening the girls to run faster. However, Bill, who was an adventurous lad, stopped to see what was happening. Of course, this upset the already distraught older sisters.
The family moved into a shack in Elk Point until they found a small house. With the winter of 1918-19 came what was known as the "Big Flu", which took many lives. Ma Caskey turned her hotel into a hospital. She, with the help of two Nelson sisters, took care of the sick. Medical men came from Vermilion and St. Paul.
In May of 1919 the family moved to Helge Hesseigren's place, five miles east of town. The snow was so deep the horses had trouble breaking trail to their new home. They lived here until 1921. The children contracted measles and were quarantined for many weeks. The school was three and a half miles from home and the children walked. This was the Elk Point School, one half mile south and two miles east of town. Mrs. Van Arnam was the teacher.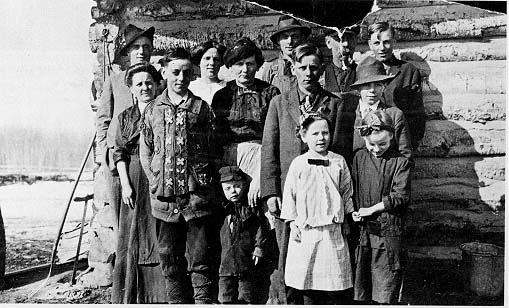 THE BARTLING FAMILY
BACK ROW, Left to Right: Ed, Annie, Mrs. Bartling, George, Mr. Bartling, Bill
MIDDLE ROW, Elizabeth, Augie, Carl, Irvine.
FR ONT ROW, Johnny, Minnie, Ella. About 1915.
William and Elizabeth (Lizzie) Milholland
In 1921 the Milhollands moved to the Hank Jacobson place, which was one mile closer to school. Here the family got diphtheria -- again a long quarantine. Dr. F.G. Miller came out to see the children.
Some of the old remedies were a teaspoon of sugar with coal oil as treatment for croup; for a chest cold, chests were rubbed with goose grease and a woolen sock put around the neck; spring tonic was a mixture of molasses and sulfur.
Berries were a source of income. As soon as they became ripe, the whole family went berry picking. If picking was close to home, they would pack a picnic lunch and go for the day. If picking was far, they would pack up food, bedding, buckets, tubs and boxes, and spend the best part of a week berry picking. No one went to school during this season. All hands were needed for income. The berries were cleaned and measured, then sold for ten cents a quart.
Berries picked were strawberries, raspberries, saskatoons, blueberries, huckleberries, cranberries and gooseberries. One method to quick clean berries was to put a clean blanket on the ground on a windy day, hold a pail of berries high and pour them onto the blanket. The wind would remove leaves, grass, etc., and leave the berries quite clean.
Money was scarce, but the Muholland's ate well -- with Mother's garden and wild game plentiful. The two boys were eager hunters and brought ducks, partridge, rabbit and deer. They bought a market pig from the stockyards for $3.50. They also milked a cow and had all the milk, butter and cream they needed and were able to sell some milk.
As the family grew older, they went to dances held at Spring Park, Angle Lake and Armistice. Also, many farmers had barn dances, which were very popular in the early days. The ladies would pack lunch in a beautifully decorated box. At lunch time these were auctioned. The highest bidder for each box had the lady who owned it for his lunch partner. This was known as a "Box Social". The money was used for paying the orchestra (which was usually local) and the use of the barn, or hall, or for some community project. They also had "shadow auctions", which proved to be a hilarious event, as the ladies camouflaged themselves.
In due course the family grew up and married. Cora married John Maxwell, who lived at Mooswa. They had two daughters. They lived near Lindbergh for some years. John played in an orchestra and got $2.00 a night. They moved to Elk Point for a few years and then to Vermilion. Music was always John and Cora's specialty. They celebrated their fiftieth wedding anniversary in 1975, both still dancing. They teach ballroom dancing and squaredancing in and around Camrose.
Russell married Helen Wenzel. They had three daughters. Russel was a bartender for many years. Helen cleaned rooms at the hotel for many years, also.
Russell Milholland and George Bartling.
Margaret married John Morusyk, who was a grain buyer in Armistice. They later moved to Edmonton. They had a daughter and a son. Mildred married Mel Seithun. There were no children. She passed away in 1972.
Bill married Barbara Walker, who came to this district as a registered nurse. They had two daughters and two sons. The boys passed away --James David as an infant in 1947; George Wesley in 1971 at the age of twenty-one. Both girls - Billie Lynne and Sherry Dawne -- are married.
Bill was butter maker, cream grader and tester, and, later creamery manager. He worked in the creamery for thirty-eight years. After it closed in 1973, he became a security guard at the Windsor Salt Plant, which position he still holds.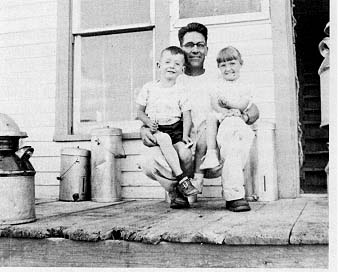 Bill Milholland with Wesley and Sherry at the Elk Point Creamery, 1954.
I, Barbara, besides being wife, mother and housekeeper, have kept on with my profession. I have seen many changes in nursing since I came here in 1944. Our shift then was twelve hours, six and a half days a week, when working days. On days we sometimes worked split shifts, if we weren't busy. That is, we went off duty from 10 a.m. to 1 p.m. or 1 p.m. to 4 p.m. On night duty we worked twelve hour shifts --7 p.m. to 7 a.m., with no time off, for one month. Then we were granted one sleeping day and four days off.
The hospital had an addition built in 1952, which was used until our new hospital opened in September, 1976.
In the earlier years we seldom had pediatric patients. Parents just wouldn't separate their children from home during illness, unless it was very drastic. Now our pediatric wards are in constant use. Parents cannot cope with ill children.
Dad Milholland passed away in April, 1949, after several heart attacks. Mother Milholland passed away in September, 1953, after a stroke.
Barbara Milholland 1976.