JOSEPH VINCENT JACOBSON
by Joe
Joseph Vincent (Joe) Jacobson was born in Lansing, Iowa, on May 15, 1913, the son of Ole Jacobson, a jeweler, and his wife, Rose Ellen. His mother was kin to writer James Joyce.
The Jacobsons moved to Canada in 1919, where Joe at-tended school from Grades 1 to 11. He completed high school in Edmonton and subsequently obtained degrees from the University of Alberta and the University of Syracuse, together with general and specialist teaching certificates. He is credited with founding the Scouting movement in Elk Point, which originally started in 1927, as a unit of the Lone Scouts, Boy Scouts of America.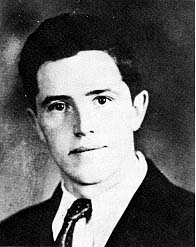 Joe Jacobson at age 25.
After teaching in rural schools and in Edmonton, he returned to Elk Point, where he became active in community activities. Besides Scouting, he was also involved in the St. John Ambulance Association, the Royal Life Savings Society, the Red Cross Society, the Cancer Association, the Elk Point Chamber of Commerce, the Elk Point Curling Club, the Little Theatre, and others. In most of these organizations, he was on the executive, serving either as secretary-treasurer or president. Under his supervision, the Elk Point Public Library started as a social studies project in high school where he taught and was assistant principal.
As secretary of the Elk Point Chamber of Commerce he lobbied for the construction of the bridge across the Saskatchewan River at Elk Point, persuading many other towns and villages which might be affected to exert similar pressure upon the provincial government. When the bridge was finally built, Joe was responsible for arranging for all the events in connection with the official opening.
After leaving Elk Point in September, 1950, he became assistant school superintendent for the Vermilion School Division (now Vermilion County) and subsequently chief superintendent of education for the Northwest Territories. He later became a senior education executive for the federal government.
Among his achievements while employed by the federal government, he is credited with teaching the first course in Canada in Inter-Cultural Education at the University of Alberta in 1956. He represented Canada at a White House Conference on Children and Youth on the personal invitation of President Dwight Eisenhower. He started the first full-time bi-lingual school in the federal public service. Joe has written several books and manuals for use in the public service.
Joe is married to the former Dolly Rattai of Mannville. They have two children -- Ronald, who has completed degrees in engineering at Queen's and Western Ontario and is currently employed as a consulting engineer with the Bechtel Corporation of San Francisco; and Wendy, who has completed degrees in Arts (economics) and in education. Dolly has been deeply involved in looking after the interests of foreign students attending university in Canada and the Jacobsons are "Mother and Dad" to many such students.
Joe's brother, George, still lives in Elk Point. Sister, Margaret, is a retired school teacher living in Edmonton.