HOLLIDAY HISTORY
by B. Alma Holliday
Tom was born on the day of Queen Victoria's Golden Jubilee, June 21, 1887. There were great celebrations with bonfires on the hilltops. Jack was born in 1891 and Rob in 1897. Their parents were John and Margaret (Yewdale) Holliday. Tom was born at the Lake Windermere Hotel, where the parents worked after their marriage.
This hotel was for summer guests mostly, who could enjoy Old Man Mountain and cruise around Windermere Lake in the large beautiful gondola provided. Mrs. Holliday was a good cook, a trait the boys inherited. Ruskin's house was near and Mrs. Holliday worked there before her marriage. Tennyson's seat was a large rock favored as a roosting place by small boys, as well as great poets.
They moved to Hawkeshead about the time Jack was born, and became tenant farmers to Lord Evans. Jack said he was a fine man and good to them but they resented having to "pull a forlock" when they met him, so rolled a few rocks down the hill onto his grounds to relieve their tension -- and came to Canada to own land.
The Hollidays, who had seven children, came to Canada circa 1908 and lived with Grandpa Yewdale for a while until they got a little place at Round Hill, Nova Scotia.
Tom worked in Maine for a time. Both Tom and Jack came west as harvesters about 1911. They wanted to homestead and farm. Jack worked for Captain Calder at Edmonton for a couple of summers. The Captain's son, Paul, was about twelve years old, and rode a horse like the wind. Paul flew mail from Edmonton to Calgary and crashed near Red Deer during bad weather while he was still a young man. Rob came out with the boys in the spring of 1914. That summer they worked on a telephone line in the west.
War was declared in August and Rob went east and joined up as soon as he was old enough. He was wounded twice and was listed as missing near the end of the war. Nothing has been heard of him since.
During most of the war years, the boys did their homestead duties six months in the winter and worked in the summer, mostly for Bill Dwyer at Summings, south of Vermilion. They subsequently rented farm land in that district.
Tom returned to farm the homestead at Elk Point in May, 1930. Jack bought a half section in the Auburndale district in 1934.
Jack married Alma Ambury at Calgary, February, 1928. There were seven children -- Margaret (Farrell), George --deceased, 1945, John, Barbara (Bonnah), Tom, Robert, and Donna (Babcock). Jack died October 6, 1939. His family moved back to live with Tom on the homestead Feb. 2, 1940.
Tom lived to a good age -- eighty-three years. He is buried with his people at Round Hill, Nova Scotia.
Homesteading was defined as betting the government $10.00 against 160 acres of raw land that you can live on the land six months of each of three years, break at least fifteen acres, build a house and acquire enough animal power to farm your land, as well as housing and feed for the stock, basic machinery and fencing.
Mr. Charlie Markstad took the boys out to look at land. Since it was November, it is likely that the land was snow covered. Jack chose S.E. 20-57-6-W4, and Tom the adjoining quarter N.E. 17-57-6-W4. They applied for entry November 7,1913, at St. Paul de Metis. Their applications were signed by Jas. Brady, Sub-agent pro tem. Jack got his patent August 7, 1920. His statements re homestead duties were sworn to by J.H. Babcock. Sworn before Oran A. Caskey, August 7, 1920, sworn at Vermilion before W.E. Sutton, sub agent for Edmonton. Patent granted.
Tom proved up and got his patent August 7, 1919. Tom sold the land to Robert K. Holliday, who still owns it.
Homestead days must have been lonely, hungry and trying in many ways, but it is the good and the funny things that are remembered: The time some kindly woman invited bachelors for a meal, or they dropped in for an evening of cards, music or just visiting at the various homes in the district.
The first loaves of bread made from flour packed many miles, ended up for target practice, after being rejected as house corner stones.
What fun it was to chase rabbits in the swamp in winter. How the oxen got the bright idea that standing in a slough was better to keep off flies than haying or harrowing. Perhaps that is why so many oxen were called Buck and Bright.
It seems that some bachelor's houses were suitable for dances. Even had a bed to put the babies on. However, it seems that, when the host was not prepared and had to change into party clothes on the lee side of the shack, it was somewhat chilly at times.
A man never locked his house and always left a supply of wood and kindling available in case some stranger came along in need of shelter.
A homesteader left in the summer reasonably sure that, when he returned in the fall, his shack, machinery and p05sessions would be secure -- barring prairie or bush fires.
The code of ethics homesteaders lived by made for real neighbors, built the west as it was, and, hopefully, gave our young Canadians a pride in the new land.
At the time of Jack's death in 1939, a "mother's pension" was quite new but very welcome to widows and other mothers. Probably cheaper for the government than homes for indigent children, but, in our case, a Godsend. When I was promised a pension by our local (Vermilion) councillor from the municipality, he told me, "Don't think you can rent a house and live on this money. If you can't manage, some of the children will be put into a home for orphans."
The amount in 1940 was $8.00 per month per child up to five children. We received the maximum -- $40.00 per month for seven children. With Tom and the kids' help to cut and carry wood, pack water, get the cows, help in the garden, pick berries, and so on, we never went hungry. We had good neighbors, who were about as wealthy as we were.
Due to circumstances, we had been requested several times to get off the land we had bought, as it was evident I would never pay for it. The children had whooping cough. The ferry wasn't running and the river was unsafe so, instead of coming to Elk Point, we packed up and went to Calgary to my people for Christmas and January.
Uncle Tom Holliday on the farm
During this fall, Tom built a lean-to onto his house for us and a lean-to onto the barn for our cows and the sow, a real pet called "Pansy", certainly a misnomer.
I remember when we came to Elk Point Ground Hog Day, 1940. We left Calgary by train at midnight. We had a stopover of about five hours in Edmonton, leaving (by train) at about 12:30 p.m. and arriving around 8 o'clock that evening. Tom met us with his car, a 1926 Chev coach, and we drove the four and a half miles out to the homestead. Mrs. O'Kane was there and had a hot supper for us. These are the things you never forget!
Tommy Wolfe was at the station and, as the children ran to greet Uncle Tom, he said with decision, "That's just the way I like to see you, Tom".
Tom was fifty-three at the time, and I'm sure having a sister and seven kids dumped on him made a rift in his peace and quiet. He never complained, always had time for the children and, as summer ended, put up a neat little house for the hogs. The hogs didn't benefit much as Unk moved his bed out there and a heater and lamp. He got quite a lot of company on rainy days, as it was a great place to read or visit, safe from maternal interference.
One or twice in the summer, Unk would tank up the Chev or hook up to the wagon, we'd pack a big lunch, and go to Long Lake, hire a row boat and do some trolling, cross the lake to the sandy beach and do a little wading. Then we would have supper -- fried fish if we caught some. Nothing has ever been so good as Unk's fried fish and camp tea made in a blackened five-pound lard pail. Then the trip home through the lovely evening, happy and full, hoping the cows had come up for milking -- or that they hadn't.
We lived at Uncle Tom's until the fall of 1945, when we rented Van Arnam's quarter of land, with house and barn. It made it a mile closer to school for everybody. Margaret had been riding four and a quarter miles to high school. John also went to Elk Point and rode a pony or a bike in summer. There was a good well with a pump close to the house. It took me years to break the habit of saving water in a quart jar.
When it got cheaper to pay rent in town than buy feed for the ponies, we moved to Elk Point, November, 1948.1 got a job right away, subbing at Veeday School, for Mary Loftus, who was in hospital, and felt that the Christmas concert must go on. It did, and I still feel warmly toward the good people of Veeday district.
On June 15, 1945, Muriel School was struck by lightning just after school let out at 3:30 p.m. Joe O'Kane had been hired to erect swings at the school. He brought his load of peeled green posts and tools shortly before school was out. Some of the boys came to help photos When the lightning struck the poles, two boys -- Joe O'Kane and George Holliday -- were killed instantly. John Holliday, who was standing back a little, was rendered unconscious and suffered flash burns and a ruptured ear drum. One corner of the schoolhouse roof was splintered. The teacher and children who were inside were badly shocked and some were injured. Mrs. Van Arnam was the teacher at the time. When she recovered consciousness, she gave her whole attention to caring for her dead, injured and shocked pupils. She was truly an excellent, resourceful and conscientious teacher. During this sad time, the kindness and toward the bereaved will always be remembered with warmth and gratitude. The school flag flew at half mast for those two funerals on the same day. A large sum of money was collected to help defray funeral expenses. I have always felt I owe Elk Point a lot.
To the best of my knowledge, the first formal Grade XII graduation was held in May, 1949, preceding final exams. It was held in the Legion Hall, with speeches, scrolls, and so on, but no dinner or dance.
These were the graduands: Grace Miller, valedictorian, now a pharmacist; Gertrude Keck, a nurse; Eugene Dembicki, an accountant; Sam Melnyk, a bank manager; Ignat Stetsko, a business man; Marian Johnson, a teacher; Margaret Holliday, a teacher. Others in that age group were Alma Roman, who graduated at Ashmont, and is a registered nurse, and Olgo Myketuk, who went to school in Edmonton, got her certificate in Education, and is still teaching.
At that time there was a school dormitory in Ashmont so out of town pupils could get their grades if they could afford it or could find work to help pay board. Duclos School at Bonnyville had two dormitories but getting to Bonnyville on the roads we had then was out of the question in poor weather.
Mrs. J. Holliday, Mr. Tom Holliday, Donna Aarbo.
Log houses, I'm told, are picturesque antiques, suitable for nostalgic paintings, but, as far as I'm concerned, best left in limbo. The walls, even if slabbed off, were hard to do anything with. The deep cracks harbored bed bugs. No one ever admitted having these smelly pests but those housekeepers who made regular forays with a can of coal oil and a goose feather didn't have as many. D.D.T. ended that era.
Many of us were lucky enough to have a barrel in the kitchen for snow. When filled up, the snow gradually melted and made soft water to put in the stove reservoir, and for washing clothes, baths, etc. Otherwise the snow had to be melted on the stove when needed.
Most clothing was home made -- shirts, overalls and dresses. The art of "making over" was a challenge to the homemaker. To go to bed with the problem of getting a good garment out of an old one and getting at it next day to find the problem solved was common to us all, which proves it is a good idea to sleep on it.
It was common to buy a fleece or two in the summer. I'm told now that a fleece should be washed in running water but we used soft water in tubs. After washing and drying, the fleece was teased out and carded. Most people had hand carders. It was a job for the evenings. After carding, the wool could be made into warm light quilts, or spun into a coarse yarn for socks, mitts or sweaters. It was common to those of us who had no spinning wheel to twist the wool with a knitting needle. That made a coarse yarn suitable for heavy socks worn with rubbers. Those were great socks; they wore well, were easy to darn and did not shrink.
Quilting bees were popular. It is so cosy to sit around a quilt and visit. Some of us left the house so seldom it was great to meet socially and such a good excuse; the quilts had to be made so no time was wasted.
The Christmas concert was the season's highlight. Seeing all the children dressed up in their best, on their very best behavior, and intent on delivering a good, if not faultless performance. The tree, large and bright with tinsel, the sturdy stage made to withstand drills and dances, the curtains made of well bleached sheets, the parents with the young children, the men with a mind to what was happening with the horses standing out in the cold. All together, it was a night to remember!
Life never seemed dull for the children. They spent whole days in the swamp; played store with hunks of moss for produce and cones and toadstools for money. They climbed the trunks of the big spruce and slid down the outside of the boughs, breaking the fall by clutching the branches. They shot at squirrels with their sling shots ( a successful mother must learn to tie a good sling-shot knot); tracked bears or whatever; maybe smoked a bit of moss.
A game called "parachute" was popular with farm children. You select a sapling or young tree that offers enough challenge; climb up it until it bends, then swing free and work a bend in the tree until it is low enough so that you can let go and land on your feet. There is margin for error in plotting the tree's bend to your weight. You can get left hanging a long way from terra firma, or be too sudden with your swing out and have the trunk break. Landing on your back can knock your wind out, a painful lesson in engineering.
Digging a cave in some well-hidden bank was a spring and summer project, which took up time and energy and necessitated trying to remember to return the hoe and shovel before it got too loud around home. In a cave, you emulate the cave man. You shoot at birds with bows and arrows, collect odd bits of log for seats, draw inscriptions on the walls, and, with great discretion, you may get a fire going at the mouth of the cave to keep out bears, tigers and mastadons -- twolegged variety.
Going for cows every night of the grass season was the kids' job and could entail several miles. No one thought much of the fact that on school days kids walked two to eight miles, depending on the location of the school. Theoretically, they got well rested in school and could curtail their noon and recess activities if they felt that way.
Toys were mostly home-made -- a tractor whittled out of a piece of stovewood, stick horses, with corrals built for the same. It is a neat job to find a stick out in the bush that looks and rides like a horse. There were bows, arrows and sling shots, guns sawed out of a piece of board, and catalogue cut-outs. Home-made stilts were a passing craze. As soon as you got good at it, the charm of stilting faded. Paper dolls, called cut-outs, came before Barbie dolls. They could be cut from the catalogue -- mothers, fathers and children of various ages. They were folded at the knees and hips so they could sit down. They had interesting conversations and went visiting and to dances. They always took the kids, of course. When evening fell, they got plopped into a book with their heads sticking out, which solved the sleeping arrangements. The colored pages in the catalogues were expendable as they served no useful purpose where the catalogue was going.
Beds were favorite doll-playing space. The spice tins made ideal seats. When the order to tidy up came, everything went behind the bed. It is not much fun to look under the bed, when you can't find the cinnamon, but at least it is less disruptive than hide-and-seek in the house. Playing school had its place in the child's world. The picture the parents got of the teacher in action was accurate though highly colorful, and may have had a bearing on some of the school board's decisions.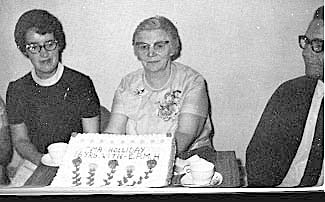 Mrs J Holliday centre at her Retirement party. LEFT: Mrs. W. Saranchuk