AXEL LUNDGREN
, Florence Lindquist came to Elk Point at twelve years of age in the year 1914. My Dad's name was Axel Lundgren and my Mother and my sister Hildur came from Storm Lake, Iowa. Mr. and Mrs. Nels Swanson came with us. We shipped a car load of household goods and came by rail to Vermilion, then by delivery team. My Mother was so nervous riding in the hills till we got to Caskey's stopping place. They had the post office. We stopped there over night and the next morning the drivers took us to Dad's brother's place - no highway, just followed ravines and hills. When we got there we saw a little log house with straw and sod on the roof. Until our house was built we stayed there. Uncle Albert, his wife and three sons and one daughter, the four Swanson's and four of us making in all fourteen persons. There were two double beds, one single, two made up on the floor, and we had to take turns to get up in the mornings.
Then one 16' by 24' log house was finished enough so we could move in. We had boards on the roof and later got shingles so we were nice and dry while others had leaky roofs. We were all moved in and we had it quite nice. Dad had bought two cows from Uncle. When it rained Mother felt so sorry for the cows in the barn getting wet. Dad had walls and poles in the roof so Mother had him take some linoleum to put over the poles so the cows would not get wet. We sure did not know a thing about farming.
Axel Lundgren's home, built in 1916.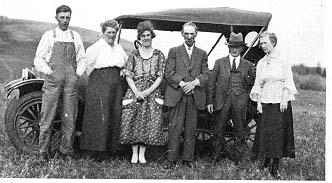 LEFT TO RIGHT: Oscar Johnson, Mrs. Axel Lundgren, Hildur Johnson, Axel Lundgren, Mr. and Mrs. Ashworth.
Dad bought two horses so we went with Dad to a neighbor to lead the horses home. There was a rail fence and Dad had to take the gate rails down to let the horses through. He said, "Hold the rope, girls". We were so scared but did manage. That summer the strawberries were very plentiful. My sister and I went out and picked a large bowl. We were sitting outside to look them over when my Uncle came. He went in the house. We were curious to hear what he had to say so we went inside. When we went out again to finish cleaning the berries we found the chickens had got them all so no short cake and cream that night.
In the States my sister and I had two and a half blocks to walk to school. Here we had three miles. Sometimes we saw a covered wagon full of Indians. We were so scared we would run a mile extra so they would not see us. Another time walking to school we saw what we thought was a big cow. We said "Let's throw something at it to see how big it is." We did. It got up and started to paw the dirt and made a terrible noise. We ran. It came after us but we managed to get out of its sight. We told our folks about it and they said it was a bull and explained what it was and that we should be very careful after that. Once the bull stood on the bridge at Dog Rump Creek. We had to lie down in the bush until he decided to go home.
There were so many prairie fires. We had to fight to keep our homes from burning.
Every time a bachelor would build a shack he would have a dance. Someone had an old accordion or violin and young and old would enjoy themselves.
After being here for three or four years we went back to the States but after two years we came back to Canada and Elk Point has been our main address since. We are all happy to be in Canada.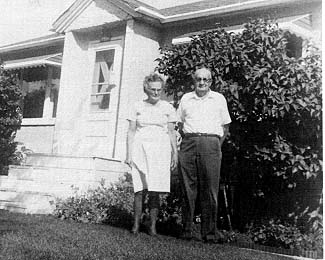 Florence and Alex Lindquist