DOROTHY PELECHOSKY AND FAMILY
by Dorothy
I, Dorothy Pelechosky, daughter of Thomas and Alexandra Ambrosy, was born in May 1908 at Sunland, Alberta, east of Lamont. Father was a farmer and ran the Sunland Post Office until his death in 1918. Both parents died of flu within two days. The flu took a lot of my relatives away. I stayed with Grandmother Lupul for the next five years and attended the Bukowina School of Sunland. I walked seven miles to school except in severe cold and storms.
The school was a one-room building with about thirty pupils in eight grades. The one teacher, usually a man and very strict, was responsible also for the heating of the school. I took the basic 3 R's in school, and Ukrainian lessons after school. Only once was I strapped - twelve on each hand - for not copying a flower exactly like the one the teacher had drawn.
For Grade VIII I was sent to the Smoky Lake Mission, and then to Victoria High School in Edmonton for IX to XIT. In Sept. of 1928 I entered Lamont Public Hospital for nurse's training.
After graduation in 1931, in the dirty thirties, work was hard to find. I did house work for $15.00 a month, special private duty at intervals, and relief work in the Lamont Hospital for nearly 2 1/2 years.
In March of 1934 Miss Signe Holter, matron from Elk Point Hospital came to Lamont as a patient and while there she approached me about working in Elk Point. I came here in May, 1934.
The train trip from Edmonton was slow and rough. The route looked desolate and a bit frightening. I thought I was coming to the end of the world and decided to return on the next train out. Mrs. Ray Keitges (Flossie) got on the train at St. Paul, and since I was the only other passenger, and a stranger, she started to talk to me. When she found out that I was a nurse she told me some nice things about Elk Point and the hospital and staff. Two of the hospital employees (Nellie Zarowny and Nancy Halowaychuk) met me at the station. We soon became great friends. At the hospital Miss Holter welcomed me with open arms and I soon forgot about the next train out. Doctors F.G. Miller and A.G. Ross were very inspiring to work with. They were great friends and counselors many times and in many ways. The whole staff was one big family. The "whole staff" for the twenty-eight bed hospital consisted of four nurses, one cleaning girl, one laundry girl, a cook and her assistant, and Dell Beebe, our man of all trades - the janitor. Dell had the only radio in the hospital, so in the evenings the staff used to gather in his room to listen and do fancy work.
The hospital board at that time was Mr. E. Arnott, Mr. Hodgekinson, Mr. Caspar Zarowny, and Mr. Valentine. Mr. Billy Wolfe was the secretary-treasurer.
In the early days, a nurse's work included nursing, cleaning, and helping at canning time. We'd have a regular production line going. It was fun. All dressings, V pads, sponges etc. were folded and made by workers under the nurse's supervision. The day nurse worked from 7 a.m. to 7 p.m. with a one or two hour break in the afternoon if there weren't too many patients. Treatments were done every three hours, day and night. The night nurse, in addition to giving treatments, had to stoke the coal furnace every hour in cold weather, keep the kitchen fires going, and cook the porridge (the long cooking kind) for breakfast. She also had to dry three or four tubs of linen using the radiators and chairs when it couldn't be dried outside. We had three days off at the end of three weeks of night shift. On days, we had 1/2 day off each week. Wages ranged from $45.00 to $55.00 a month.
Our small hospital seemed to be always full. There were very few deaths because it was a "young community" then. Often we'd have as many as fifteen matemity patients in at a time. Maternity patients were given chloroform anaesthetic at the time of delivery. Sometimes mineral oil and ether was administered rectally. Patients in labor were seldom left alone. They usually stayed for eight to ten days. Surgical patients stayed ten to fourteen days. All had to receive frequent bed care and turning. Before antibiotics, infections were treated by compresses applied every two or three hours. Boracic or saline compresses were used. If eye infections weren't responding to foments, we applied mouldy and rotten apples pressed between gauze and left on for several hours at a time. That soon cleared the infection. We used to scavenge all the rotten apples from the stores in town. It was the first antibiotic we knew. For pneumonia we applied mustard plasters like a vest four hours on, four hours off, to back and chest. In severe cases we rubbed (with a rubber glove) 1 teaspoon creosote into one axilla (armpit) til it was all absorbed. This brought the temperature down from 104-105 degrees to below normal in 2 or 3 hours. The patient perspired profusely after this treatment. Their temperature came down and stayed down, but then we had to treat the burn under the arm made by the creosote!
In 1933 the first antibiotics were discovered - Prontosil, five cc injected intramuscularly every six hours, and then Dagenin. These caused quite severe reactions. Men especially were miserable when Dagenin was used. I used to tell them that was how pregnant women with morning sickness felt. Sulfas came in 1935.
One July evening in 1935 we admitted fifteen patients in one hour. They had acute food poisoning from a country picnic. Some had to be put on mattresses on the floor. Albumin water and fluids in large quantities were forced. Our doctor was out of town just then, and when he came back an hour later he administered interstitials to those in shock. All recovered quickly. With all the treatments, and charts to do, nurses on duty were very busy and I used to practically buzz around from room to room Soon I was given the nick name "Buzzy"; it even sounded a bit like my real name Ambrosy. Even today most people call me Buzzy.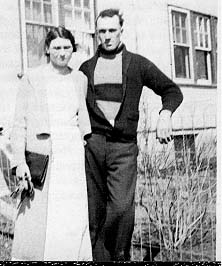 Pete Pelechosky and Buzzy, 1935.
After I had been in Elk Point for over a year, I married Pete Pelechosky in December of 1935, on a 3-day-off week-end. We were married by Rev. Sam Marshall. Pete's home was at Andrew. He came here with Frank Miller and worked in town garages owned by Bill Soldan, Harry Ramsbottom and C. Markstad. He died of cerebral hemorrhage in 1962. 1 kept on working at the hospital except for three months off when I had each of our two children - Anne and Ronald, who have since each given me four grandchildren. Those days were hard. I worked twelve hours at the hospital and then came home to work at gardening, canning, etc. During canning (everything was processed; we had no freezers) I'd set the alarm clock every hour for four hours so I could get up and stoke up the fire. I got about 3 1/2 - 4 1/2 hours sleep a night.
The only running water I had was when I ran 5 blocks to Mrs. Grant Arnold's well and ran home with my pails full. In winter a big barrel was brought in and filled daily with snow. Drinking water was still carried from Arnold's. We burned coal and wood in the big round heater and cookstove. Cord wood was hauled to town for us for $2.00 a cord. Towards spring it was sawed, chopped, and piled for the year's use.
We lived in rented homes til 1942 when we built the present house for $800.00 The lot cost $100.00. A coal furnace was originally installed and later converted to gas when Elk Point was lucky enough to get its own gas well.
Train was the only way to Edmonton. It carried mail, freight, and passengers three times a week. The winter of 1938-39 was extremely cold. The hospital was on a direct line from Heinsburg to St. Paul and Edmonton, so one morning when I answered the phone I heard this conversation. The train fireman at Heinsburg was calling Edmonton to ask what he should do. He had been firing for three hours and couldn't get the steam engine ready. It was 72 degrees below. There were very few cars around then; horses were the most dependable transportation.
Many a time we girls from the hospital enjoyed a fast cutter ride behind Pinders' driving team with Don and Paul. The roads were dusty in summer, blocked with snow in winter and muddy and difficult in spring. Mr. Turyk used oxen til he retired to Elk Point.
I joined the Ladies Aid soon after I came here. We met in various country homes, each lady trying to outdo the others in serving a lavish lunch. We had many picnic meetings in summer. To raise money for the church we had sales of articles we made, some really wonderful concerts, and one time Ma Caskey let us use her hotel dining room to give a sauerkraut and corned beef (home cured) supper.
For entertainment we went to many dances, and silent movies were shown twice a week by Mr. Eric Arnott. We played a lot of bridge in friends' homes in winter, and because we had to walk home, often at temperatures of 45 degrees below, we had to warm our feet in the oven when we got there. I also enjoyed knitting and sewing and made all the children's clothes until they were eight years old. There were still wild berries of all sorts, and we enjoyed picking them. One day Ruth Quin took a bunch of us to Spring Park to pick low bush cranberries. Unfortunately, we got lost in the bush! I still enjoy picking berries and mushrooms.
In 1945 the first addition was built on to the hospital. Night duty was scary then as there were big black open tunnels at first. The fire alarm kept going off, as often as three times a night - set off by some prankster. Staff was supposed to stoke the furnace every hour but we were afraid to go downstairs. Doors were never locked in those days, and one night a drunken man came into the hospital kitchen and hid under the stairs. Kitty Garneau and I came to chase him out. Kitty had a broom which she kept banging on the floor and calling "Come on out, Come on out". We had many laughs over it afterwards. Miss McCallum was the matron then. She helped with the planning of the new addition. The board at that time consisted of Mr. M. Borowsky, Mr. Belsheim, Mr. J. Tredger; and Mr. W. Sarenchuk was secretary.
In 1959 I was given a special reception and presented with a 25 year service pin and $300.00. With $300 in my pocket, I took a month's holiday and flew to France where my daughter and her husband were stationed at the R.C.A.F. base in Metz. While there, I took a tour to the Riviera, Rome, and Venice and enjoyed it tremendously. Costs were low there at the time. On the way back from Venice I broke my ankle coming down a small mountain so had an extended stay of another month.
Through the 50's and 60's with wide use of antibiotics, nursing became much less strenuous. Now it is mostly administrative and supervisory. Nurses' aides and ward aides do most of the nursing. Working hours are shorter and wages are much higher. Forty years ago I couldn't carry what I could buy for $5.00; now I can hardly see what I can buy for $5.00!
In 1972 I retired and am at home. I do a little travelling and keep busy with Red Cross work and U.C.W. Rummage Sales. I knit a lot, and time passes quickly.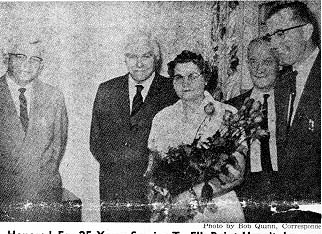 Honored For 25 Years Service To Elk Point Hospital
Mrs. Dorothy Pelechosky, holding a bouquet of roses presented to her by Mr. Joe Tredger, chairman of the Elk Point Hospital Board 'was honored last 'week for her 25 years of service as a graduate and registered nurse. Seen with her are, on the left Dr M. Mc Callum, Direclor at Medical Services, Provincial, Department of Health Dr F. G. Miller. Dr. A. G. Ross and Hon. Ray Reierson, Minister Ot Industries. "Buzzy" as Mrs. Pelechosky is more intimately known received a 25-year pin along with a check(sic) for $300.
Borrowed from the WHEAT POOL BUDGET
TRAILS GROWN OVER
The straining, scratching struggle with a wire gate; so stretch that loop across the post, it's almost there, a shoulder forcing hard, the footing bad - and catch your jacket in the trap at last!