THE BACKGROUND AND HISTORY OF THE McGINNIS FAMILY
My name is Reese Donald McGinnis, I'm living in Elk Point, Alberta. I was born in Caskeyville, Alberta in the year of 1910.
My father whose name was Aurther Dillion McGinnis was a cigar maker by trade. He was born in Akron, Ohio, U.S.A., in the year of 1878. My mother's maiden name was Bertha Katherine Spanial; she was a licensed tailor. She was born in Pamoire, Ohio, U.S.A., in the year of 1880.
My parents first met in my uncle's barber shop. My father was having his hair cut and my mother came into the barber shop. From then on they courted for about two years and were married in August 1904.
After they married they then moved to Philip, South Dakota where they took their first homestead. Their first son was born there; his name was Roderick Marvin McGinnis, born in 1907.
They had read through the newspapers that Alberta had better land and free homestead land, so they decided to try their luck in Alberta. They travelled by railroad to Vermilion. They arrived in Vermilion in 1909. Then they travelled by team and wagon about forty miles, to the north of the North Saskatchewan River, to the place named Hopkins, Alberta. They had to cross the river by ferry boat, then located land two miles west of the ferry landing. That is where they homesteaded, the N.E. of 8, township 56, range 7, west of the fourth meridian.
My parents wrote frequently back and forth to friends and visited friends in Iowa about two or three times during residing in Alberta. They received their mail in Caskeyville once a week. The mail was brought from Vermilion to Caskeyville by stage, driven by Mr. J.B. Caskey.
I was born in 1910 in Caskeyville which was two miles north of Hopkins. My father farmed the land for some years, then operated a general store at Hopkins for about five years.
There was a ferry boat operating at the time my folks had the general store. It operated by a cable that was stretched across the river. The cable was supported by towers, one on each river bank. It usually ran from about April 25 to October 15. One man operated the ferry on a 24 hour basis. It could haul four cars or four team and wagons in one trip. The first person to operate the ferry was Mr. John Ross. When my folks discontinued their store in 1923, my father had been operating the ferry. My father operated the ferry for a period of six months at a time for about fifteen years.
Our house was built of round peeled logs. The cracks were filled with mud made by mixing straw, clay and water. When the cracks were dried a mixture of lime and water was put on; that was called white wash. The roof was an upside down V shape, covered with poles, a light layer of hay, then a layer of sod. The cracks in the sod were filled with clay. This was call a sod roof.
Mr. and Mrs. Art McGinnis on their homestead.
"We are now living on the banks of the Saskatchewan River - a beautiful homestead - plenty of trees, water, bear , caribou - all kinds of game". Hopkins, Alberta July 18, 1909.
The inside of our home was plastered and white washed with clay. Some doors and window frames were hand made of lumber. Our floor consisted of mud. We had no running water or inside bathroom; we used an outside bathroom. We used a wood stove for heating and when we bathed we heated water on the wood stove, then put it in a round tub which we bathed in. Our water we had to haul by pails or loaded wagons from the river or creeks.
There was more of a fire risk in those days because of the wood stove and we had no insulation. We used coal oil lamps and lanterns for light which was also a fire risk, because of the use of coal oil.
When my father had to clear land, it was done by hand with the use of an axe or a grub hoe. The breaking of the land was done by three oxen and a walking plow.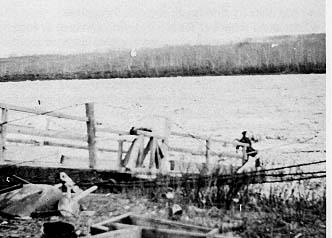 Ice flow In April; ferry boat on shore, 1922.
Arthur D. McGinnis crossing the river on the ice at Hopkins Crossing. December 1913.
I attended school at Richland, I either walked or rode by saddle horse and sometimes a team with a buggy or a cutter. The school house was a frame building and the school was equipped with school desks. Lessons taught were reading, writing, arithmetic, history, geography, spelling and social studies. Grades 1 - 8 were taught in the school; there were from 20 - 35 pupils in the class. Some of the names of my teachers were Mrs. Harry Day, Mr. Murray MacDonald, Miss Gallager and Mrs. Ted Richmond. Church services were usually held in the school houses; the minister or priest would travel by saddle horse or team and buggy. Sometimes dances were held in the school houses and barns. The music for the dances was usually supplied locally, a fiddle, banjo, guitar and little drums.
I remember we had work bees. That was when the members of the district got together to help any new-comers to erect a house and usually a barn. They would also get together and build dance halls and school houses.
Crops grown were wheat, oats and barley. First market was in Vermilion, a distance of some twenty miles. When the railroad was built to Elk Point we used the market there which was ten miles.
Hazards were drought, hall, frost and lack of threshing machines in the fall. Farming was done by horses, and the produce was delivered by horses.
Prices received in 1930 were:
18 cents for a bushel of wheat
   10 cents for a bushel of oats
   12 cents for a bushel of barley
   l cent for a lb. for livestock a dozen for eggs
   $2.50 for a five gallon can of cream. Cost of groceries were:
   45 cents for a 10 lb. bag of sugar
   30 cents for one lb. of coffee
   40 cents for one lb. of tea
   $2.50 for 100 lb. bag of flour
   25 cents for 7 cans of sardines
   25 cents for 3 large cans of tomatoes
   15 cents for 1 lb. of baking powder
   5 cents for a loaf of bread
   6 cents for a lb. of dressed beef
   40 cents for a 5 lb. pail of syrup
The clothing was about the same as today's, except most of the clothing was home made. Store bought overshoes had high heels with fur from ankle to mid-calf. They cost 90 cents a pair. Store bought coats were made loose fitting with fur trimmings and they cost about $9.00.
For entertainment we had picture shows which were silent. We read the dialogue of the story at one time, then the picture show would come on and we watched it. Books we read were Huckleberry Finn, Tom Sawyer and others we could get from the school libraries. Newspapers and magazines were the Free Press, Family Herald, Saskatchewan Farmer, Farmer's Advocate and the Vermilion Standard.
There were card games held at different peoples' homes and sometimes in the school houses. When we had picnics the community would gather either at the lake or school. Contests were held for children and adults. Our musical entertainment was the hand cranked phonograph, violin and harmonica. Some of the people who were lucky had a piano in their homes.
In the early days around the year of 1912 the closest hospital I remember was in the town of Vegreville which is about ninety miles the way we travelled. The road conditions were very poor. We often got stuck and had to be pulled out by using a team. The first doctor I remember was a French doctor in St. Paul, Dr. Charlbois. About 1920 the late Dr. Decosse came to St. Paul. The first doctor in Elk Point was the late Dr. F.G. Miller, then about two years later Dr. Sandy Ross joined him in Elk Point. Concerning epidemics, the worst epidemic was the world flu, which struck about the years of 1919 - 1920. The late Dr. Decosse was the doctor in this area who attended the sick. That was the biggest epidemic in those days. There was also scarlet fever, typhoid fever, small pox and measles. Most of the babies were born at home, with mid-wives or the help of husbands. Some of the home remedies were the hot water bottle, mustard plasters and brandy if you could obtain it, because of the prohibition. The first dentist was in Vermilion, later in St. Paul. When there was no dentist the doctors would extract teeth.
Threshers usually had to sleep in the barn or hay loft. They would always bring their own bed roll. They were treated very well otherwise. Their meals were like being at a wedding. For example, the noon meal consisted of roast beef, roast pork, stuffed chickens, home-made pork and beans, mashed potatoes, corn on the cob, two or three kinds of pies, berry pudding with cream and home-made bread and butter. The other meals were about the same amount of food, except it was different foods for breakfast and other meals.
Some of the jokes and tricks we pulled included putting syrup in the fingers of the leather gloves that the threshers had just bought. Also the workers were not allowed to smoke around the threshing machine so therefore they would leave their freshly made cigarettes on the granary skids. We would then nail the cigarette down with a shingle nail. Then we would sit back and watch when the men came for their cigarettes. They would pick them up and the cigarette would break.
These are some of the things that happened years ago. It explains the life we lived. I am now still living in Elk Point. I married a girl that was born in Gaspe, Quebec. My wife's maiden name was Claudia Marie LaFlamme. She was living in the Lac Bellevue area when I met her. We have eight children we raised here in Elk Point, Alberta.
We will always be here in this area until we die.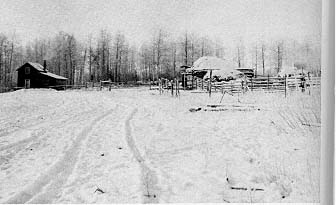 Ray McGinnis walking on the fence on the homestead.