SELLANDS
Mr. and Mrs. Olaus N. Selland came to Elk Point in 1909, after spending two years in Piley, Alberta. Olaus N. Selland was born in Houston County, Minnesota, U.S.A. on February 14, 1865, and his father and mother, Nels G. and Gurid N. Selland came from Norway.
Olaus' wife Karen (Carrie) was born in West Thoten, Norway, April 16, 1884 and came to America in 1900. Karen and Olaus were married at Winnebago Valley, Houston County, Minnesota on February 26, 1903. They lived at Wallcott, North Dakota for four years. Hearing glowing reports of land and opportunity in Canada, they decided to move to Canada, and with two small children came to Riley in 1907.
Funds for the move to Canada were available from a law suit settlement for $1,000.00. Mrs. Selland had been shopping and went to the back of a store to look at china. There was an unmarked and unprotected cellar opening, and she fell down it. She was pregnant and as a result of the fall lost her child. The store paid $1,000.00 for its negligence.
Mr. and Mrs. Olaus Selland's wedding picture, February 26, 1903.
They came by rail from North Dakota to Winnipeg, then Edmonton, Alberta. From Edmonton it was necessary to move by wagon to Riley. In Riley they rented a half section of land from the Bolton Bros., and lived in a two story frame shack.
Then in early 1909, Olaus filed on a homestead near Elk Point. Filing fee on 160 acres was $10.00 and it was necessary to prove up (or clear) thirty acres in three years to get your grant (patent or land title). The homestead was 1/4 N.W. 6-56-7-M4. He later bought an additional quarter from a Mr. Fenstead.
The move to Elk Point was tedious with four small children, and cattle and horses to move. It meant a team and wagon, plus hay rack tied on, plus a buggy and a cow tied to it for milk and to help have the rest of the cattle follow.
Each stop found Mrs. Selland washing diapers and hanging them to dry on the hay rack, plus watching the children and cooking. Once she had to chase Nels across the prairie as he tried to run away. There were wild berries to pick along the way and some game birds to supplement food.
They crossed the North Saskatchewan on the ferry at Brosseau and on arrival at the homestead, set up two tents in which they lived while a log house with a sod roof was built. They lived in this house for seven or eight years, until they built a new home (1918) which is still standing.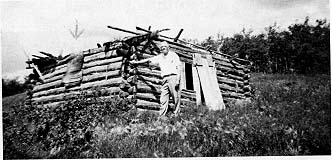 Selland's first house - what's left of it, 1961.
On the second trip from Riley with their belongings Olaus began to wonder at the wisdom of a move, because between St. Paul and Elk Point he met his cattle, heading back towards Riley.
The Selland house was near an old Indian trail whicb passed to Hopkins Crossing and as a result many a travellei stopped for tea or overnight.
Vermilion was the key point to sell produce, and get supplies, and this was usually a five day trip, two days each way and one there. The usual stopping place in Vermilion was Monkmans, or the Brunswick Hotel, or one could bunk a the livery barn. Trips to St. Paul could be completed in one day from Selland's Farm.
There were no real roads, just trails and survey lines; no one could be sure initially what their land was like until the~ had put in plenty of hard work.
Mail initially came to Hopkins Ferry, Valentine's Genera Store, then Caskeyville P.O., Orvillton P.O., then Armistici and finally Elk Point. Letters and news from the States o overseas were slow; many events occurred between contact.
In 1910 the School District of Richland was formed, an a school built. There was about a dozen children in the firs class with Miss McEwan. The children carried water for a half mile from Hugh McLeans. Coal oil lights were the order of the day, and wood fires. It was necessary to have a boy come an hour early and fire up the school stove on the cold winter mornings.
In 1920, Lamont and Vermilion were the closest hospitals. The nearest doctor, was Dr. Gagnon, fifteen miles away in St. Paul. Then there was Hitchcocks nursing home, with midwife to assist with new babies. These conditions necessitated resourcefulness and home remedies. Everyone recalls the mustard ~aster for colds and sulphur and molasses spring tonic, and Lydia F. Pinkham's compound, and Dr. Curiko. There were no dentists in the area, so it paid to brush your teeth well.
Into this growing community, Olaus and Karen added nine children, Nels, Norris, Elmer, Henry, Olga, Inga, Gilbert, Ruby and Alvin.
Everyone worked hard and helped each other, and many good times were had. Dances in homes were frequent, whenever a violin and banjo were available and four couples to dance. They even hauled pianos from place to place for special events. Card parties, especially Norwegian Whist, Pitch, and Hi Low Jack were popular. Summers brought berry picking expeditions, stampedes, baseball tournaments, horse shoe pitching and fairs, (Elmer won a first prize for his bread at age nine.) In winter there were pie socials, and lest we forget the children's highlight, the Chfistmas Concert. How they worked, teacher and students, to achieve perfection for that special event, and Santa's arrival. It was the local big event of the festive season.
Olaus spent some seventeen years on the municipal council of Laurier and assisted in all community events. He was also a trustee for Pichiand School.
Outside news came via the Family Herald and Weekly Star, Winnipeg Free Press, Farmers' Advocate, Free Press Prairie Farmer and a Norwegian paper Norrona.
In 1915 there was a bad flood, which took out Hopkins ferry and washed it down the river and took out the cable for the Elk Point ferry. They were unable to stop the ferry until it was near Heinsburg, Alta. Merrick was on the ferry at the time and was sure happy when it caught on a sand bar. Carl Otto was the ferry operator and assisted in stopping the ferry.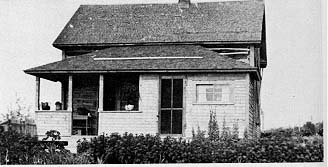 Selland house built in 1918
Family Dates
Olaus N. Selland - Born October 14, 1865 - Died February 1943.
Karen (Carrie) Johnson Westheim Selland - Born April 16, 1884 - Married February 26, 1903 at Winnebago Valley,  Houston Lo., Minnesota.
Nils Gilman Selland Born March 19, 1904 - Married Nellie (Helen) K. Valentine - Born March 29, 1909 - Died June 24, 1972 - Two sons, Larry and Berle.
Norris J. Selland - Born April 7, 1907 - Died August 1, 1969 Married Ruth and divorced. Married Inger Nakken 1954 - One son, Lawrence.
Hjalmar (Elmer) Selland - Born April 26, 1908 - Died August 13 or 14, 1944.
Henry M. Selland - Born May 21, 1909 - Married Olive Miller 1946 - Four children.
Olga Karolin Selland - Born November23, 1911 - Married Ed Good of Vermilion November 28,1936 - Ed died November 1969 - Married Harry Head June 8, 1974 No children.
Inga M. Selland - Born August 23, 1913 - Married William Hobden December 24, 1932 Have 3 children.
Gilbert Selland - Born June 16, 1915.
Ruby Esther Selland - Born September 3, 1917 - Died September 1965 - Married Herb Malman in 1940 - One son.
Alvin R. Selland - Born July 30, 1920 - Married for 6 months - Wife died suddenly Alvin died October 21, 1971 - No children