Elk Point Municipal Hospital
May 12th, 1977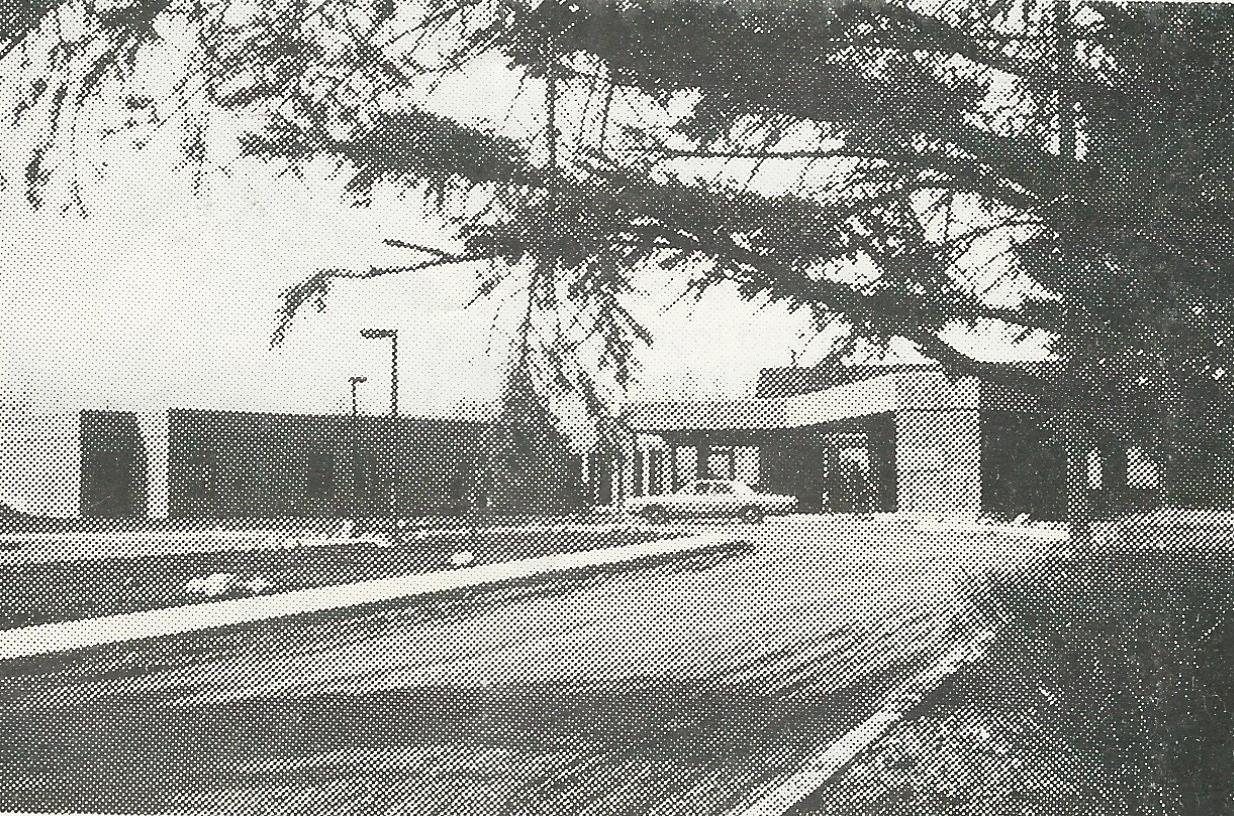 The hospital is many different things to the various people who come in contact with it. To the patient it is a place to come for treatment. To the
maintenance and service staff it is a building to keep clean and in good repair. To the staff it is a place of employment and they have a stake in its future. The primary purpose of the hospital is to care for and treat the sick. Its functions and activities are directed towards the best possible care of the patient.
The members of the Hospital Board are: Mr. Thomas Belsheim (chairman), Mr. Max Borowsky (vice-chairman), Mr. Walter Pilisko, Mr.
Mike Kadutski, Mr. Melvin Farina and Mr. John Mohyluk. These Board members occupy a position of trust and confidence which has been given
to them by the community through its corporation laws. They must safeguard the welfare of the hospital and the funds that have been
entrusted to them to ensure that they are used for the purposes intended.
DOCTORS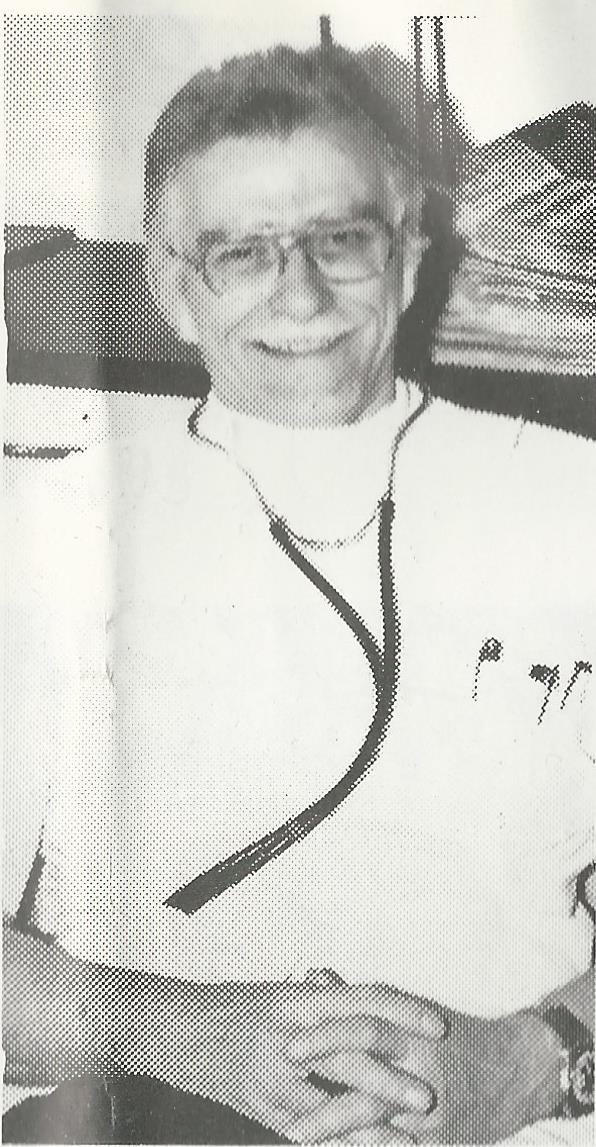 DR. K.C. MILLER - Has been doctoring in Elk Point for 24 years. When he has the time he enjoys hunting and fishing, water skiing and swimming in summer, hockey and curling in winter. During football season Dr. Miller often travels to Edmonton to cheer the Esks. He also enjoys piloting his four passenger Cessna and logs many hours in the air each year.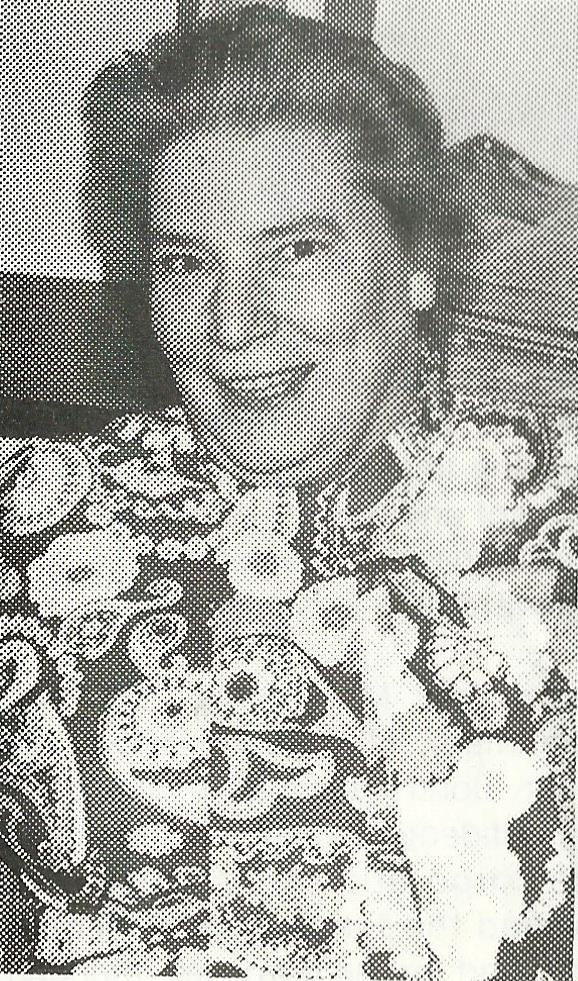 DR. ELRO D. BAULD - Was born in Scotland and educated in 'Edinburgh. She came to Canada in 1965 and spent some time in Stoney Plain prior to doctoring in Fort Saskatchewan for several years. Dr. Bauld joined the medical staff at Elk Point Municipal Hospital in 1973 and resides in Elk Point.
ADMINISTRATION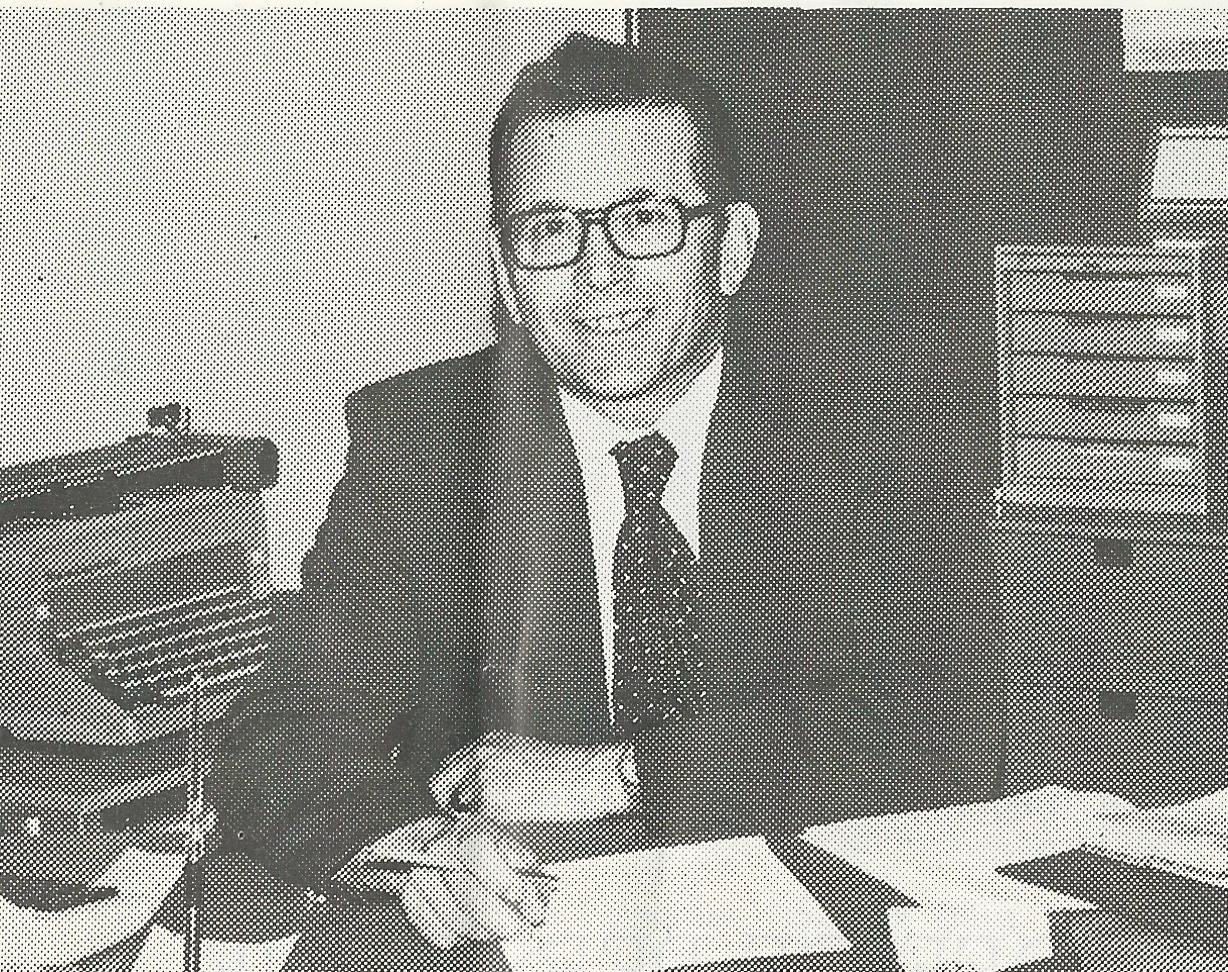 Mr. Saranchuk is the Chief Executive Officer of the hospital and a direct representative of the Hospital Board. His duties are to administer,
direct and co-ordinate all activities of the hospital in order that it may carry out its objectives as to the care of the sick and injured. He carries out programs within policies and by general directives from the governing board. He also co-ordinates the activities of the medical staff with those of other departments, recommends and develops policies and procedures for the various hospital activities and performs related administrative duties to ensure efficient operation of the hospital.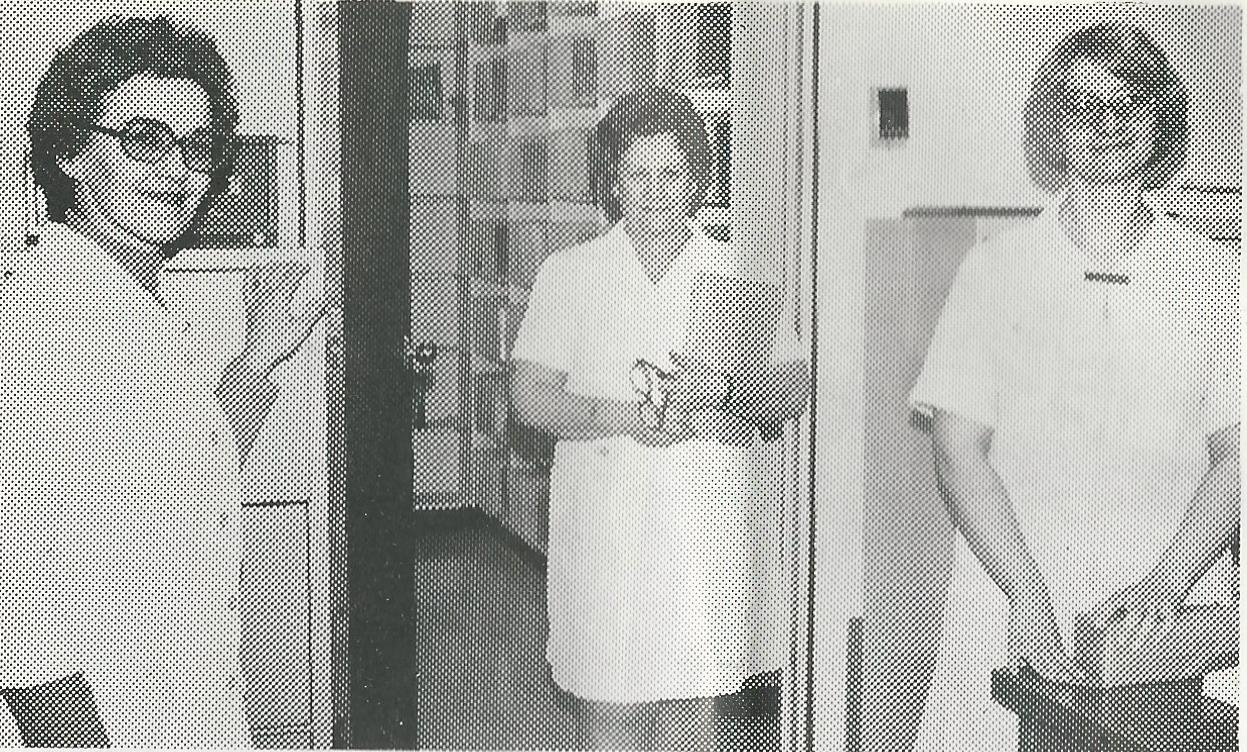 Left to right: Norma Berg, Grace Barwick and Karen Poitras.
OFFICE PERSONNEL
Norma Berg, business accountant and payroll clerk. Norma completes entries for payroll data, twice a month and compiles reports and other records pertaining to payroll deductions such as pension, etc. She performs a variety of calculating and posting duties to accomplish
accounting and compiles vouchers, invoices and financial statements each month.
Medical records is the responsibility of Mrs. Grace Barwick. The function of the medical record department is to procure and preserve all
medical records of each and every patient and to make them readily available for future reference or for future study by the medical staff.
The medical record is a storehouse of knowledge concerning the patient. It is the responsibility of medical records personnel to see that
each record is complete in every aspect and properly placed in safe-keeping for ready future reference.
Karen Poitras, admitting and general office clerk. Karen performs the duties of admitting office receptionist. She operates a telephone
switchboard to relay incoming, outgoing and inter-office calls. She may also perform a wide variety of clerical duties in the general office such as typing for administration and nursing staff, copying hospital and business forms, recording hospital statistics and assisting at times with
bookkeeping and payroll.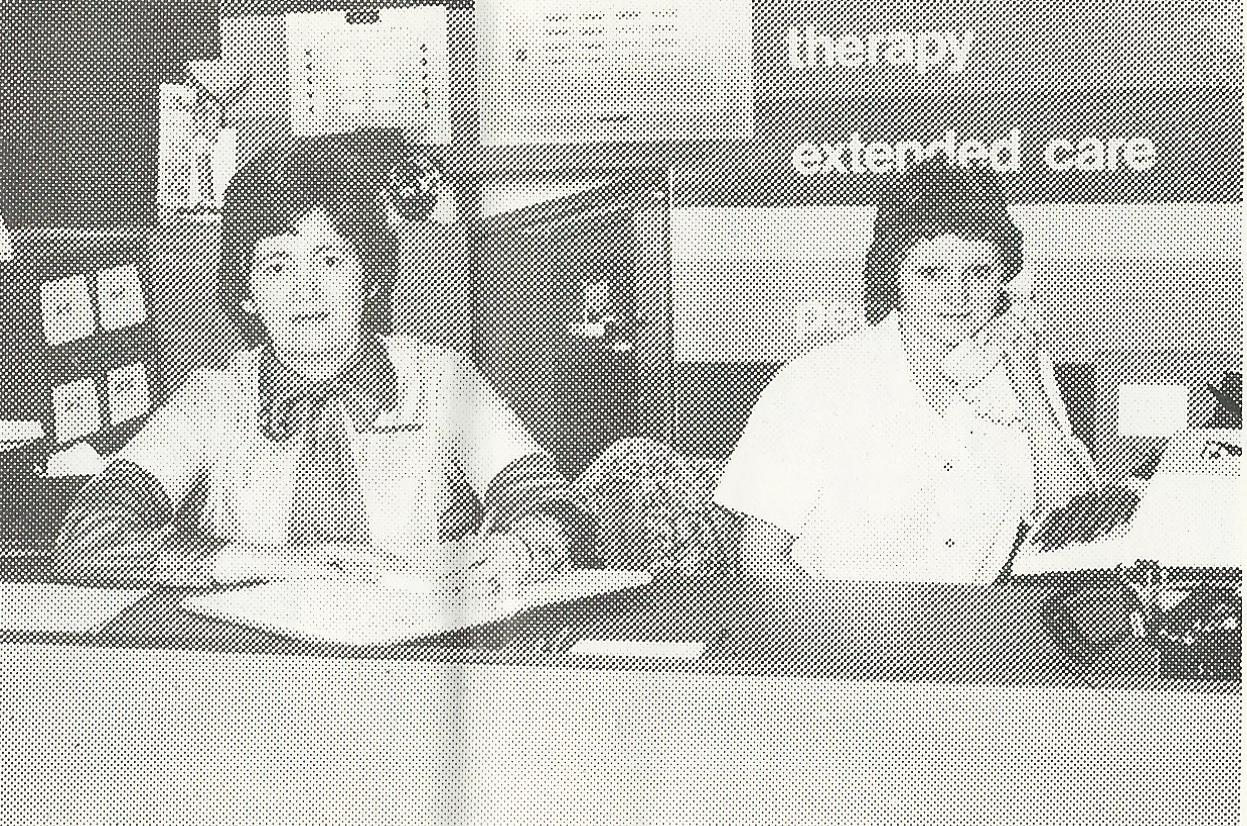 Verna Lazicki and Volunteer Roxanne Berg.
ADMITTING PERSONNEL
Verna Lazicki, admitting officer and switchboard operator. Verna performs the duties of admitting office receptionist, calculates and prepares statements pertaining to admitting and discharging of patients. She operates a telephone switchboard to relay incoming, outgoing and
inter-office calls and performs clerical duties such as typing and filing.
Roxanne Berg is a much appreciated volunteer staff member helping out around, admitting in conjunction with the work experience course at
F.G. Miller High School.
ACTIVE & EXTENDED DEPARTMENTS OF NURSING SERVICE

BACK ROW - Stanley Ruzycki, Pat Soldan, Frances Moneta, Elizabeth Zarowny, Harry Krawchuk. Front row: Leona Moneta, Anne
Uchman, Audrey Willmer (Director of Nursing Service), Pearl Slywka, Amelia Zarowny, Carolyn Onusko, Erma Yewchin, Violet McFadyen.
Absent are: Sheila Thomas, Elizabeth White, Isolyn Pinkney, Barbara Cowling.
The Director of Nursing Service, as the term implies, is responsible for supervising the standard of nursing care in the E. P. M. H. and
maintaining an adequate and competent staff. Providing equipment and supplies in sufficient quantity and quality for the benefit of all patients is also within the realm of her position.
The activities of all hospital personnel must center around one person - the patient - and every person in every department shares the
responsibility of his care. Nursing Service has RN's (Registered Nurses), CNA's (Certified Nursing Aides), RNO's (Registered Nursing Orderlies),
and NA's (Nursing Assistants), each with their specific responsibility, who all work together in a team effort to provide the best possible nursing care to every patient.
In this particular area of the hospital the staff is called upon to perform many various procedures: staff members may assist a patient
with bathing, make beds, change dressings, take blood pressures and temperatures, give hot fomments, take care of a newborn infant, pass out
dietary trays for patient meals and look at her watch and see that she has only been working for 4 hours!
We are a very active hospital and our maternity patients, surgical patients and medical patients all share the 13 private rooms and 4 hostel
beds in the ACTIVE WING.
For those patients who stay with us longer we have 10 private rooms on the EXTENDED WING. All patients share our whirlpool bath, family
room, recreation room and may even enjoy the sunshine out on the patio.
All our staff are concerned, friendly members of the health team dedicated to insure good nursing care and speedy recovery to patients in
their "home" away from home.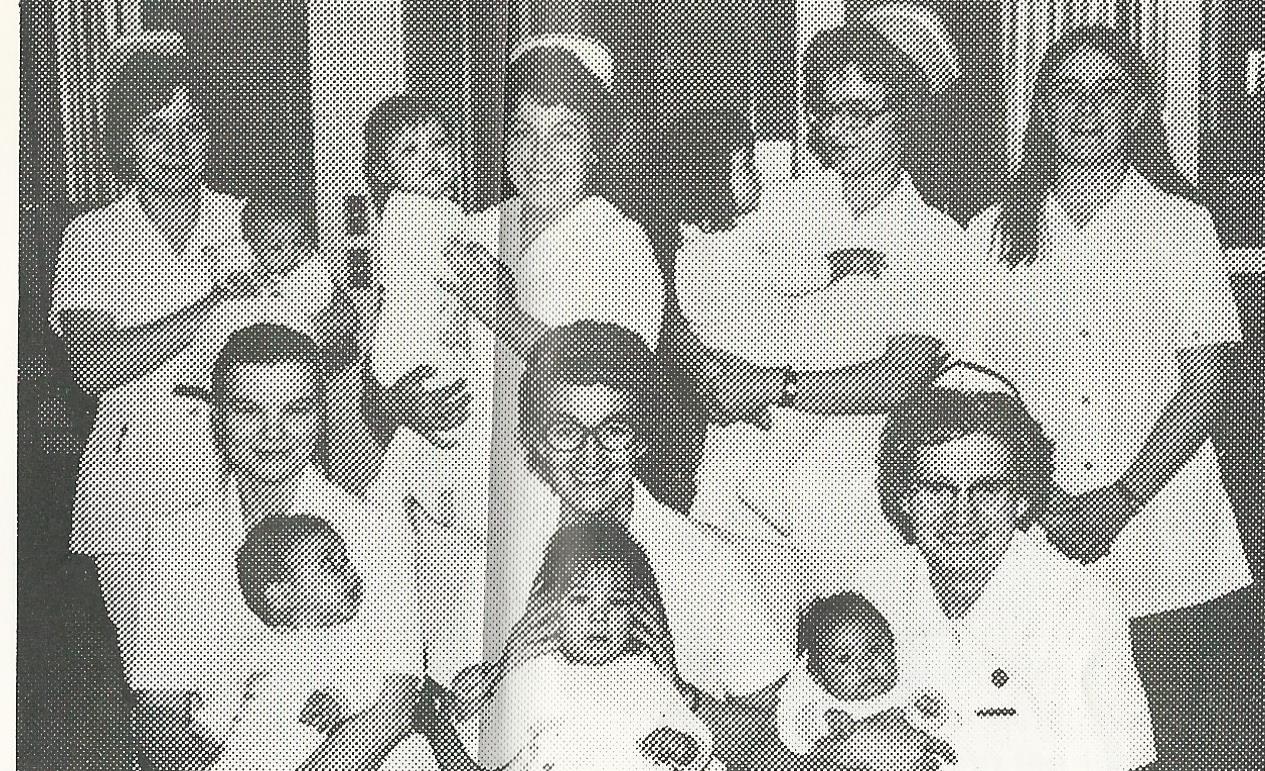 PEDIATRICS - Back row: Shirley Lefebvre, Diane Anderson (Inservice Education), Debbie Bandurak, Diane Swedgan (Volunteen).
Front row: Loretta Pinder, Peggy Maas, Barbara Milholland. Absent are: Mercy Gnanapragrasam, Cardlyn Seniuk, Debbie Hansen, Elna Eisdsuik, Anne Johnson, Arlene Rybchinsky, Eve Boyd, Julie Boyko, Gail Krysta, Marion Ritchie, Mandy Saranchuk, Josie Zarowny, Amelia Jasinsky.
PEDIATRICS
The pediatric wing is the temporary home for up to 17 children varying in age from a few days old to 6 or 7 years.
The staff members working in this area are all dedicated to making the children's stay in hospital as comfortable and pleasant as possible.
Mealtimes portray a family atmosphere as the staff help to feed and supervise the older children gathered around the "round table" for their
nourishment. Most of the toddlers and older children are out of their cribs during the day for play activities in the common play area. If you can
imagine a dozen or more children crawling or running, singing or building blocks all at one time, you are picturing this lively, active pediatrics ward.
Apart from naptimes, and as their conditions allow, infants are brought out to the play area in recliners, or walkers and are allowed to practice their crawling on blankets on the carpeted floor under close supervision, Furnishings, sinks, tubs, toilets, etc., are all designed for the "little people."
After a day or so of familiarization, most of the children relax and enjoy their stay with us in a very pleasant and loving atmosphere.
In-service education is concerned with the continuing development of staff members, with the ultimate goal of improvement of patient care.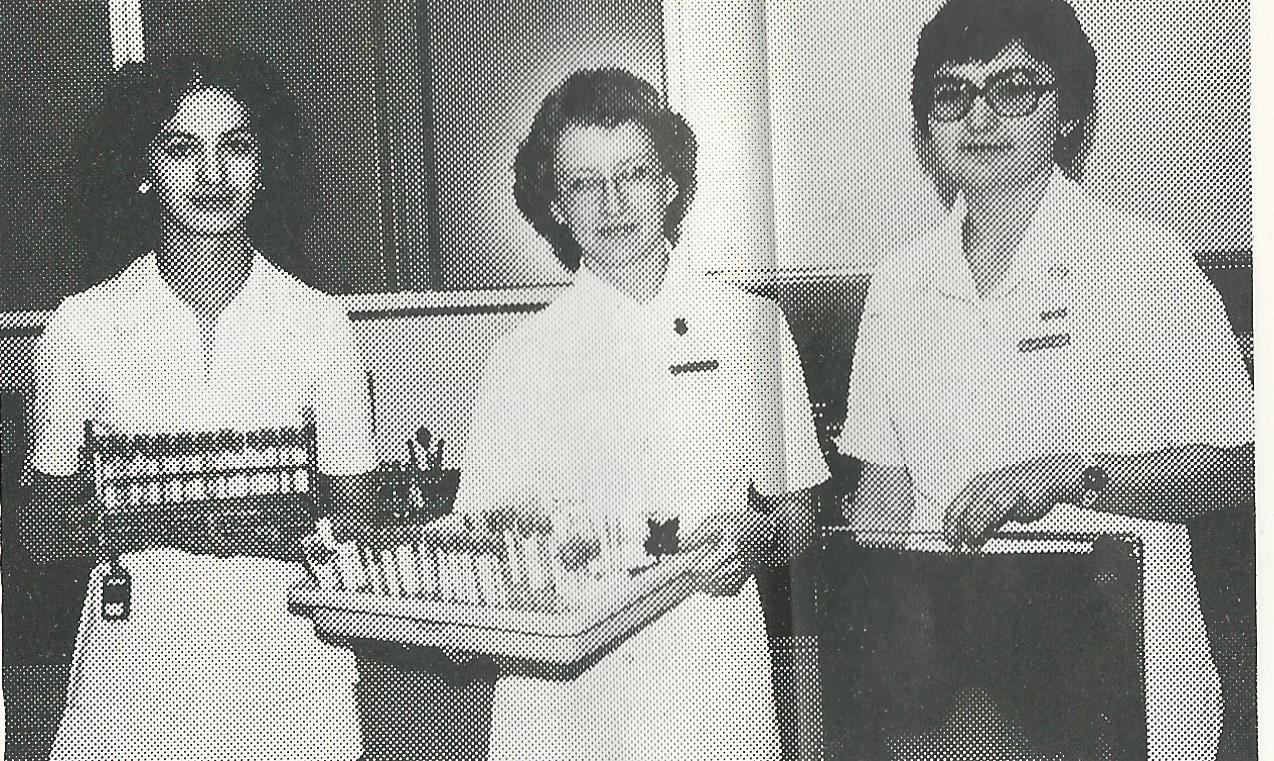 LAB & X-RAY STAFF - Left to right: Claudette Boire, Alice Poitras and Agnes Moroziuk.
LABORATORY AND X-RAY
You can meet any of these girls taking a blood sample from a patient in the emergency department or doing an E.C.G. (electro cardiograph) on
another in a room on active care almost any day of the week.
They work from 7:00 a.m. to 3:00 p.m., Monday through Saturday and provide "call back" 24 hours a day, seven days a week, should a
situation arise when they are needed.
The hospital is able to provide excellent service in this area as complicated laboratory results can be obtained by sending the specimen
to Edmonton one day and receiving the results via the Telex system the next.
Agnes and Claudette also take all X-rays ordered by the physicians and are responsible for the processing and filing of same. Films are sent
to the radiolcgist in Edmonton for viewing and readings and the results sent back. These staff members are called back many a time to, for
examples, X-ray a patient who may have come in with a broken leg. The hospital appreciates the co-operation and dedication they give.
Operating Theatre, Outpatient Department and Central Supply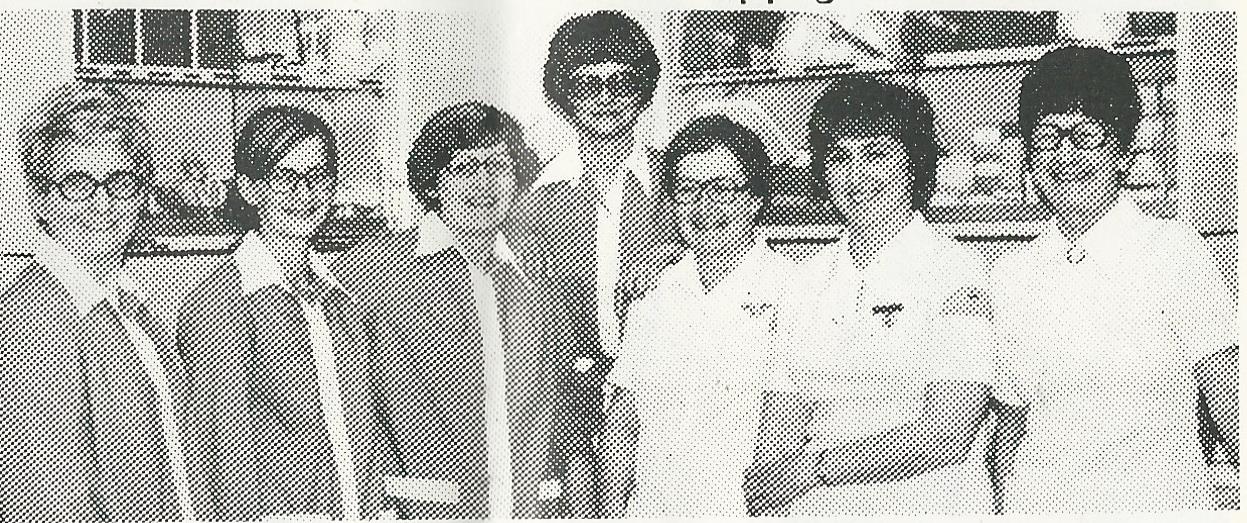 Jenny Shmyr (O.R. Supervision), Helen Skolarchuk, Pearl Bespalko, Elaine Zayonce, Jean McGinnis, Deanna Fakely and Helga Vaughan.
The O.R. Supervisor is responsible for co-ordinating the functions of the outpatient department, central supply department, recovery, and
operating and caseroom theatres in our hospital. Jenny is also responsible for bookings and maintaining adequate supplies in all of these
departments as well as assisting the doctors during surgery; obsterical deliveries and in outpatient services.
Pearl Bespalko and Elaine Zayonce are busy in central supply where all the supplies used in the hospital are sanitized, wrapped, sterlized,
processed and returned to proper departments and the "Processed Supply Room." They also take "O.R. call" scrub and are ready for any
emergency. During the day they assist the doctor in the outpatient department as well as the RN in carrying out various procedures such as
J. P. P. B. 's, taking blood pressures etc. 
Helen Skolarchuk, part of the O. R. team, also takes O. R. cali, scrubs to assist the Doctors during operative procedures and is primarily
responsible for our 3-bed recovery room. It is here that the patients are cared for after surgery until they regain conciousness and are ready to be moved back to their room.
Helga Vaughn, another member of the OR team, who works the 3: 00 p. m. to 11 : 00 p. m. shift in the outpatient department, ensures quick,
efficient service to anyone requiring emergency care. She also takes "O.R. call" and has been with the hospital many years.
Jean McGinnis and Deanna Fakeley share working the 11 : 00 p. m. to 7: 00 a. m. shift in the out patient department as well as assisting thei r
co-workers on active and extended or pediatrics - wherever the need  for help is the greatest. They also are responsible for seeing that the
nurse-servers are supplied each night. Absent is Marion Ritchie who shares the same duties.
Our outpatient department with 3 treatment rooms and 3 ambulatory care cubicles is presently handling over 300 patients per month. We all
appreciate how busy the medical and nursing staff must be.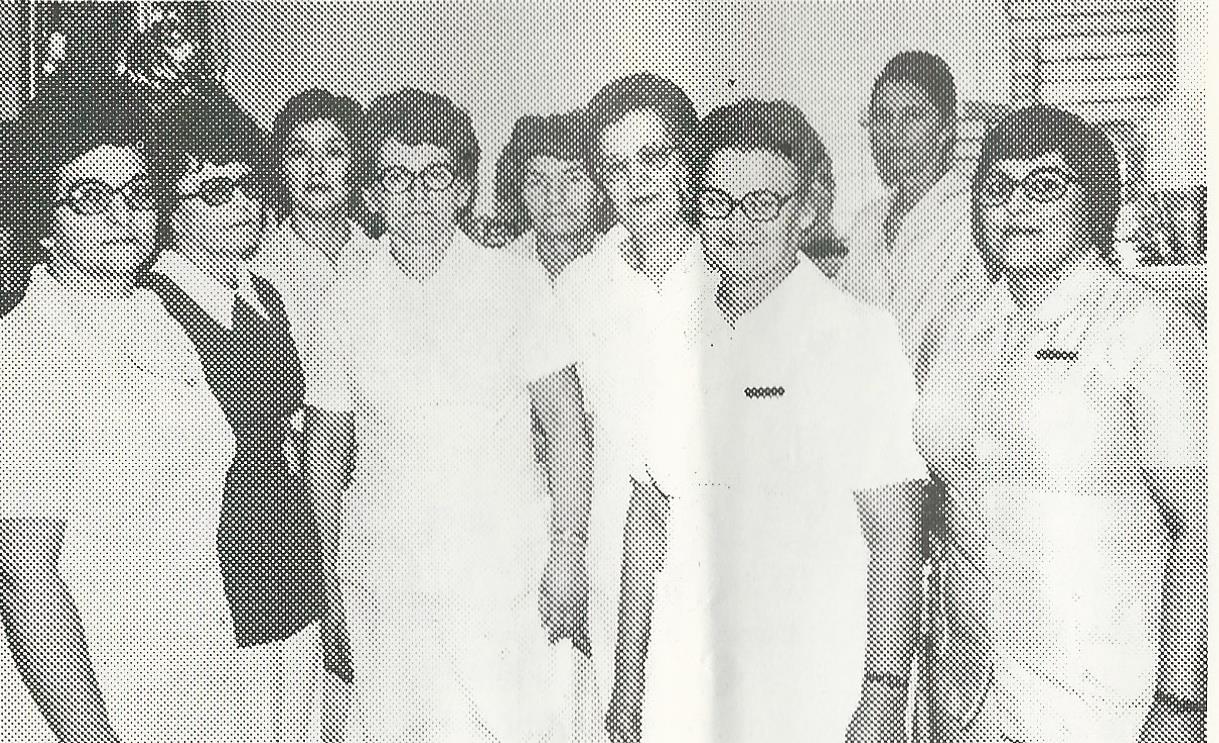 DIETARY STAFF - Left to right: Elsie Oryschuk (senior supervisor), Mildred Boyko, Leona Jenkins, Pauline Pankiw, Jean Kozicky, Nancy
Heinemann, Minnie Zazulak, Angeline La Bine, Chris Appleton. Absent is Doris Capjack.
DIETARY STAFF
The Senior Supervisor is responsible for the operation and function of the dietary, housekeeping, laundry and linen departments. She provides
sufficient quality and quantity of supplies required by these departments as well as maintaining an adequate and competent staff.
Elsie, who has been with the hospital for 16 years and in the demanding role of Supervisor for the last 4 years She is the custodian of the relaxed, warm family atmosphere that prevails in these areas.
The dietary department is in operation from 6:00 a.m. to 6:30 p.m. daily, Monday through Sunday, with five staff members on duty each day.
They prepare the meals for all the patients and staff and everyone but everyone sniffs to see if perhaps today we get home-baked buns, or
Chinese food, maybe pyrohi or even cabbage rolls! They prepare all special diets ordered and try to cater to individual wants and needs.
These girls provide "Meals on Wheels" five days a week for our senior citizens and even bake birthday cakes for patients and staff
members. Anyone who has been in the hospital as a patient or works here as an employee, appreciates the many coffees and meals that these
women prepare.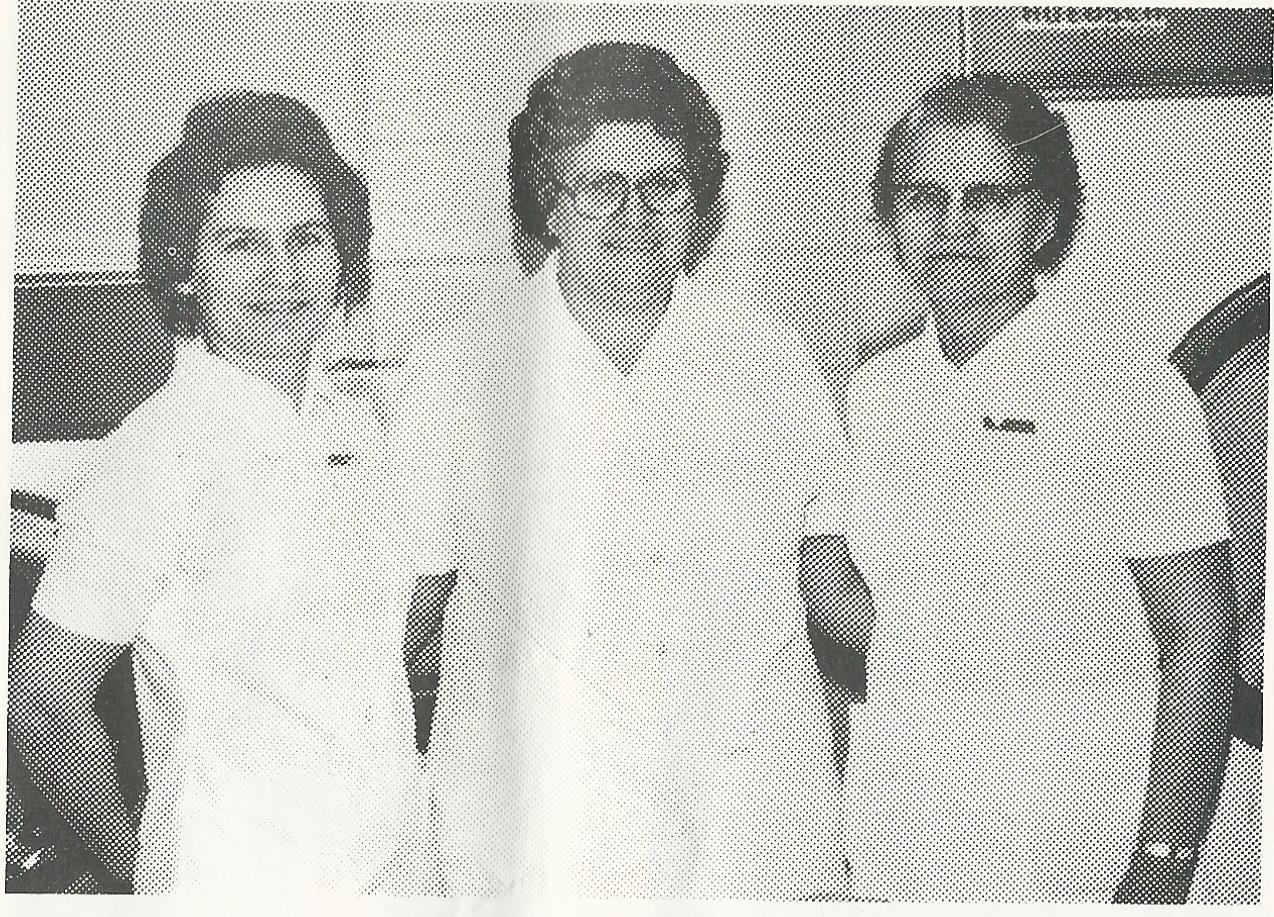 THE LAUNDRY STAFF - Alice Krawchuk, Betty Radies, Rose Pankiw.
LAUNDRY
The laundry staff work 7:00 a.rn to 3:00 p.rn each day, Monday through Friday. The morning duties begin by sorting the soiled linen and
operating the washers and dryers. Following this the dry linen is folded and transported to the process area, where it is stored. Here also, special linen packs are made as required and supplies are brought in from the general supply room. Later there are soiled linen and garbage pick ups. Sewing, mending, discarding and replacing linen are done as time permits. The laundry staff perform their own housekeeping duties.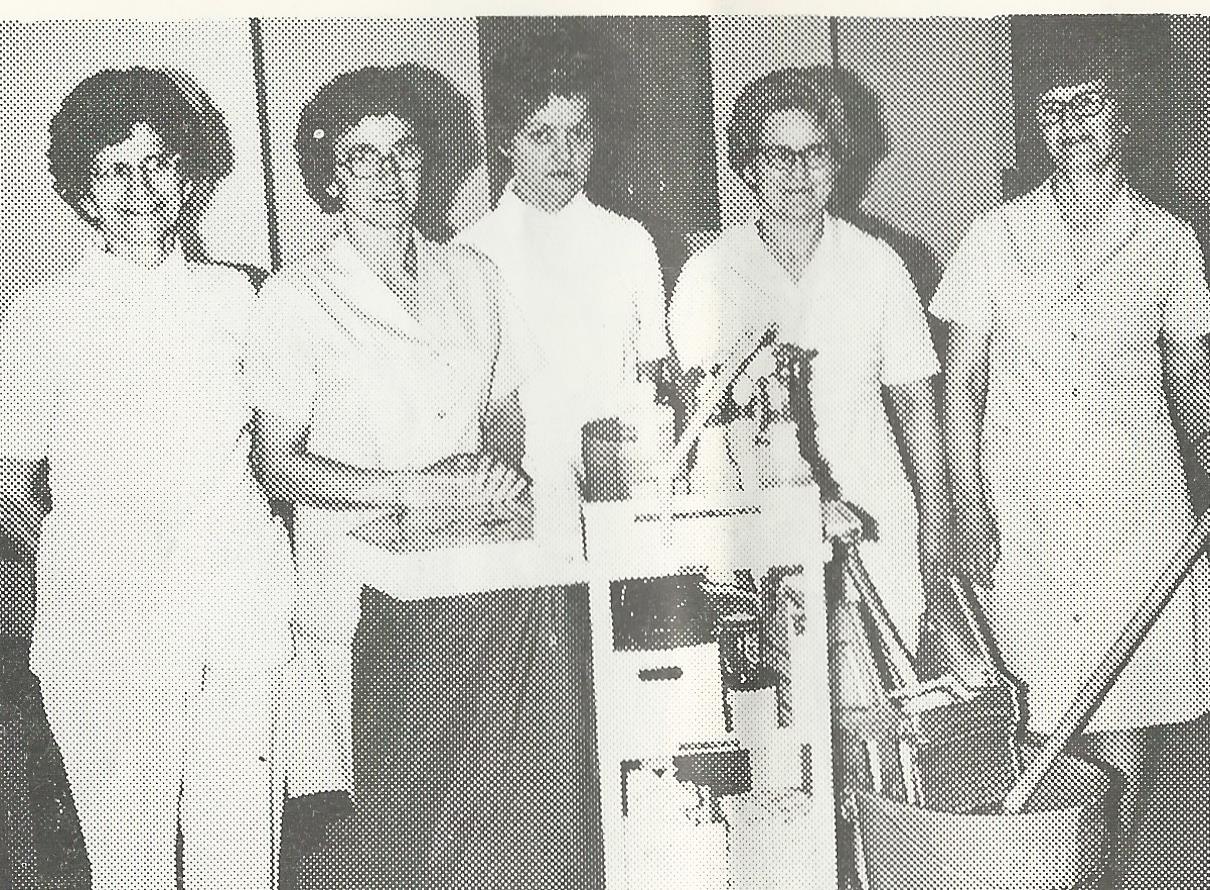 THE HOUSEKEEPING STAFF - Helen Trach, Lil Buksa, Agnes Gadowski, Virginia Smeraka, Helen Kozicki. Absent from the picture is
Betty Schaap, (part-time).
HOUSEKEEPING
Housekeeping is done by five full-time staff. It is their duty to promote good health of patients and staff by providing a healthful and attractive
envi ronment. The staff membe rs work from 8: 00 a. m. to 4 : 00 p. m. and provide service seven days per week. (Considering that the hospital
covers 44,000 square feet and many areas have glass such as Pediatrics, it is a credit to these women that our floors, rooms, carpets, fixtures,
walls, etc. are always shining clean). They also are responsible for cleaning the nurses' residence, and pickup the soiled linen from individual
patient nurse-servers once a day. Most of them have been with the hospital for many years, and one staff member has been working with us
for 17 years.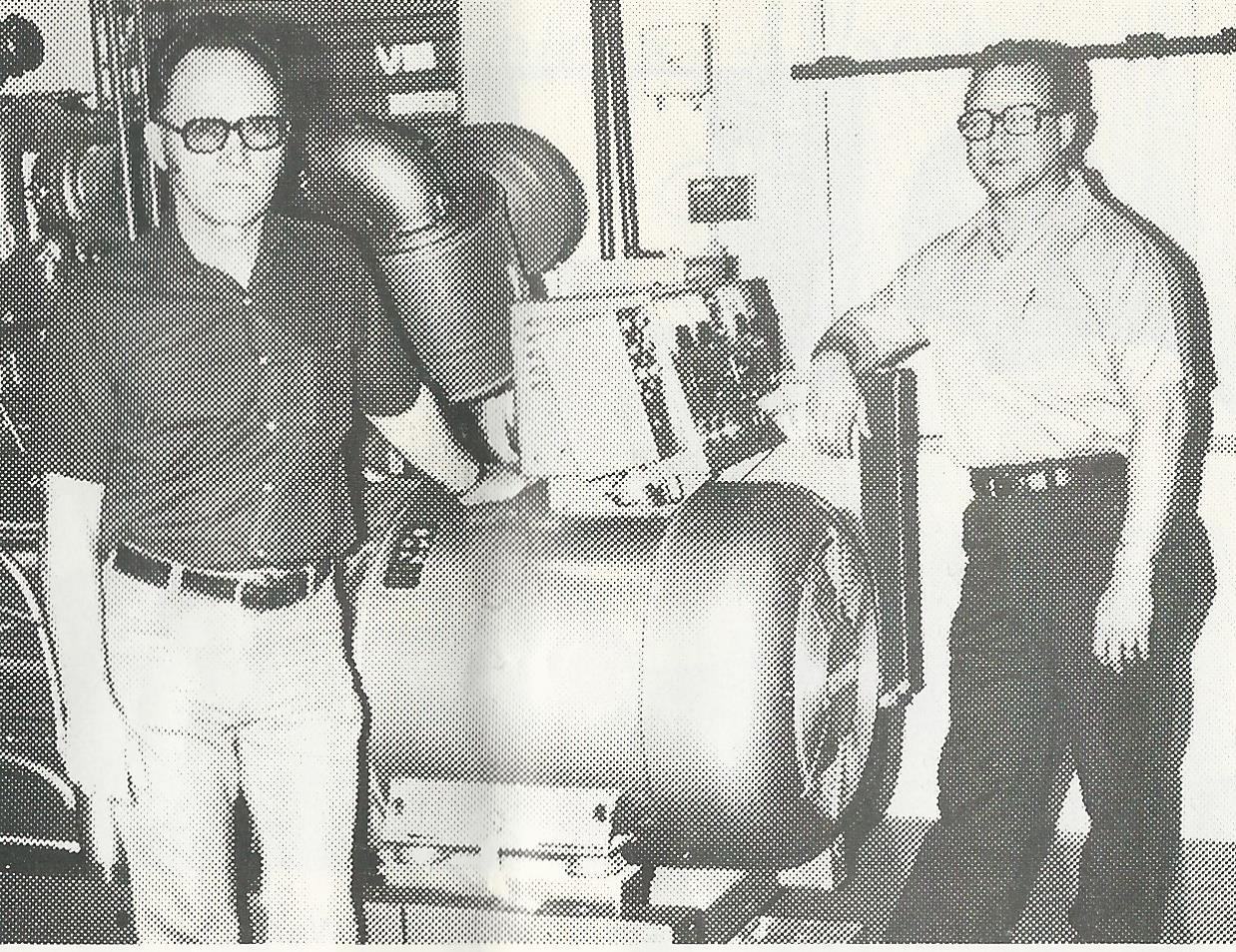 MAINTENANCE DEPARTMENT - Paul Moneta and Ed Soldan.
MAINTENANCE DEPARTMENT
Both Ed and Paul operate, maintain and repair all hospital equipment, as well as maintain hospital grounds. They work Monday through Saturday and provide 24-hour call, 7 days per week. When you follow these men, you can go from unplugging a toilet in pediatrics (one of the children tried to flush a toy), to repairing a mal function in the air conditioning system. Never a dull day! Ed Soldan is also Fire Marshall of the hospital.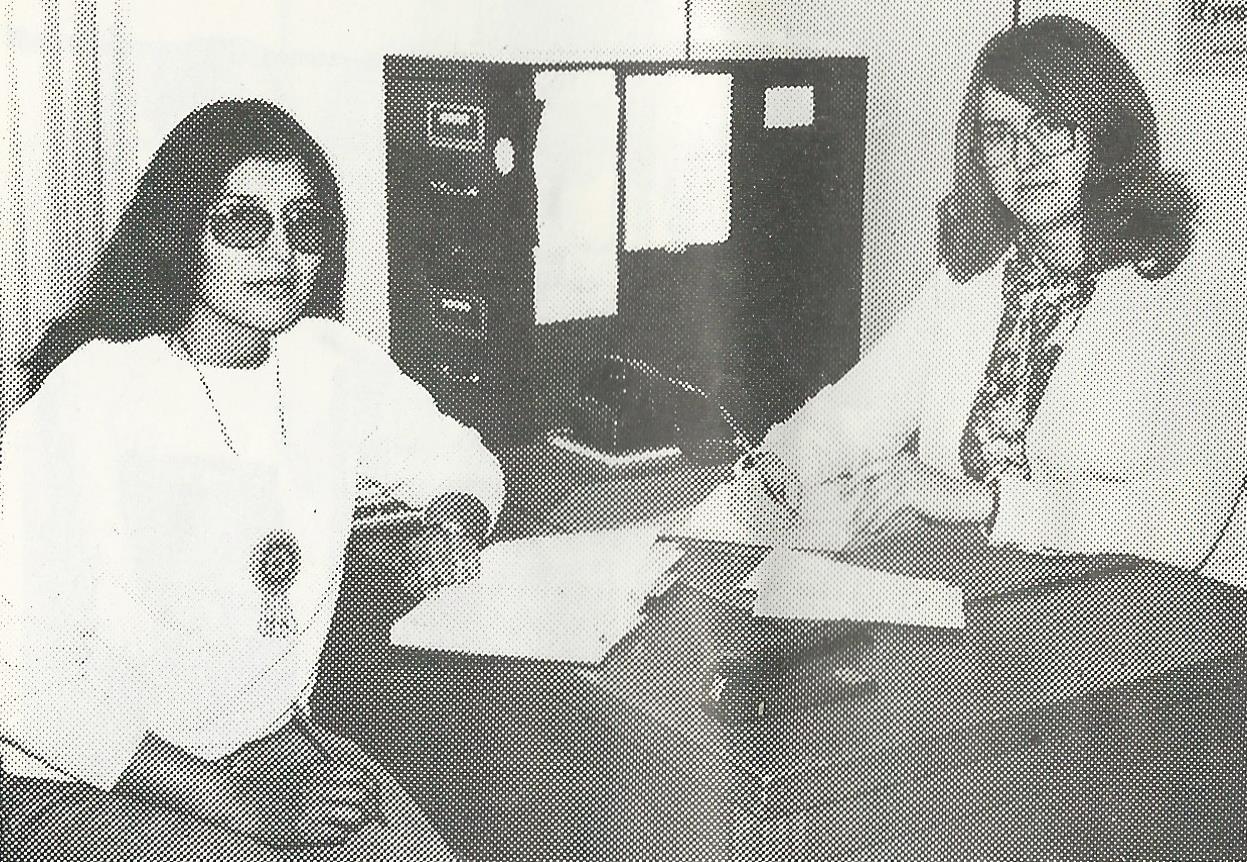 Karen Fryingpan (Frog Lake), and Doris Werstiuk.
ELK POINT HEALTH CENTRE
The Elk Point Health Centre is operated by the Medical Services Branch of Health and Welfare Canada, Northern Alberta Zone. It is staffed
by a community health nurse, a community health representative and a part-time secretary. It provides a complete community health program to the approximately 600 native people on the Frog Lake Reserve which is located 26 miles east of Elk Point.
Northeastern Alberta Health Unit
Sub Office - Elk Point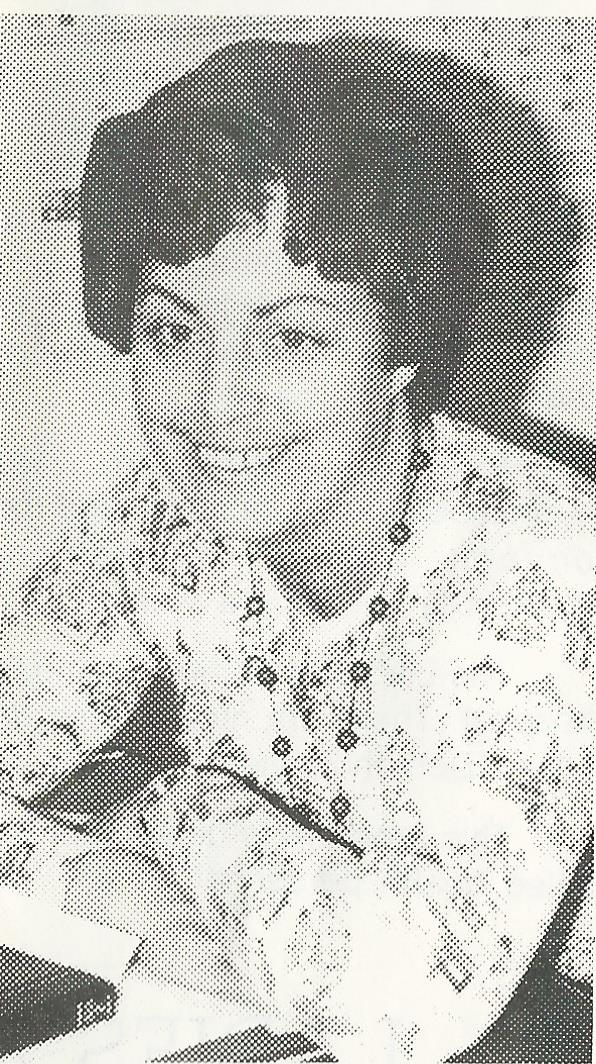 LOIS SHEPLAWY - Elk Point health nurse.
The health Unit sub-office in Elk Point was established in May, 1972 in the old Elk Point Hospital and presently is one of the four allied health services serving the surrounding community from the new hospital setting.
Presently, the area provided with this service extends east to the Fishing Lake Colony, south to Two Hills County border, west to Atimose Creek and Shamrock Valley area to the north.
Main areas of service include instruction in prenatal and postnatal care, infant and child care, well baby clinics, provision of nursing service to all school age children by means of counselling, screening and referral for required care, prevention in spread of communicable diseases, i.e.
T8, infectious hepatitis, veneral disease, etc., and follow-up of physically and mentally handicapped persons.
Mary Jane Anderson, community health aide assists with the health program in Fishing Lake Colony.
PREVENTIVE SOCIAL SERVICES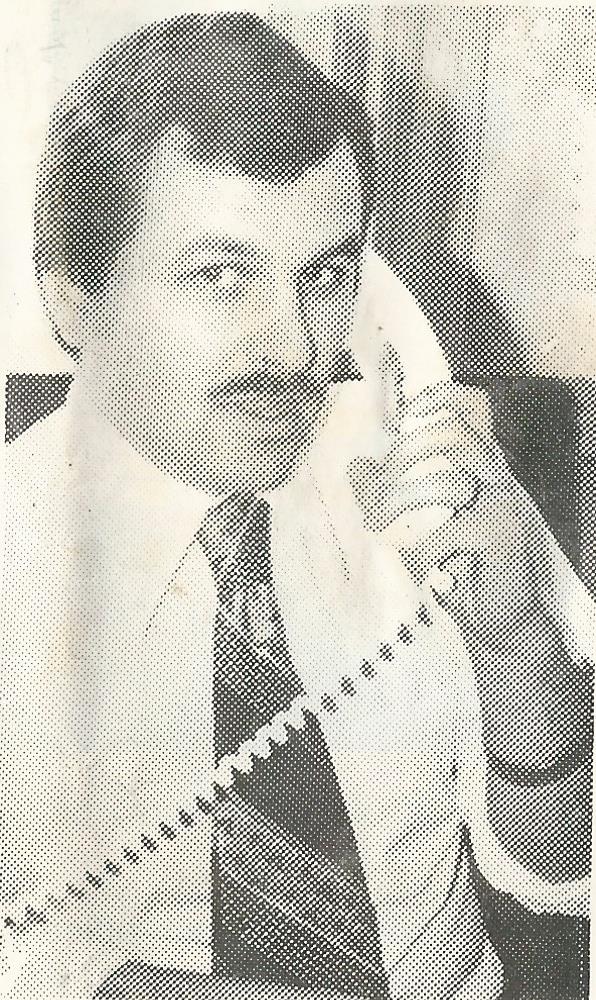 DON ROBERTSON - Preventive Social Services Director.
The Preventive Social Services program and the director operate out of the allied health section of the Elk Point hospital. Although the program is funded by the Town of Elk Point and by the Provincial Government, it has been based in the hospital to be close to the health and care giving centre of the Elk Point area.
Regular office hours are maintained at this location, and the director can be reached at 724-3800 five days a week.
The Elk Point Home Nursing Society also operates from the Elk Point hospital. There are nine nurses doing the home nursing, including Mrs.
Lillian Demchuk the volunteer, co-ordinator of the program.
This program is dependent upon co-operation between hospital and allied health personnel.
LADIES AUXILIARY
The Ladies Auxiliary of Elk Point is a very active, productive, appreciated group of 32 members. They have supported the hospital immensely: installing a pop machine for patients and visitors alike, supplying and maintaining the canteen which also involves taking the cart around to all patients twice a week, supplying radios for patients' use, records for childrens' enjoyment in pediatrics, Mary Maxium rugs for occupational therapy for interested patients. equipment such as a wheelchair, and even favors on the patients' meal trays on special days such as Easter, Valentines, etc.
Best of luck in all your endeavors ladies! The hospital and community certainly appreciate everything that you are doing for us.