"A LITTLE WHEAT, A LITTLE CHAFF"- AGRICULTURAL NEWS ITEMS
by Martin Aarbo
SALE OF PRODUCE IN PIONEER TIMES
1908-10 Butter 20 cents a pound
1911 Butter 25 cents a pound
1912 Butter 32 cents a pound, eggs 25 cents a dozen
1917 Butter 35 cents a pound, eggs 22 to 25 cents a dozen
Eggs and butter were traded to the stores for groceries. It was the livelihood of many early set4ers. Eggs were packed in chop or oats to keep from breaking while in transport to the store. In the dirty thirties, eggs were sold for as low as 5 cents a dozen and were sometimes hard to sell. Fifty pounds of cream brought about $3. Hogs sold for $3 each, and two year old steers for $7 each.
CATTLE LOANS
In 1916-1917, the Alberta government implemented a cow loan under the Livestock Encouragement Act. If your application was accepted you could borrow up to $500 to purchase cattle.
WHEAT ACREAGE REDUCTION
In 1941 the dominion government paid the farmers two dollars an acre to summerfallow their land rather than grow wheat. Alberta farmers were paid ten million, two hundred and sixty thousand dollars, an average payment per farmer of $173.61
PRAIRIE FARMERS' ASSISTANCE ACT: 1945
If the average yield of wheat in the township is found to be not more than four bushels to the acre, the award shall be $2.00 an acre. If average yield is between four and eightbushels an acre the award shall be $1.50 an acre. Payment is to be made on one half of the total cultivated acres up to 400 acres.
*************************** ****************
PRESERVING EGGS
Eggs can be preserved and be on hand all winter long. Sailors, using this method have kept eggs for four years at sea. Fill a barrel half full of solution in these proportions; 3 gallons water; 1 pint fresh, slaked lime; 1/2 pint common salt, and immerse eggs.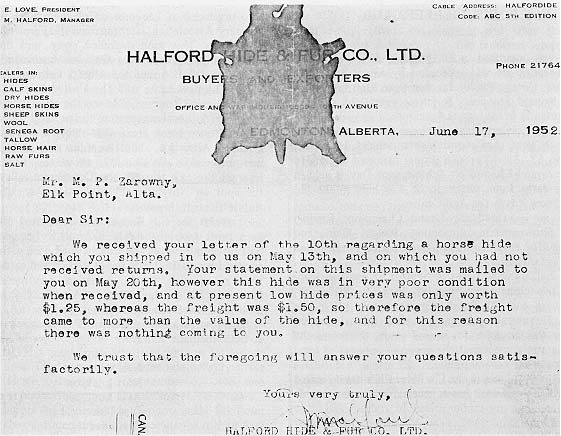 Agriculture did not always pay!
Hand feed threshing machine powered by a ten horsepower single cylinder engine.
Note the straw auger. Owned by Jack Compton, Inez and Evelyn Carlson in the foreground.