by John Lukevich
In 1967 I started apprenticing as an electrician with Sunlite Electric of St. Paul. My apprenticeship program was completed with Comet Electric of Bonnyville in 1971. During this period of training I attended the technical courses at N.A.I.T. in Edmonton.
Construction jobs took me around Alberta into towns and cities such as Fort McMurray, Lac La Biche, Athabaska, Edmonton, Thorhild, Wetaskiwin, Wainwright, as well as the present surrounding area. Every variety of electrical work experience was gained as the jobs involved high rises, schools, stores, churches, hospitals and industrial plants.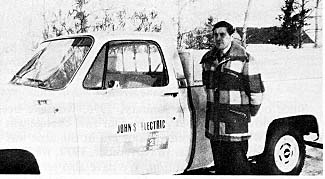 John Lukevich, beside his truck.
While I was working in Bonnyville, a vacancy for an electrician came up at the Lindbergh Salt Plant which seemed to be closer to home. More electrical experience in the industrial field was gained while working there.
One more challenge and my dream was realized. In 1976 I left the plant, wrote for a Master Electrician Certificate and established John's Electric. This business is at present being operated from our residence (phone 724-2124) on the farm five and one half miles north west from Elk Point. With the help of my wife Marlene and family of three children, I am capable of doing any residential, commercial, and industrial wiring in Elk Point and the surrounding community. I thoroughly enjoy this line of work and wish to serve the customers of the Elk Point area