FARM ORGANIZATION IN THE ELK POINT AREA
by Irene Magnusson
I have been unable to ascertain the exact beginnings of an organized farm movement in the Elk Point area, but immigrants came here who were members of organizations already established elsewhere, i.e. The Grange and the American Society of Equity. These U.S. organizations didn't appeal too much to Alberta farmers. The Territorial Grain Growers Association from Manitoba was more acceptable, and a local was formed at Strathcona in 1905. Another group who organized at Lacombe called themselves the Lacombe Farmers' Association, later renamed the Farmers' Association of Alberta. This soon dwindled away, and the first truly Alberta organization arose from amalgamation of the A.S. of E., the T.G.G.A. and the Alberta Farmers' Association in 1908. The new name was The United Farmers of Alberta, and the Grain Growers Guide was the official organ.
A U.F.A. Local was started in the early 1920s in the Elk Point-Stoney Lakes areas. One objective was the building of a hall at Armistice, about six miles west of Elk Point. This was undertaken in 1926/27, about the time the C.N.R. brought the rails through the Dog Rump valley, arriving at the spot on November 1 1-Armistice Day-this giving the tiny settlement its name.
It seems the C.N.R. was not concerned about keeping even those few inhabitants in Armistice, as one Tom Cook had his home where the C.N. wished to lay track, so they smashed his shack down, swept it aside and carried on. There is no recollection that he was in any way recompensed. He later sold his quarter section of land to C.J. Markstad for $400.00 and left the country.
These were a few of those U.F.A. members who worked to build the hall:
Nels Swanson
Matt Erickson
Axel Lundgren
Olas Tiger
Olaf Sand
Ed and Clifton Magnusson
Clarence and Ira Merrick
Grant Arnold
Charles Deemyer
Rosina Lundgren, living about a quarter mile away up on the hill, carried lunch to the workers day after day. The hall was used for meetings and social and fund-raising gatherings for many years. May Springsteel looked after it for a time, and it was taken over by the community in 1948 or 1949, many of the builders having passed on or left the area.
The U.F.A. Local dwindled away following the takeover of the provincial government by the Social Credit in 1935. Even before that it had lost momentum. A nationalistic group called the United Farmers of Canada sent organizers in from Saskatchewan around 1933/34, and an Alberta Section was formed in Elk Point, with Cliff Flanders and Leo Babcock as first officials. Dues were $1.00 per year. Members listed in the 1941 record are as follows:
C. Flanders
R. Peterson
L.Valentine
C. Deemyer
A.A. Ham
Bud Rockwell
Zazulak Bros.
Pete Charest
Wm. Konrat
V.W. Kondrat
F.Lukewich
M. Jepson
Leo Babcock
H. Ramsbottom
G. Shortridge
Charley Deemyer was secretary at that time. It is noted in the account book that C. Flanders was a delegate, and was allowed $12.00 for expenses, $3.30 of which he returned. Other notations include-money order and postage-9cents; coffee-43 cents; light bulbs for Armistice hall-six for $3.00. And $1.00 was paid to C. Magnusson for sawing wood' for the hall, also three men to help-$ 1.20.
Memberships were $1.00 with an extra 50 cents for the Bulletin. The membership for 1942 was 88. Women were also members, and paid dues of 50 cents.
On December 12, 1948 R. Flanders and Clarence Nelson were selected as delegates to attend the joint U.F.A. and A.F.U. Convention in Calgary. At this time these two groups amalgamated to become the Farmers' Union of Alberta. That was in January, 1949. The old U.F.C. had also melted in, to become part of the Farmers' Union of Alberta.
The farmer's lot was not an affluent one in those early years; the price received for farm products was very low, work was hard and long. Farmers became angry when injustices such as "low-grading" at elevators was suspected in Myrnam in 1933. A mini-strike resulted with non-delivery Qf grain in the area. This encouraged a later non-delivery strike by Alberta farmers, starting on September 6, 1946, and lasting for a month. There was also a "march on Ottawa". These were supported somewhat by farmers in the Elk Point district, but they suffered much more because of it than they gained. Much hard feelings resulted, both from the public and among the farmers themselves, and so many dropped out of the organization.
However, the F.U.A. locals looked at many social and economic problems of the rural community and tried to solve them. They asked for better bus services for their children; formed calf-clubs (pre 4-H); requested better roads; better grading of livestock, grains and dairy products; worked for marketing boards; formed insurance pools and groups such as M.S.I. and Blue Cross. They asked for a special Fanners' Day to commemorate the value of the primary producer; rejected "fast" time for many years. They asked for and received tax exemption via purple gas, and did many more things of greater or lesser value in an effort to improve the farmers' standard of life.
Parity prices-a reasonable return for input, labor and investment-has been a long-sought goal of people of the land. The F.U.A. worked diligently toward this for many years, using the affirmed resolutions of the grass-roots members to compile briefs, diplomatically directed to the governments and other authorities, to express the farmers' wants and needs. Elk Point Local has sent its share along.
Some farmers thought this method slow and ineffectual and so were open to the more militant overtures of the N.F.U., and some were inclined to join them when they made a bid for amalgamation with the F.U.A. in 1968. The National Farmers' Union policies were more like labor unions, strikes and demonstrations being the main levers used to attain their goals. They also wished to stand apart from all co-operatives and agri-business, insisting that their good and the farmers's good were not identical. However, at a special convention in Edmonton under President Paul Babey, in March of 1969, amalgamation of the F.U.A. and
the N.F.U. was defeated; amalgamation of the F.U.A. and farm co-operatives was carried, and later the name of Unifarm was adoped. At the autumn convention the women's section adopted the name Women of Unifarm.
The local structure has changed very little, but it is now considered an organization to attempt to solve farmers' problems diplomatically. It is not a type of labor union and would never be likely to call a strike.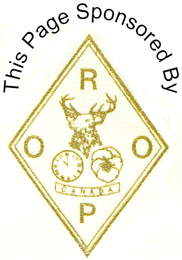 Farmers are generally more affluent today, so don't feel as urgently the need for group solidarity of action. There are far fewer members in 1976, consequently the dues have risen considerably, and are now $30.00 annually
a few paying and working for the benefit of all. Unifarm remains the one farm voice generally listened to by provincial and federal governments, although the N.F.U. still has a few locals in the province of Alberta.
Elk Point Local of Unifarm No.43-23 still has fifteen to twenty members; regular meetings are not held, but special meetings could be called. Ronald Flanders was president for twelve years, followed by S. Ference and Larry Babcock, who is still president on the books. Last secretary was Irene Magnusson, until her resignation in 1974. She was also Women of Unifarm Director for Region No. 4 for seven years, during which time a W. of U. Local No.43-01 was established in the Elk Point area. Caroline Shankowski and Joyce Jendruck were the first president and secretary, respectively. The W. of U. local holds meetings and actively considers matters of health, education and social welfare as they affect the rural women. They hold a conference annually, with handicraft displays and speakers on current concerns; as well, there is annually a workshop of an educational nature.
Faye Smith is the present Regional Director of Women of Unifarm and Jim Boyd of Heinsburg is Unifarm Director of Region No.4.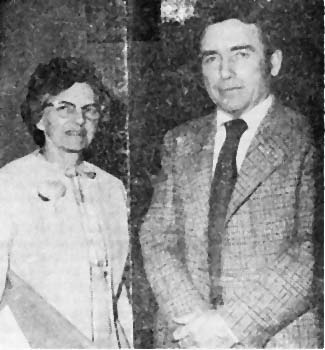 Jim Boyd and Irene Magnusson