THE HISTORY OF THE ELK POINT SCHOOL
by N.B. Sumpton
From 1907 to 1910 many settlers filed on homesteads and started farming in the Elk Point vicinity. Some of these early settlers who had families were O.J. Fish, C.D. Smith, C.J. Markstad, Tom Aarbo, Jim Babcock, Frank Pinder, C.M. Magnusson, Frank Lambright, 0. Jacobson, and P. Keitges.
One of the first concerns of these settlers was to establish a school so that their children could obtain an education. Mr. C.M. Magnusson, as senior trustee, and Mr. O.J. Fish, as treasurer, proceeded to secure the necessary information from the Department of Education to start a school.
The Elk Point School District No. 2005, comprising the following lands, namely: Sections 27-34 and those portions of Sections 19-22 lying north of the Saskatchewan River in Township 56, Range 6; Section 36 and that portion of Section 25 laying north of the said River in T. 56 R7; Sections 3-10, T57 R6; and Sections 1 and 12 in T57R7, all West of the 4th Meridian, was established as a school district on July 8, 1909.
The school site came under discussion and some thought the school should be built on wheels or skids so that it could be moved around the district at various periods to suit those who could be too far from school. A site was finally selected as a permanent location on the south east corner of S.E.-5-57-6-W4. Approval for this site was given on April 21, 1910, and on April 22, 1910, authorization was given the Board of Trustees of the Elk Point S.D. No.2005 to borrow the sum of $1000 for the purpose of purchasing the site, and erecting and finishing a school house.
The lumber for the school was purchased in Edmonton, where a raft was made of the required lumber. Other supplies necessary were placed on the raft, which was floated down the Saskatchewan River to a spot south of the designated school site. The raft was then taken apart, lumber and supplies were hauled to the site, and the Elk Point School was built.
School, however, did not commence until the next spring. During that fall and winter, the Elk Point Literary Society held its meetings in the new school house. The people of the community gathered there for business meetings or social gatherings. The school board, I believe, consisted of Mr. Tom Aarbo, chairman, Mr. 0.J. Fish, treasurer, and Mr. C.J. Markstad, the third trustee.
The following spring of 1911 school was opened with Mrs. Charles Hood as the first teacher. The school terms were short as winter set in early and often the trails were so blown in with snow that travel was impossible. After Mrs. Hood Mr. H. Ramsbottom, a resident teacher, taught for three successive terms. Some of the following teachers who taught for a short time were university students who taught during the summer months to help pay for their next term's tuition:
Mr. Baccus, Mrs. H. Day, Miss A. Irving one half year, Miss B. MacDonald (Mrs. C.J. Markstad), Mrs. F. VanArnam, Mr. Allison one half year, Miss Oral V. Smith two years, Miss Marie McDougal, Mr. B. Kingsbury, Miss H. Jenkins, Mrs. Wm. Rockwell, Miss K Fenton, and Miss E. McLennan.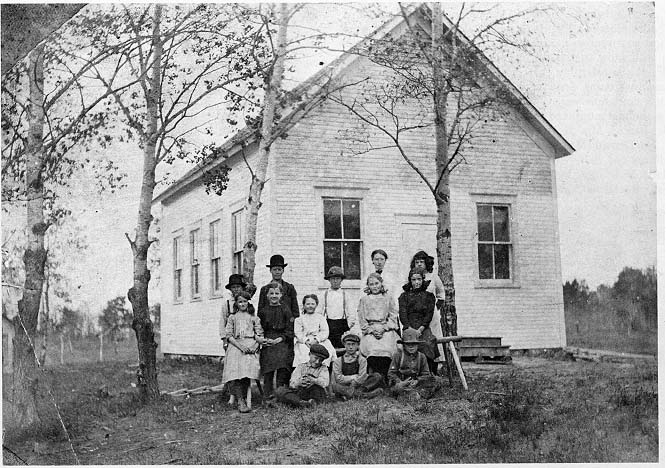 FIRST ELK POINT COUNTRY SCHOOL, 1912.
Mr. H. Ramsbottom, teacher. BACK ROW, Left to Right: Romanzo Fish, Raymond Keitges, Lester Plummer, Margaret Lambright, Mildred Markstad. MIDDLE ROW: Clarie Ramsbottom, Esther Marstad, Ruth Lambright, Emma Magnusson, Alta Markstad. BOTTOM ROW: Victor Ramsbottom, Harold Smith, Teddy Magnusson.
ELK POINT SCHOOL, 1914
BACK ROW, Left to Right: Boys Lawrence Magnussan, Romanzo Fish, Teddy Magnusson. FRONT ROW: Harvey Fish Jens Aarbo, Frank Keitges.
BACK ROW, Left to Right: Girls - Mrs. Day, teacher, Hattie Markstad, Clarie Ramsbottom. 
FRONT ROW: Ruby Gobin Esther Markstad, Ruth Lambright.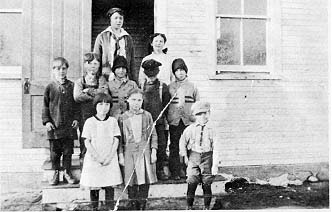 Miss Blanche MacDonald, teacher at Elk Point school, 1918. Later she became Mrs. C. Markstad.
Mrs. Rockwell had a large number of pupils and it was necessary to have two teachers after her. Next came Mr. Dixon and Miss K. Fenton. At first Miss Fenton taught the country school with grades 1 to 7 and Mr. Dixon taught grades 8 to 10 in the Elk Point church, which later burned down. School was then held in an old hall. Miss Fenton then came to town and Mr. Dixon taught the country school.
Since the pupil population was increasing, the trustees and ratepayers began to arrange for a larger school to house the students.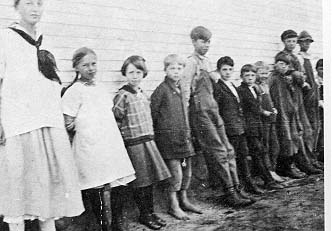 Elk Point country school Miss Ervine teacher, 1913.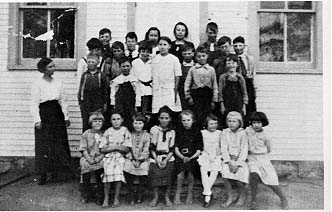 ELK POINT SCHOOL, 1919
Mrs. Van Arnam teacher
INCLUDED ARE: Florence Johnson, Leona Milholland, Ruth Van Arnam, Cora Milholland, Viola Babcock,
Alberta Pinder, Denise Blame, Martin Aarbo, Bill Muholland5 Vera Babcock, Ella Pinder, Edson Van Arnam, Joe Jacobson.
On June 28, 1928, approval previously given on April 21, 1910, was cancelled in favor of a site selected in Elk Point, comprising three acres on the south-east corner of N.E. -1-57-7-W4. Permission to borrow the sum of $8,500 for the purpose of purchasing the site, building and equipping a two-room school was given on October 9, 1928. This two-room school much later became town office and the police barracks and now it is being used as a court house.
The Elk Point School was ready for occupancy by January 1, 1929. The school district was enlarged to take in an area west and north of Elk Point. Miss K. Fenton, teaching grades 1 to 5, and Mrs. L. Sumpton, teaching grades 6 to 10, were the first teachers in the new two-room school. In 1929 the original school was brought to Elk Point. In September, 1930, it was opened for grades 9 to 11 and Mrs. H. McQuillan joined the staff for one year to teach grades 1 to 4.
In 1931 there was a great surplus of teachers and married women teachers were asked not to teach unless it was absolutely necessary. Mr. James Munn, Miss K. Fenton and Miss Alberta Pinder taught from September, 1931, to June, 1932.
Mr. J. Jensen came to teach grades 9 to 11 in September, 1932. Others on the staff were Miss A. Pinder, Miss V. Miller and Miss F. White. As the student population grew a second room was added to the old Elk Point School and (Mrs.) Della Jensen joined the staff to help teach the high school grades, now including grade 12. Other teachers who taught with Mr. Jensen as principal were Miss Syson, Miss Evelyn Johnson, Miss Muriel Caldwell, Miss Muriel Paulson, Miss Alberta Pinder and Mrs. L. Sumpton, who returned to teaching. Mr. Jensen joined the armed services and Mr. Russell finished his term for the first half of 1941
In the fall of 1941 Mr. R. E. Beattie accepted the position as principal and remained in that capacity as the school grew, joined the St. Paul School Division No.45 and, lat St. Paul County No.19. Mr. Beattie remained as the princ4 from 1941 to June, 1967, when he retired from teaching.
In 1941 Mr. J.V. Jacobson joined the Elk Point staff teach grades 7 to 9 in a new one-room insulbrick school situated between the two-room junior school and the old F Point school with its additional room.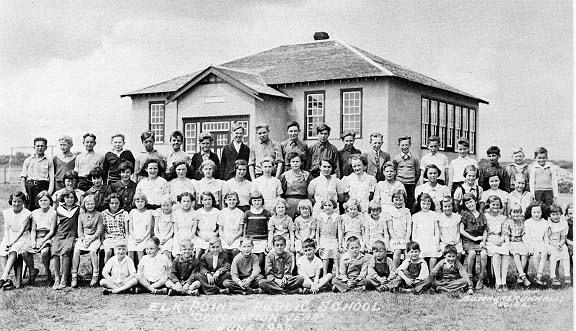 ELK POINT PUBLIC SCHOOL CORONATION YEAR, 1937
BACK ROW, Left to Right: Raymond Faryna, Richard Miller, Lloyd Bartling, Jimmy Hutter, Alan Arnold, Peter Andri shak, Frank Lambright, Freddie Smith, Louis Francis, John Wolfe, Roy Francis, Robert Lambright, Bob Quin, Maurice Quin, Jack Dunkin, Bob McQuillan, Irvine Ross, Roy Lambright, James Ross.
THIRD ROW: Joyce Babcock, Rose Ross, Ivy Ross, Alice Fitzsimmons, Gwen Wolfe, Jeanette Aarbo, ?, ?, Etta Cromwell, Mary Yacyna, Do'is Marks tad, ? , Mary Libich, Jean Ross, Kathleen Fitzsimmons, Clara Boos.
SECOND ROW: Lura Belle Pinder, ?, Helen Magnusson, ?, Bertha Johnson, ?, Helen Jepson, Marie Dunkin, Ethel Arnold, ?, Florence Magnusson, Daisy Keck, Gertrude Keck, Irene Boos, Phyllis Aarbo, ? , Margaret Yacyna, Dorothy Wolfe, Evelyn McQuillan, Rosemarie Bartling, Rose O'Kane, ?, Margaret Fitzsimmons, ?, Jean Andrishak.
FRONT ROW: Ralph Marshall, Nick Wysocki, Jimmy Arnold, ?, Cl~ence Boos, Clarence Johnson, George Johnson, Harold Fitzsimmons, Johnny Yacina, ?, ?.
On July 19, 1946, a site selected for another school situated on the N.E.-1-57-7-W4, Block 11, Plan No.6879 E.T. was approved.
An agreement, dated December 17, 1948, was entered into by the St. Paul School Division No.45 and the Elk Point S.D. No. 2005, indicating mutual agreement that the Elk Point S.D. No. 2005 be included in the St. Paul School
Division No.45, Sub-division 4. This came into effect on January 1, 1949, by an order signed by the Minister of Education on February 8, 1949.
A three-room school was built on the location applied for and grades 7 to 12 were moved to the new high school in September, 1949. The Elk Point bridge across the Saskatchewan River was opened in June, 1950. This made it p05sible for the students across the river to come by bus to Elk Point School in their own division. They had been attending Derwent School in the Two Hills Division.
With the influx of so many students, the St. Paul School Division found it necessary to build an additional three rooms, plus a gymnasium, onto the existing three-room high school. As the other country schools around Elk Point joined the St. Paul School Division, these students also came by bus to Elk Point School. Soon all the classrooms became overcrowded and, as a consequence, country schools from various districts were moved in to be used for extra classrooms. The Canadian Legion Hall was even needed for a classroom.
On September 5, 1952, approval was given for a site selected for an elementary school, situated on the N.E.-1-57-7-W4. Lots 1,2,3,11, 12,13, Block 22, sub-division Plan No. 2130 H.W., due north of the six-room high school.
Muriel School struck by lightning June 15, 1945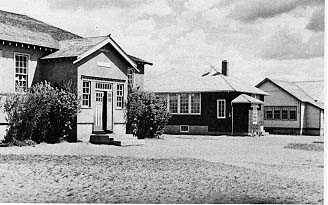 Elk Point Schools in the 1950's
The contract was let and the new school, which so many had longed for, became a reality. At Easter, 1957, students in grades 1 to 6 were moved from the various old buildings into this beautiful elementary school, with (Mrs.) Florence McDonell as first vice-principal. This building contained a home economics room to be used by the higher grades. It contained also a beautiful gymnasium. Two country schools previously used for classrooms were now placed together to become the first Industrial Arts Building. (Mrs.) Margaret Michaud was the first home economics teacher and Mr. Dan Stetsko the first industrial arts teacher.
Some time during 1956 and 1957 St. Paul and Two Hills Divisions exchanged areas at the extremities of their divisions so that students living at either extremity would not have so far to travel. A number of high school students previously attending Derwent School now came by bus to Elk Point. This caused overcrowding in the high and junior high school grades.
On August 22, 1960, approval of a site for a new high school in the Elk Point district was granted, said site located on Lot E, Plan No.584 M.C., directly across the street from the new elementary school.
At Easter, 1961, grades 9 to 12 moved into the new high school, named F.G. Miller High School in honor of Dr. F.G. Miller, who had spent so many years on the board and who always had such a keen interest in the welfare of the Elk Point students. The old high school housed the junior high school grades, with Mr. K. Lazicki as vice-principal.
In response to a resolution from the St. Paul School Division No.45 that the Municipal District of St. Paul No.86 be formed into a county, approval was given by an Order-
in-council dated September 19, 1961. On January 1, 1962, the School Division of St. Paul and the Municipal District of St. Paul became the County of St. Paul No.19.
The clerical work of the schools increased to such an extent that a secretary was employed, at first part time, and then full time. (Mrs.) Margaret Modin was the first secretary, who began her duties in 1964. She is still employed as secretary for the high school, and (Mrs.) Marlene Kryvenchuk is secretary for the elementary school.
The war had a serious effect on the teacher situation. When the war commenced, many left their classrooms to serve in the armed forces or to work in war industries. In addition, many hundreds of young men and women who, under normal conditions, would have entered the teaching profession, undertook some form of war service. After 1939, teachers' salaries rose and standards were relaxed so that classrooms would not be closed. Many teachers were called back to work and some were given "Letters of Authority" to allow them to teach during those critical times.
The principals of the Elk Point School from 1931-1977 were Mr. J. Munn - one year; Mr. J. Jensen-six and one-half years; Mr. Russell-one-half year; Mr. R.E. Beattie - twentysix years; Mr. D. Berghoffer - two years; Mr. S.A. Holthe eight years.
A list of the various teachers who taught with the above principals is as follows:
Miss Alberta Pinder                         Miss L. Dahlstedt
Miss K. Fenton                                (Mrs.) C.A. Howe (L.A.)
Miss V. Miller                                   Miss Gladys Salstrom
Miss F. White                                  (Mrs.) Bertha Williams
Miss Syson                                     Miss A.N. Markowsky
Miss B. Johnson                             (Mrs.) M.F. Dezenick
(Mrs.) D. Jensen                               (Mrs.) N.A. Merrick
Miss M. Caldwell                            (Mrs.) Ila Borowsky
Miss M. Paulson                             Miss Gladys Payne
(Mrs.) N.B. Sumpton                      (Mrs.) A.M. Warren
Miss G. Sweheim                           Mr. Albert Gadowsky
(Mrs.) Floris Fenton                      (Mrs.) Jennie Palinka
Mr. J. Jacobson                             Mr. K. Lazicki
Mr. C. Hackett                             (Mrs.) Dorothy Gadowsky
Mrs. H. McQuillan                        (Mrs.) Margaret Michaud
Miss M. Anderson                        Mr. Sidney Holthe
Miss F. Clarke                              Mr. C.N. Selezinka
(Mrs.) F. Marfleet                          (Mrs.) Mary Selezinka
(Mrs.) F. McDonell                        (Mrs.) Mabel Dumont
Miss S.J. Cheshire                        (Mrs.) Anne Uniat
(Mrs.) L. VanArnam (L.A.)              (Mrs.) Kay Melnyk
Miss Daisy Keck                          Mr. Lawrence Modin
(Mrs.) Helen Kovach                    (Mrs.) Helen Kovach
(Mrs.) R.M. Hatchard                    (Mrs.) Olga Grykuliak
Mr. James Stewart                        Mr. Arthur Fuller
Miss Mary Loftus                         Mrs. M. King
Mr. Walter Ilkiw                           (Mrs.) Charlotte Attfield
(Mrs.) Margaret Bartling              Mr. Harry Uniat
Mr. Dan Stetsko                          Mr. John Bauman
(Mrs.) Velma Andrishak              Mr. Albert Boratynec
Miss Gertrude Engler                  Mr. William Danyluk
(Mrs.) Kay Sadlowsky                 (Mrs.) Myrna Fedorus
(Mrs.) D. Siler                            (Mrs.) Helen Saranchuk
Mr. 0. Kotyshyn                         Miss Georgina Miller
(Mrs.) Estella Young                  Mr. Wilfred Grant
(Mrs.) Annette Chase                Mr. Baline Easthope
Mr. Orolin Hunt                        Miss Gertrude Haubrick
(Mrs.) Margaret Boratynec        Mr. Alvin Johnston
(Mrs.) Phyllis Scott                   Miss Bernadette Klaibert
Mr. Grant Samuelson                Miss Betty Ann Block
Mr. John Bennett                       (Mrs.) Ellen Hilton
Mr. John Murray                        Mr. Mal Landry
Mr. Ray Hellquist                      Mr. Mike Grekul
Mr. Dean Milligan                     Mr. B. Henry
(Mrs.) Irene Miller                     Mr. John Cabaj
Mr. Antonio Joly                     (Mrs.) Mary Ann Joly
Miss Ruby Bosvik                      Mr. Lawrence Pidluzny
(Mrs.) Louise Maas                      (Mrs.) Lea Plandowsky
Mr. Gary Smith                         Mr. Ken Bucyk
Miss Gladys Demchuk               Miss Linda Drinnan
Miss Rudy Bosvik                       (Mrs.) Jan Srimvason
Mr. H.J. Blois                            (Mrs.) Irene Melin
Mr. Cohn Richards                     Mr. Crest Sereda
(Mrs.) Sylvia Boothman             Mr. Bert Joly
Miss Edith Reed                        Miss Yvette Mandin
Mr. Allan Buck                          Mr. Howard Meger
(Mrs.) Myrna Fox                      Miss Irene Torguson
(Mrs.) Sylvia (Saiko) Conrad      Mr. Dean Fenton
(Mrs.) Bev. Bliss                       Mr. Bert Mortenson
(Mrs.) Vera Romanchuk             Miss Jeanne Lepine
(Mrs.) Bernice Poleschuk           (Mrs.) Elizabeth Kushniriul
Miss Marilyn Habiak                Mr. Lea Wruth
Miss Marie Chudleigh             Mr. David Sanderson
Mr. Ted Matheson                  Mr. Wilfred Green
Mr. Don Conrad                     Mrs. W. Green
Mr. Sardool Takhar
If I have left anyone out, I humbly apologize.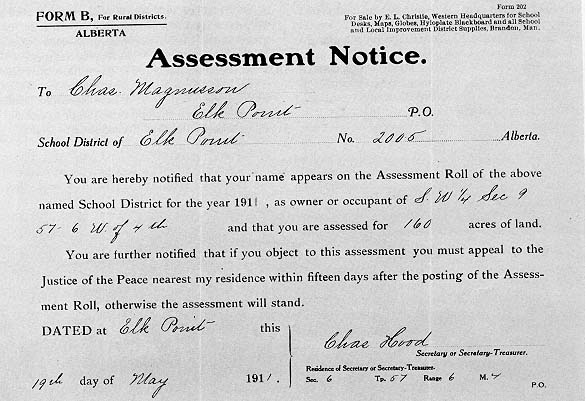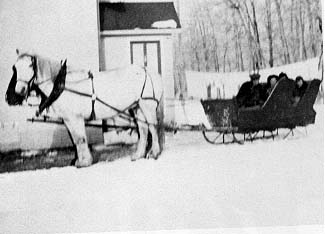 Tom Wolfe built this cutter for the children to drive to school, 1939