Early Baseball
by L.W. Sumpton
It seems fitting that a district such as Elk Point, which was settled originally by a majority of ex-Americans, would just naturally be a baseball town. It was! I record mostly from the memories of old timers, of whom all too few are still with us.
The earliest settlers started to arrive here about 1907, and by 1915 practically all the country was filed on. Baseball, no doubt, was played at this time, but no records are available as to names, etc.
Bill Bartling tells me that, as far back as 1923, we were playing organized baseball, not just exhibition. The league included Elk Point, Lindbergh, Frong Lake, and Landonville. Some Elk Point players were George Bartling, Bill Bartling, Dr. A.G. Ross, Jens Aarbo, Rev. H.L. Day, Ray Howard, Vic Siler, Lloyd Lampert, Lloyd Lambright, Joe Quin, Percy Whitworth, Russ Milbolland, Oscar Holthe, Vic McLean and Ben Richardson. No records are available as to the successes of the Elk Point squad. The league existed until about 1926 and from that time until comparatively recent times only exhibition ball has been played.
About 1928 the Elk Point ball team was reorganized under the management of Frank Suter. Players listed at this time: Bill Bartling and Russ Muholland, Lloyd Lambright and Henry Selland-pitching staff; L. Sumpton-catcher; Frank Suter-first base; E. McDonell-second base; Percy Whitworth short stop. Oscar Holthe-third base; in the outfield were Frank Keitges, Harry Ramsbottom, and alternates Lloyd Lambright or Russ Milbolland, when not pitching. (I hope I haven't missed anyone.) This must have been a pretty good team, as evidenced by the fact that, even in those days when top money at a tournament was $65.00, the Elk Point team earned over $800.00 for the 1928 season. This was sufficient to equip the team with new uniforms, balls, bats and other equipment. The players supplied their own transportation to out of town games, including gasoline and meals. Prize money all went to the club.
The wonderful support of the fans must not be forgotten, -people such as C.J. Markstad, Doctors Miller and Ross, and W.E. Caskey. Any one of them could be depended on to supply a car, or cars, if necessary. When you come to think of it, this was quite a sacrifice, considering the condition of the so-called roads in those days. Broken springs were the order of the day. Another thing that comes to mind was the generosity of Bill Soldan, who repaired, for free, broken cars sustained while transporting players (excepting parts). The doctors also repaired broken bones, sprains and abrasions for free. It must also be remembered that not everybody had cars at this time.
Our fans were loyal to a fault, even possibly a wee bit biased. Umpires lives were not too happy. Interpretation of rules was one thing, but a bad call could precipitate a donnybrook.
Our arch rivals were St. Paul and Vermilion. We used to knock off St. Paul at about the same ratio that they defeated us at hockey. With Vermilion (which, on account of the distance involved, we didn't play too often) we about held our own. Landonville used to field a very powerful team, including George, Frank and Rock Mead, also the Reids. We used to encounter them mostly at tournaments. Any of the above could play any position with equal facility and all could hit like crazy. Fortunately, we had an outfield that could take care of any ball hit in the air, short of a home run. Harry Ramsbottom, Frank Keitges and Lloyd Lambright were quite capable of covering a quarter section each. Also, two of these players could throw strikes to the plate from deep outfield.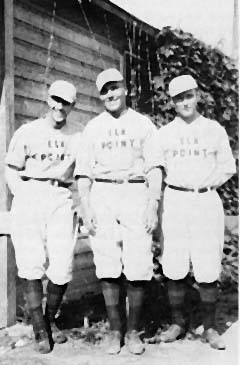 LEFT TO RIGHT: Lawrence Sumpton, Russell Milholland, and Frank Suter, 1928.
Early Elk Point baseball pick-up team prior to 1925.
PLAYERS, Lefi to Right: Oscar Holthe, George Bartling, Harry Ramsbottom, Lloyd Lambright,
Harold Quist, Charlie Keller, Frank Keitges, Russell Milholland, Bill Bartling, Jens Aarbo.
I would like to recount some of the characteristics of some of the players during this year. I have already paid tribute to the outfield; now for the infield. Pitcher Bill Bartling had a fair curve but his strong point was a blinding fast ball. Russ Milholland was characterized by uncanny control. Lloyd Lambright had good control and a rainbow curve. Henry Selland's control was not exceptional but he had the widest, fast-breaking curve that I have ever seen. This man was major league calibre had he chosen to pursue baseball as a career. Percy Whitworth, at short, was an old cricket player and had a disconcerting habit of somehow persuading a ground ball to bounce up off his feet and he somehow managed to grab it with his bare hand (having just discarded his glove). E. McDonell, at second, had to cope with a catcher (me) who was prone to throw into the dirt in front of him, sometimes necessitating his stopping the ball with his chin, but usually in time to tag a runner coming from first. Oscar Holthe at third was always reliable to turn in a good game, as was whoever happened to be playing first. Our regular catcher never seemed to master the technique of throwing from a squatting position. However, he rarely dropped a ball. We all seemed to hit well enough to win a lot of ball games.
These thumbnail sketches would not be complete without mention of Emerson (Buck) Eaton, who played with us on occasion. Buck was quite a versatile fellow whose forte was pitching. He could throw a ball so fast it would scare you.
I think it would not be amiss to mention here that Bill Bartling once played semi-pro ball with North Battleford. He was once offered a spot with the St. Louis Browns at a salary of $3,000 a year. He reports that he turned it down, as he could make more money trapping at home.
In the absence of written records, it is inevitable that there are gaps in the continuity of this report.
There was a time when Dr. F.G. Miller masterminded a team of little guys, which he loaded into his big old Dodge sedan. Names of these kids are not available.
One occasion of a near civil war took place at Vermilion along about 1930. During their annual Sports Day, Mr. Markstad, who had been around baseball longer than we newcomers, warned us to not accept a certain umpire as he had reason to believe him to be prejudiced. It so happened that this was the man who was assigned to our game. We said "no go", so they mentioned another man of whom we had never heard, so, naturally - we could have no objections, and the game got under way. There must have been only one umpire as I recall he stood behind the pitcher. It didn't take long before he showed where his sympathies lay. Most of us old timers have played a lot of ball, but this had to be the rottenest umpiring any of us had ever experienced. It was so raw that even the Vermilion fan's faces were red!
 "Ducky" Holmes, professional baseball player, and "off season resident of Elk Point district
I was managing the club at that time, and playing, as well. Our fans were beside themselves with rage and indignation and were, to put it mildly, quite vocal, as also was the club manager (me). This so-called umpire threatened to put me out of the game if I didn't "shut up". I had no choice, but Russ Millholland, who was on the bench, took up the fight. Now Russ is, and always was, the most unflappable person I have ever known. In fact, this is the only occasion that I have ever seen him lose his temper; he usually just grinned. Not this time! He jumped off the bench and strode to the pitcher's mound where the umpire stood and, when he got almost all the way there, he said in a loud voice, "you dirty *~! ! -· You can't throw ME out of the game." I don't recall who won the game; I don't think we did. You can't beat the umpire.
Triumphs and Defeats, one of each: Local: Marwayne. Time, about 1930-32. Occasion: Marwayne Sports Day. First money $65.00. Game: Elk Point vs. Vermilion. We had a bye and had only to beat Vermilion to be in the money. It is interesting to note that at Marwayne tournaments only five inning games were played, except the final.
This was a tight game. We had a one run lead; score Elk Point 1, Vermilion 0. We had our hottest pitcher on the mound, with one out and two innings to go. Then, through a series of walks and a hit, the bases were loaded. The next batter up hit the first ball pitched into the ground and straight at our pitcher, who grabbed it, almost before the batter had time to drop his bat. As the catcher, I tore off my mask, jumped on the plate and screamed for the ball. Well, of course this was the play. All base runners had to advance, a play to the plate would force the runner from third out, and then I still had plenty of time to throw to first for the last out. This was not the way it worked out. Our hot-shot on the mound offered to throw to me, but got confused by the third base fans yelling at him to throw to first. This he did, destroying our force at the plate. He got the runner going to first but Bill Bartling (playing first) had to hurry his throw home, which was a bit wide on the meat-hand side, and did not leave me time to reach back and tag the runner. I had the ball in time for a force but not for a tag. The run counted, and so did two more, and we lost 3-1. This had to be the most embarrassing moment in my career as a ball player.
This series of plays started a real hassle. We and our fans claimed a force at the plate. Slim Thorpe, the umpire (he was a good one) ruled "No force, the run counts, and only the runner going to first is out." We argued to the contrary, the Vennilion gang yelling "You can't change your decision, Slphotos" Slim, reaching into his back pocket for his rule book, answered, "The hell I can't. If I find that I'm wrong, I'll change it." Of course, he was right the first time, but we figured it was worth a try.
Another near massacre took place here on our own ball diamond, in connection with a little-used rule in baseball, which happens infrequently. I can't quote the rule verbatem, but it means that a base runner must touch each base as he passes it; if he fails to do so, the ball should be played back to the base he failed to touch, the umpire's attention called and a ruling asked for. The key to this little gem is the umpire must see him either touch the base or miss it. If he doesn't see it, he is not supposed to rule the runner out. Now, an umpire is mostly human and does not enjoy being placed in the embarrassing position of having to admit that he didn't see the base runner hit or miss the sack in question. So he assumes that, if the ball is played back to the sack and a ruling called for, then the base runner must in fact have missed the sack, so he calls him out.
This happened in a game between Elk Point and Vermilion, with at least one of the before-mentioned doughty Meads playing for the visitors. Nobody was slicker than the Meads; they knew all the angles, plus their tremendous baseball talent. Bill Bartling and yours truly, having by this time retired from the game, were sitting along the first base line, right close by the sack, when, with two on bases and two out, and the score 3-4, with Vermilion on the short end in the last inning, one of the mighty Meads clouted one so deep into centre field that it was a home run. The base runners scampered home and the home run hero jogged around the bases, HITTING EVERY ONE OF THEM. Looks like a 6-4 win for Vermilion? Not quite. You see, Bill called for the ball to be thrown to the first baseman, then he told the baseman to step on the sack. Then he called for a ruling from the umpire. That poor unhappy soul, I am sure, didn't see the base runner rounding first, he would be watching the flight of the ball into the wild blue yonder, but he no doubt assumed that the base runner must have missed the sack, otherwise why the play back to the sack. He called him out, which, of course, meant the side was retired, the runs didn't count and the game was over. Just good, clean fun!
We now come into a grey area where information is nonexistent - the period from the late 30's to the early 50's. This would cover the days of Willie Wenzel, Bill Milholland, Roger Hannaford, Chester Merrick and several more, whose names elude me and for which I am sorry. Please forgive. Three more names come to mind-Jack and Elmer Murray and Gil Selland, who lived in the Armistice area. Also Hal Fyckes (Bea Sumpton's brother). Many of these people are no longer living and others are scattered all over the continent.
Following is a list of players covering the period from 1951-1955: Andy Borutski, C. Hall, Phil Sheplawy, Barry Keck, Dan Stetsko, Louis Goulet, Peter Yewchin, Walter Ozimko, Boris Melnyk, Ed Melnyk, James Krusik, Steve Stetsko, Joe Schur, Walter Ilkiw, Ernie Stetsko, Sig Johnson, Bill Sumpton, Buck Eaton, coach, John Yewchin, batboy, Jim Adamaitis and Larry Ramsbottom.
Elk Point formed a part of the North-Eastern Alberta Baseball League, consisting of Vermilion, Derwent, Two Hills, St. Paul, Cold Lake and C.F.B. Cold Lake. The latter was in the league one year only. They played on a regular printed schedule and must have been quite a financial success, as it is reported that Sunday games at home would account for an average of over $100.00 just in voluntary collections. It was illegal to make a regular charge on Sunday. Baseball no longer occupies the centre of attraction which it once enjoyed. Some of the reasons are quite evident: television, our preoccupation with the beaches, with which this country is so bountifully blessed, plus good roads and cars. (Plus the fact that, as the years rolled on, our founding ex-American population has been watered down by other ethnic groups whose natural obsession with baseball was and is somewhat less enthusiastic.