MINOR HOCKEY-1976-1977
by Adeline Bugera
The 1976-77 Elk Point minor hockey season began and continued with much excitement, determination and hard work from the players, coaches, parents, sponsors, executive and citizens of Elk Point and district and surrounding communities. The minor hockey board members are as follows: president, Lloyd Metz; vice-president, Bill Paquette; secretary-treasurer, Albert Boratynec; agricultural representative, Paul Higgins; directors, Joe Thir, Walter Yaremkevich and John Wozniak. The 1977 hockey season opened up to a good start with 104 boys and 14 coaches. Because of the great number of boys being registered this season, two teams had to be made in each category, with the exception of the Midget team.
The Tom Thumbs (8 years and under) consisting of 27 boys were coached by Ed Poulin, Milton Lorenson and Larry Demchuk and sponsored by the Elk Point Hotel and the Elk Point Co-op.
The Mites (9 and 10 years) consisting of 21 boys were coached by Albert Boratynec and Paul Higgins and sponsored by Tredger's Drugs of Elk Point and the Elk Point Chamber of Commerce.
The Pee Wees (11 and 12 years) consisting of 20 boys were coached by Emil Mudryk, Ray Hellquist and Max Kondla and sponsored by the Elk Point Hotel, Paul Stepa's Insurance and the Gulf Bulk Station (John Wozniak).
The Bantams (13 to 14 years) consisting of 24 boys were coached by Del Smith, Steve Ference, Lloyd Metz and Arnold Ockerman, and sponsored by the Elks Club of Elk Point.
The Midgets (15 to 16 years) consisting of 12 boys were coached by Joe Thir and Walter Yaremkevich and sponsored by the Elk Point Hotel.
Teams travelled to neighboring towns, including Bonnyville, Glendon, Grand Centre, St. Paul, Mannville, Vegreville, Dewberry, Kitscoty, Mallaig, Myrnam, Cold Lake, Two Hills, Innisfree, Marwayne, Vermilion and Medley for games.
The annual Elk Point Hockey Tournament was hosted again this year, showing much success, sportsmanship, participation and excitement. The A. G. Ross Agriplex is still holding up after the deluge of teams, coaches, parents and spectators who converged for this sports event. The coaches expertly pulled their teams together, picking their way among the sweaters, socks, skates and hockey sticks. The concession booth volunteers deserve the Galloping Gourmet's Award for 1977 for their prompt and efficient service. Because of the warm winter weather in 1977 the ice had started to melt in places, but that didn't stop the wet, enthusiastic players from continuing to play hockey.
There were many exciting and memorable incidents during this season. Boys tried very hard to remember to bring their skates, knee-pads, hockey sticks and even themselves to games and practices. They enjoyed traveling to neighboring towns not only to play hockey, but they knew their parents were going to give them spending money for hamburgers, hot-dogs, pop and treats. But if the boys did forget their money they would always remember that they had coaches.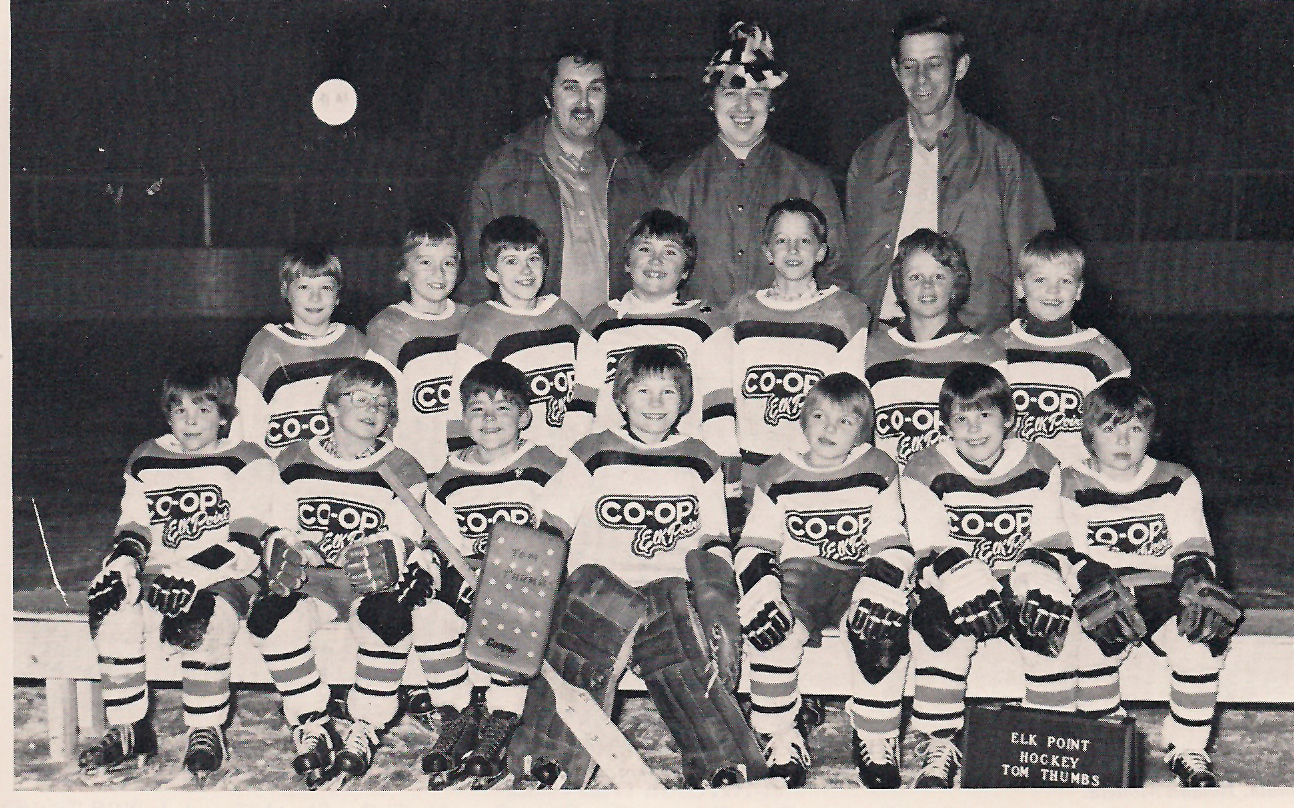 TOM THUMBS A
COACHES, Left to Right: Larry Demchuk, Ed Poulin, Milton Lorenson
BACK ROW Lame Demchuk, Jeff McGinnis, Grant Lorenson, Blair Capjack, Dwayne Wolanuk, Bradley Anderson
FRONT ROW Bryce Lorenson Glen Ockerman, Nicky Bugera Ronnie Poitras, Corey Swartz, Donnie Rae, Jason Anderson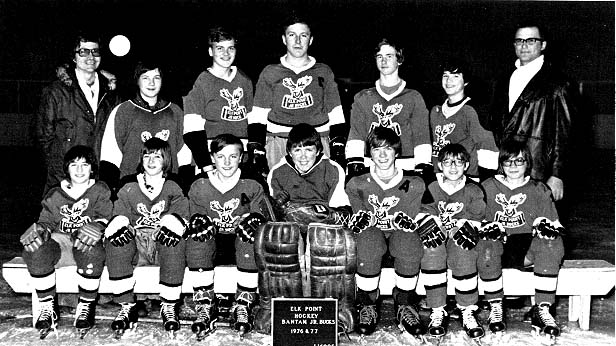 TOM THUMBS
COACHES, Left to Right: Larry Demchuk, Ed Poulin, Milton Lorenson.
BACK ROW: Murray Palamarek, Malcolm Palamarek, Daron Appleton, Blame Osinchuk, Kenny Bieber, Trevor Joly, Danny Maas.
FRONT ROW: Jason Reinhart, Derrick Zacharuk, Travis Breizer, Garrett Gregoraschuk, Tim Poulin, Todd Reinhart, David Hellquist.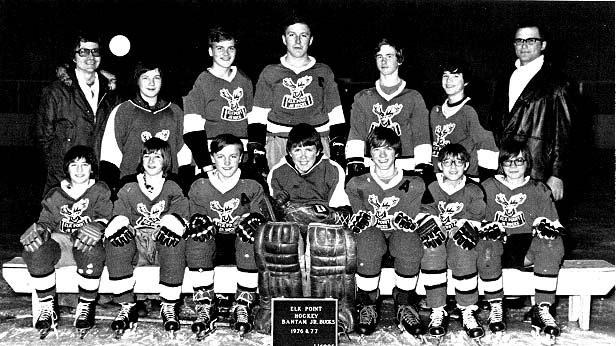 PEE WEE HOCKEY TEAM
BACK ROW, Left to Right: Emil Mudryk, Coach; Gary Marceniuk, Brent Mudryk, Murray Boratynec Marvin Ference Ray Hellquist, Coach.
FRONT ROW: Jeffrey Buck, John Wozniak, Michael Habiak, Mark Heliquist, Ronnie Lesyk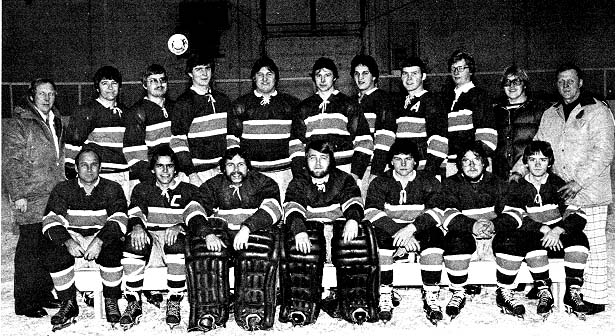 BANTAM JUNIOR BUCS
BACK ROW, Left to Right: Lloyd Metz, Coach; Craig Hellquist, Arne Nelson, David Ference, John Soldan, Derrick Paquette, Steve Ference, Coach.
FRONT ROW: Gordon Gregoraschuk, Darrell Appleton, Lawrence Ference, Roy Marceniuk, Kenny Stewart, Thomas Kondla, Roland Moneta.
The coaches of the Tom Thumbs were very proud of their little men when they defeated their mothers 7 to 2 in a most memorable hockey game. Twelve of us mothers dug out or borrowed hockey equipment from hockey players or our husbands. We tried very hard to keep up with our crafty opponents, but by the time we would get back up on our skates (WHEN WE FELL DOWN!) the little guys were racing down the ice determined to score.
Another incident which brought laughter in the area occurred when the suspenders of Tom Thumb player David Hellquist, unsnapped causing his hockey pants to slip down to his knees. Instant cooperation came from his team-mates as they came rushing over to David's aid. During the team's desperate efforts to help David, the opposition scored, winning the game 2 to 1.
Minor hockey has taught the boys not only to learn the game of hockey and have fun, but to show respect for their opponents, the spectators, their parents, coaches, team-mates and community in many different ways.